A special report by Hal Bernton, Mike Carter, David Heath and James Neff · June 23 - July 7, 2002



his is the tale of how a footloose, unfocused Algerian boy, son of a war hero, evolved into a terrorist. How he planned an attack against Americans on the eve of the new millennium. How he nearly got away with it. And how, since Sept. 11, he has been one of the U.S. government's best resources in the war on terror. BEGIN >>


Algerian Ahmed Ressam was captured on Dec. 14, 1999, in Port Angeles, Wash., on his way to detonate a bomb at the Los Angeles International Airport.
THE MAIN CHARACTERS


Several people in this story are key to understanding the roots of terror and the challenges in fighting it.

JEAN-LOUIS BRUGUIERE
Ressam's chief stalker

ABU ZUBAYDAH
One of Ressam's mentors

FRED HUMPHRIES
FBI agent based in Seattle
THE SETTING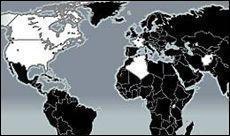 This story takes place around the globe, beginning in Algeria and moving through Europe, Canada, Afghanistan and, finally, the United States.