Originally published April 5, 2012 at 10:57 AM | Page modified April 6, 2012 at 12:41 PM
Authors, readers discuss Amazon.com's relationship with book industry
Edited excerpts from the hourlong conversation with authors Richard Russo and Barry Eisler.
Timeline: How the fortunes of Amazon and Jeff Bezos have grown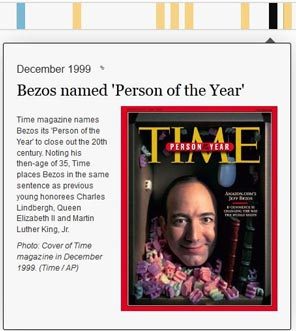 No comments have been posted to this article.
Mary Ann Gwinn, Seattle Times book editor, moderated an online chat Wednesday with Richard Russo, prizewinning novelist and author of "Nobody's Fool," and Barry Eisler, best-selling author of the John Rain novels, to discuss Amazon.com and its impact on the publishing world.
Business reporter Amy Martinez, whose story about Amazon's place in the publishing industry appeared Monday, also answered questions.
The following is edited excerpts from the hourlong conversation.
Q: Many editors and authors are terrified of speaking out against Amazon because they fear this type of retaliation. Richard, are you?
Russo: I'm not that worried. I doubt I'm even on their horizon. Plus, I'm insulated a bit by my "celebrity." I'm speaking out on behalf of younger writers. They're the vulnerable ones.
Q: How are they vulnerable?
Russo: I'm concerned about the contraction of publishing. Amazon is not only selling/distributing books, they're now publishing them. They have a huge share of the market. One of the reasons television is so good right now is that there are so many outlets. Movies are bad because there are so few. Amazon is good for writers like us who have name recognition. And for brand-new writers who are having a hard time breaking in, they provide an outlet. It's the mid-list literary writer who gets squeezed out when the market contracts.
Q: With the ability for rising authors to publish and promote themselves, is there still a role for publishers in the lives of new authors? If so, what is that role?
Eisler: What we have today is more choice than ever before: The legacy publishing model, which is built on paper distribution; the self-published model, which is built on digital distribution; and the Amazon model, which is a hybrid built on direct-to-consumer marketing. Which of these systems becomes dominant will depend primarily on what consumers vote for with their wallets, and which authors find most attractive.
Russo: The role of publishers will become clear as traditional publishers disappear. The role of the publisher has always been to nurture the writer.
My early books were all published well, but didn't sell in large numbers. Other best-sellers allowed my publisher to carry me until I could pay my own way. And I've had two of the best editors in the business, who have made every book better, and not by a little. You notice when books aren't edited well.
Q: What are some of the deals Amazon offers writers?
Eisler: Amazon pays authors up to 70 percent royalties. Legacy publishers pay — in lock step — 17.5 percent.
Commenter: Barry, actually that's a good example of why we need competition. Before Apple entered with its agency model for e-books (and real competition for Amazon), Amazon paid royalties of 30 percent. It got religion after Apple's 70 percent agency model shook things up.
Q: Is a Richard Russo possible in a marketplace where his first, and possibly soon enough, the only major publisher is also the dominant retailer? How would that work? How many e-book sales and customer reviews to make a writing career without agents, editors, reviewers and booksellers?
Russo: When I was a young writer, there were many newspapers that reviewed lots of books. Young writers also got sent on book tours, even when those tours lost money. There was much more money for advertising. Over time, writers could find an audience, not through algorithms (if you like J.R.R. Tolkien you'll love Stephenie Meyer) but through dedicated local booksellers.
It's harder, much harder today, and writers who haven't made a name for themselves face a much more difficult time of it for all kinds of reasons. Honestly, I don't know if I could do now what I did then.
Q: How much money has Amazon made in the last few years from books?
A: We don't know, because Amazon does not provide a breakout of its book sales. Instead, Amazon rolls its book sales into a broader "media" category that also includes music and video, in both physical and digital formats.
With that said, Amazon's worldwide media sales totaled nearly $18 billion last year, up about 19 percent from 2010. In all, Amazon had sales of $48 billion last year.