Originally published April 3, 2012 at 9:00 PM | Page modified April 4, 2012 at 2:31 AM
Amazon.com recruits work campers to help with holiday rush
When the holiday shopping season ramps up, "work campers" move in around Amazon.com warehouses.
Seattle Times staff reporter
Timeline: How the fortunes of Amazon and Jeff Bezos have grown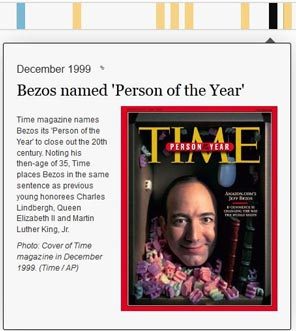 No comments have been posted to this article.
CAMPBELLSVILLE, Ky. — Each fall, Winnebagos, Airstreams and other recreational vehicles fill up the gravel lots across the highway from the Amazon.com distribution center in this small town.
The RVs are owned by "workampers," many of them retirees, drawn to Amazon's Campbellsville operation by the opportunity to work long hours filling customer orders through the peak holiday season.
Though a few said they needed the paycheck to meet their expenses, others said they show up as much for the camaraderie and discipline that comes from working in the warehouse.
"We could live on our retirement income, but I don't care to sit around and just go out with the ladies," said Judy Oeltjenbruns, who joined her husband, Larry, in a second season of warehouse work. "I would like to keep my mind and body active ... and hopefully stay a little bit younger."
The program started small here several years ago, and rapidly expanded as Amazon promoted it on websites catering to "workampers." Work campers also were recruited at Amazon distribution centers in Kansas and Nevada.
The company pay starts at about $10 an hour, plus campground fees. The presence of the work campers reflects the ongoing challenge of finding enough temporary workers to staff the peak holiday season, when Amazon's workforce in Campbellsville may more than double. Even when recruiting from a six-county area around the city, Amazon has had difficulty.
Before the arrival of work campers, Amazon bused in labor from more distant cities, such as Nashville.
But some of these workers caused problems with unruly behavior and petty crimes like shoplifting, said Pam Wethington, who worked for more than a decade at the warehouse.
By contrast, the "workampers" have been a boon to the town, spending money on gas, groceries and an occasional night out at a restaurant.
"This has been a success story," said Ron McMahan, executive director of TeamTaylor County, which promotes economic development in the area.
Hal Bernton: 206-464-2581 or hbernton@seattletimes.com