Print
Part 1: Dubious Deals
Dot-con job: How InfoSpace took its investors for a ride
/ Seattle Times staff reporters
Five years ago this week, at the height of the dot-com stock frenzy, a young Bellevue company called InfoSpace was worth more than Boeing.
Wall Street analysts hailed the startup, which promised to bring the Internet to everyone's cellphone, as "a new Microsoft," and its charismatic leader, Naveen Jain, as a visionary.
Microsoft co-founder Paul Allen had hundreds of millions invested. Small investors such as Bev Hess, a real-estate agent in Phillips, Neb., poured their retirement savings into what appeared to be a sure bet.
At its peak, InfoSpace was the Northwest's biggest Internet business, worth more than $31 billion. Jain, a man obsessed with being more successful than Bill Gates, was himself worth $8 billion. He bought a palatial waterfront home in Medina down the street from his idol and another nearby on Mercer Island, along with two yachts and a piece of the Seattle SuperSonics.
What Paul Allen, Bev Hess and hundreds of other shareholders didn't know was this: InfoSpace's success was an illusion, created by lies and deception.
Jain and other InfoSpace executives deceived the public by making the company appear far more successful than it was, a Seattle Times investigation has found.
The investigation — built on internal company e-mails, confidential documents filed in court and scores of interviews — found that Jain and others created the illusion of revenues with accounting tricks and dubious deals.
One e-mail from a venture capitalist to Jain captures the nature of the deals. The man refused to participate in an investment that Jain had proposed, bluntly telling Jain that if he did so, "I believe that I could go to jail."
The Times' investigation found:
• InfoSpace officials misled Wall Street and the public about how their company was doing, concealing that revenues were falling far short of expectations.
• Much of InfoSpace's reported revenue came from "lazy Susan" deals, whereby company officials invested in other firms that turned around and gave back the same money.
• Wall Street analysts, including famed dot-com guru Henry Blodget of Merrill Lynch, privately expressed grave concerns about InfoSpace while at the same time publicly touting its stock. In a private e-mail to colleagues, Blodget asked, "Is this really a world-class company, or just a world-class storyteller?" Soon after, he gave InfoSpace stock his highest rating.
• While investors clamored to buy InfoSpace's highly touted stock, company insiders were unloading it. Two executives later angled to get around trading restrictions by asking for demotions to sell stock before its value evaporated.
Jain himself accused several of his top executives of engaging in illegal insider trading by misleading shareholders and then dumping their stock.
When the game was up, the investors took a beating. Stock worth $1,000 in March 2000 was worth only $2.67 by June 2002. The company once worth more than Boeing fell to the value of two Boeing 777s.
Allen lost an estimated $400 million when InfoSpace shares collapsed. Hess, 65, saw her $40,000 investment shrink to $1,450.
"I scrimped and saved for 42 years, and I feel that I have been duped out of my hard-earned money," she said.
Hess explained that she plunged into InfoSpace after reading glowing reports from stock analysts and media accounts of Jain and InfoSpace. "I feel like the American public was lied to," she said.
At its peak, InfoSpace alone accounted for about a third of the $100 billion in stock value created by the Puget Sound area's 20 publicly traded dot-coms. The company played a major role in the region's dot-com boom, which produced legions of young, overnight millionaires and defined an era.
Most of that wealth seemed to have been the product of a speculative stock-market bubble. However, the inside story of InfoSpace shows that, at least in this case, investors were manipulated.
The system did little to protect them. A shareholder sued InfoSpace for misleading investors, but a King County judge handling the case kept thousands of pages of damaging documents from investors who claimed they were wronged.
Rather than investigate Jain for misconduct, the federal Securities and Exchange Commission aided Jain in court after he hired a prominent former SEC lawyer to lobby the agency.
InfoSpace today appears to be a far different company. Jain and other key players are gone. The board hired James Voelker as chief executive two years ago because "they wanted to go in a new direction," Voelker said.
The real story behind InfoSpace's rise and fall comes to light now because The Seattle Times recently won a two-year legal battle that went up to the state Supreme Court. The high court's decision led to the release in October of thousands of pages of records that had been sealed in a shareholder lawsuit.
The documents, along with scores of interviews and other records, offer a rare, uncensored look into the inner workings of what was once considered one of the most successful dot-coms on Wall Street.
A drive to succeed
Naveen Jain grew up in a culture mired in bribery and corruption, yet in a religion that deplores dishonesty.
Born in 1959, Jain lived in villages throughout Uttar Pradesh, one of India's largest and least literate provinces. His family takes its name from their religion, Jainism, whose followers take vows to abstain from stealing, violence and telling lies.
Jain's father, a civil engineer for the public-works department, fervently followed these beliefs, said Atul Jain, Naveen's younger brother. Their father, at risk to his life, defied the local custom of taking bribes. Atul Jain said his father sometimes had to be escorted by a bodyguard.
The Jains lived in small rental homes with running water and electricity. Naveen Jain, however, wanted a different life and admired business leaders who "built so much from nothing." He earned a degree in engineering from Indian Institutes of Technology, a highly competitive university.
Jain came to the United States as a young man through a business-exchange program and in 1989 joined Microsoft, run by "my absolute role model," Bill Gates.
Jain had modest success at Microsoft and was working on Microsoft Network when a seismic event rocked the Internet world on Aug. 9, 1995. Netscape Communications, maker of the popular Internet browser, began selling its stock to the public. The company had made not a dime in profit but ended the day worth $2.2 billion.
Netscape's spectacular stock run-up marked the beginning of the dot-com era: No longer did companies, particularly Internet startups, have to show a few years of profit before Wall Street would consider offering their stock to the public.
Jain watched the dot-com explosion from the Microsoft Network (MSN), which was having a chaotic and disappointing launch.
In March 1996, he quit and started InfoSpace. His plan all along was to take his new company public as soon as possible. Jain and six employees, most of them ex-Microsoft workers, began building online e-mail and telephone directories that would generate revenue from ads.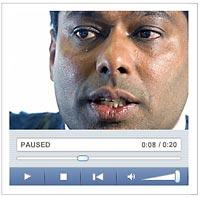 INTERVIEWS JANUARY 2003
His enthusiasm for the Internet and his drive to succeed were infectious. Jain appeared as a coffee-swilling, rapid-talking dervish, who fancied himself an Internet pioneer. His eyes would light up as he spewed his ideas one after another.
Jain admirers call him a genius. Software engineer Kevin Marcus, one of InfoSpace's earliest employees, described him as "one charismatic dude" who had "this ambitious, passionate flair about him that radiated out."
"You didn't know what it was, but you wanted to be part of it."
At the end of staff meetings, software engineer Jean-Remy Facq recalled getting so carried away with Jain's cause that Facq would jump up, shake his fist in the air and cry, "World domination!"
Detractors describe Jain as dishonest and ruthless.
At least two men with whom Jain had dealings said he threatened them.
Dan Kranzler, an InfoSpace investor who left in early 1998, had a bitter dispute with Jain when he demanded that Kranzler return stock options, potentially worth several million dollars if InfoSpace ever went public. After Kranzler refused, Jain called Kranzler's home at night and said, "I will destroy your family," according to a Bellevue police report.
Jain admitted to police that he said those words but said that he didn't really mean it, the police report shows.
Another Jain business associate, Greg Crane, alleged in a lawsuit that Jain threatened him with "bodily harm" if he filed a lawsuit over a business dispute. It was 1998 and Jain was angry that a lawsuit might interfere with InfoSpace's public offering, Crane said in the lawsuit.
Last-minute crisis
Jain later told reporters he would have "put a bullet through my head" if he hadn't turned InfoSpace into a successful public company. At the time, it was tiny, unprofitable and offered a hodgepodge of online phone books, stock quotes and horoscopes.
With 7.5 million personal shares, Jain would have a jackpot worth at least $110 million when InfoSpace made its Wall Street debut. InfoSpace's rank and file expected to become instant millionaires, too.
But less than two weeks before InfoSpace's December 1998 public offering, a crisis threatened to scuttle Jain's crowning achievement.
Boston businessman G. Kent Plunkett said Jain wrongfully fired him after a few days on the job as vice president and cheated him out of millions of dollars in promised stock options.
Jain insisted he had never hired Plunkett or promised him anything. But when Plunkett produced an agreement signed by Jain and threatened to sue, InfoSpace's board was concerned.
By law, InfoSpace and its underwriters could not sell the stock to the public without fully revealing its risks. What other surprises might be out there?
Company lawyers searched Jain's home computer, read his e-mails, scoured his office files and interviewed employees about business deals or promises Jain may have made.
They quickly turned up evidence that Jain may have failed to give promised stock options to seven former employees and a consultant. Lawyers also found eight potential lawsuits over contract disputes with business partners.
With his credibility damaged, Jain might have lost his job or had the public offering derailed. The board of directors, which has a legal duty to protect shareholders, could have reconsidered asking investors to sink money into a risky company with a reckless CEO.
But key players had jackpots waiting as well. Investment bankers, led by the firm Hambrecht & Quist, had $6 million in fees riding on the offering. Two directors on InfoSpace's board owned part of the company after sinking $4.5 million in venture capital. One of them, Rufus Lumry III, an early key executive of McCaw Cellular and part owner of the Seattle Mariners, held stock he eventually sold for $85 million.
The directors, along with Hambrecht & Quist and InfoSpace's outside auditor, Deloitte & Touche, agreed to an unusual plan so they could charge ahead.
Nobody knew whether Jain's shoot-from-the-hip deal making would lead to other lawsuits. So the board forced Jain to set aside 1 million shares of his personal stock as insurance against future claims. The company agreed to pay for known claims such as Plunkett's.
"There was such a rush to put this out — did anybody in the room have an interest in protecting shareholders?" asked Michael Lofing, a financial expert at the research firm Glass Lewis & Co.
InfoSpace made its Wall Street debut Dec. 15, 1998. Employees watched as the stock, priced at $15, closed at $20. InfoSpace, half owned by Jain and his wife, was suddenly worth at least $400 million. InfoSpace's first employees were each worth about $2 million.
Of the $78 million InfoSpace raised that day after expenses, $10.5 million would eventually go to paying off Plunkett's claim.
Meanwhile, InfoSpace stock started its dizzying climb, doubling in the first two weeks.
Easy money
Within a year of going public, Jain realized that making money from charging for ads on its Web sites was a long slog with limited potential for growth. Then he came upon a simple idea that he believed had a colossal future: What if InfoSpace offered the same content — weather reports and stock quotes — to cellphone users, charging them a monthly fee?
Jain finally had a business that people could understand: the Web in your pocket. InfoSpace was no longer just another dot-com. It was the pioneer of the wireless Internet.
With contagious fervor, Jain promised investors that the wireless Internet would change the way people communicated, shopped, worked and even the way they lived.
There will soon be a billion cellphones in the world, he predicted, and InfoSpace would get $1 to $3 per subscriber per month. "You do the math — that's a [expletive] load of money," he said.
Analysts bought the concept and gushed over InfoSpace's prospects. An analyst from US Bancorp Piper Jaffray even proclaimed, "A new Microsoft is born." Fueled by hype, InfoSpace's stock went stratospheric, soaring 1,300 percent in just five months.
"Unacceptable" news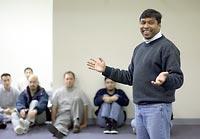 BARRY WONG / THE SEATTLE TIMES, FEBRUARY 2000
Then in early March 2000, the dot-com bubble burst and InfoSpace's stock went into a freefall. On April 20, 2000, InfoSpace's finance director sent an alarming e-mail to Jain about wireless Internet revenues. It warned of a disaster with a Canadian wireless Internet company they had just bought, Saraide.
Saraide was backing away from its promise to bring in $31 million from Europe that year, InfoSpace finance director Garth MacLeod had just learned. Instead it would come up with only $12 million — a devastating $19 million shortfall for a company expecting $106 million in revenues for the year.
"This is totally unacceptable," MacLeod wrote to Jain. The shortfall "makes it extremely difficult" for InfoSpace "to beat the Street."
Beating Wall Street's predictions on revenue or earnings growth was paramount. Exceed it by a cent or two and the stock could soar. Miss it by even a penny a share and the stock would get trampled.
"This is not good," Jain wrote back. "How do we fix it?"
If word got out about InfoSpace's $19 million shortfall, the news could further devastate the company's stock.
Within four days of MacLeod's dire e-mail, Jain talked to a stock analyst at Merrill Lynch who wanted to advise Merrill Lynch clients about InfoSpace's financial prospects.
The analyst didn't know it, but InfoSpace had just sliced $10 million out of its revenue projection for 2000, reducing it to $96 million.
Jain had to be careful with what he said to the analyst. Giving deliberately misleading information about a public company is securities fraud.
After talking to Jain, analyst Sofia Ghachem wrote an e-mail to her colleague Henry Blodget: "Naveen saying we won't be embarrassed if we go out on a limb for results." InfoSpace's financial picture was rosier, not gloomier, than expected, she said Jain had told her.
Blodget, at age 34, was a superstar Internet analyst, beloved by the financial cable shows, who became famous when he accurately predicted Seattle's Amazon.com would reach an astonishing $400 a share. Blodget's recommendations on InfoSpace were weighty enough to move the stock price.
Privately, Blodget already had reservations about Jain and InfoSpace, asking a colleague in an e-mail just the week before, "Is this really a world-class company, or just a world-class storyteller?"
But on April 27, 2000, as Jain had urged, Blodget went out on a limb. He boosted his own estimate of InfoSpace's annual revenue by 18 percent and gave the stock his strongest buy rating. Analysts at other companies announced similar projections the same day.
This burst of renewed optimism about InfoSpace stopped the stock from tumbling and even pushed it up that day from $63 to a closing price of $72.
The bump in the stock price that Thursday put extra money in Jain's pockets. The following Monday, he sold 220,000 shares at $68.75 a share for a total of $15.1 million. The misguided euphoria over expected revenue growth had increased Jain's gains by at least $1.2 million.
Jain's sales posed some risk. Selling stock based on significant information that hasn't been disclosed to the public is illegal.
Other insiders sold in the ensuing weeks. Also selling stock were chief accounting officer Tammy Halstead and Ellen Alben, vice president of legal and business affairs; both were included in an e-mail warning of Saraide's shortfall, records show. In all, InfoSpace insiders sold $158 million in stock from May to July 2000.
"A very awkward position"
InfoSpace's revenue shortcomings were turning out to be far worse than finance director MacLeod had feared.
By August 2000, MacLeod reported that wireless revenues from InfoSpace's Saraide purchase would limp in at $4 million in the fourth quarter, a far cry from the $17.5 million needed to "beat the street." In fact, InfoSpace's wireless business was such a bust that company insiders sarcastically called it "wireloss," a former company executive said.
"The drastic size of the [Saraide] reduction has put us in a very awkward position," MacLeod wrote in an Aug. 4 e-mail to Jain, Halstead, Alben and others. "This is the main reason for our 4Q '00 revenue challenges, as analysts were clearly primed to expect major wireless revenues."
Senior management — in a flurry of e-mails — discussed the need to try to conceal the revenue figures as they prepared to meet with stock analysts in early September to talk about InfoSpace's financial picture.
"Knowing that wireless revenues are not coming in where forecasted — I think it would be a mistake to provide [figures] at this time," chief accounting officer Halstead wrote on Aug. 31.
Investor-relations officer Joni Hansen agreed: "Better talk to [the chief financial officer] about exactly what he thinks he's going to say. The wrong thing will kill us."
Jain added, "We need to be very, very careful on what we say about historical information especially on revenue breakdown. I will prefer to avoid it all together. Let's focus on the future."
During the meetings with analysts, InfoSpace executives refused to give precise answers about how much revenue the wireless business was bringing in. However, they did focus on the future, forecasting spectacular 2001 revenues — a 70 percent increase to $360 million.
Jain's claims in these meetings disturbed Rick Thompson, the executive vice president of product development who was new to the company.
"I had observed Mr. Jain making unsupportable comments to InfoSpace investors, regarding financial results to be expected and products in development," said Thompson, now a vice president at Microsoft, according to an unsealed court record. He declined to comment for this story.
How to hide the shortfall
With the company's wireless business failing to meet expectations, InfoSpace relied on accounting gimmicks and questionable deals to make up the shortfall, records show.
Desperate to make up for the lost revenue, Jain turned to his younger brother, Atul, who lived in Virginia, where he had started a small software company called TEOCO. InfoSpace had paid Atul Jain's company $400,000 a year earlier to develop software that would later become the nucleus for another Atul Jain company, netgenShopper.
NetgenShopper's concept was to allow people to go online and seek competitive bids for services or to buy merchandise. A customer could look up landscapers in online Yellow Pages, for instance, and click on a link to ask for bids for a back-yard project.
Jain and InfoSpace each invested $1.5 million in Atul's startup. Within a few months, InfoSpace announced that it would offer netgenShopper's auction services on its network of Web sites.
However, Jain later renegotiated the deal with his brother to try to dramatically boost InfoSpace's struggling revenues.
They came up with a plan: InfoSpace would buy an $8 million interest in netgenShopper, which in turn would send $5 million of it back as payment to InfoSpace for promotional services. Specifically, InfoSpace agreed to send out e-mails to potential customers and guaranteed an enormous number of hits on netgenShopper's online ads.
It was the kind of deal that InfoSpace insiders referred to as "buying revenue" or "a lazy Susan" because the cash the company gave out came right back to it as revenue.
Experts say that these types of deals are suspicious because of the inherent conflict: one company doing business with another company it owns. The American Institute of Certified Public Accountants advises auditors to scrutinize such deals because they can "improperly inflate earnings by masking their economic substance or distort reported results through lack of disclosure."
Lazy Susan deals are illegal when they're not genuine business deals but instead merely a fraudulent way for companies to convert their own cash into revenues.
When it became clear InfoSpace wasn't generating its own revenue, Jain used several types of deals to create the illusion of revenue.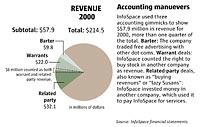 Atul Jain — seemingly mindful of the suspicious nature of lazy Susans — wrote an e-mail to his brother, cautioning him about the appearance of the deals. "We should separate the investment from the business deal. We will do them at the same time in separate transactions."
Atul Jain declined to comment about netgenShopper for this series.
Even though it called for a long-term relationship, the new netgenShopper deal was loaded to provide most of the $5 million in revenue in the fourth quarter — the quarter with the huge revenue shortfall.
Frontloading the netgenShopper payments to InfoSpace in such a short period was strange, according to Ajay Shah, former CEO of a leading auction company, Handshake.com.
"When you have $8 million to spend, marketing should never cost 50 percent of your complete budget [nor] be exhausted in four months," Shah said in an interview. "There's no way to justify that. You'd have to be a really, really bad business person to think that deal was good."
Shah said InfoSpace was one of many dot-coms doing lazy Susans. In fact, they "were so common at the time, I thought it was completely legitimate," Shah said. Even so, he said he always considered these kinds of deals to be misleading to shareholders.
Lazy Susans were not the only accounting trick Jain and the company used. He knew another way to show more revenues from the deal he made with his brother's startup.
Cashing in favors
InfoSpace required netgenShopper to pay partly in "stock warrants," which gave InfoSpace the right to buy netgenShopper shares at a predetermined price. By doing this, InfoSpace could count the value of netgenShopper stock as if it were cash coming in. In the days of exploding stock values, this enabled InfoSpace to balloon its revenues. Counting warrants as revenues is allowed under accounting practices, but putting a value on stock warrants is tricky. As a small private company, netgenShopper didn't sell stock on the open market. So the value of its shares was anybody's guess.
In those situations "any valuation would be suspect. It's about as far as you can get from a real asset," Eugene E. Comiskey, an accountant and co-author of "The Financial Numbers Game: Detecting Creative Accounting Practices," said in an interview.
Comiskey believes auditors should not allow public companies to give private-company stock warrants any value at all, which would eliminate their worth as a revenue booster.
Jain had a different way to make the stock warrants valuable: If he could get outsiders to buy shares of netgenShopper at a vastly inflated price, he might convince auditors at Deloitte & Touche that the stock warrants were worth millions.
Jain had a difficult sales job because the dot-com stocks were falling and the torrent of venture capital was drying to a trickle.
Jain decided to cash in some favors. He e-mailed Marc Belzberg, who ran a technology company based in Israel. InfoSpace was one of several investors who had pumped $9 million into Belzberg's company, e-Sim, the year before. Now, Jain asked Belzberg to buy netgenShopper shares at an inflated price, even offering to give him the cash he needed to make the investment.
"Please let me know if I can count on you for this," Jain wrote in an e-mail. "I can buy some of your e-Sim shares to give you cash if you need some cash to fund this."
Belzberg responded that he was generally prudent in his investment decisions, but "at the same time for friends I'm willing to stretch the rules." Even so, Belzberg passed on Jain's invitation.
Jain tried another investor, Catamount Ventures, in which he had already agreed to invest his own money. Now he tried to use that as leverage to get a favor.
Jain asked the managing partner of the venture-capital fund to buy shares of netgenShopper. "I would have led the round myself," Jain wrote, "but it does not seem appropriate given my relationship with" Atul Jain.
Catamount's manager Jed Smith was incredulous at the value Jain proposed for netgenShopper's stock, making the company worth more than $100 million.
"My feeling, Naveen, is that Atul is great, but I'm seeing deals across my desk that are at a similar stage that are jamming" — having trouble — "and at $10-$25M valuations."
Jain pleaded with Smith, "I can't believe that you can't help me out. I will return the favor back to you."
At that, Smith sent a blunt response:
"You never told me that your investment in my fund was conditioned on my investing in your brother's company. Naveen, no matter how much I want to, I can't do an investment as a personal favor. I would get sued by my limited partners and I believe that I could go to jail."
In the end, a lazy-Susan deal saved the day for Jain. Lycos, the search-engine company, agreed to put $8 million into Atul Jain's tiny company. In exchange, netgenShopper agreed to pay Lycos $10 million, over three years, for ads on Lycos Web sites.
NetgenShopper had the extra $2 million to spend on the one-sided deal because InfoSpace, under Jain's direction, had given his brother's company $8 million but took only $5 million back. In effect, Naveen Jain overpaid his brother's company, so that it in turn could pay Lycos, which then bought part of netgenShopper at an inflated price.
As a result of this financial triple-bank shot, InfoSpace was able to convince auditors that its netgenShopper warrants were worth $2.8 million in 2000, using that figure as if it represented cash revenue. The maneuver was a huge boost for a company desperate to beat Wall Street's revenue projections.
InfoSpace's lazy Susan and stock-warrant arrangement with netgenShopper were not the only questionable deals the company crafted during volatile 2000 as a way to create revenue, thereby fooling investors and shareholders.
InfoSpace had another trick for boosting revenues: Swapping free advertising with other Internet companies. Known as "barter revenue," such swaps were allowed at the time by accounting rules, though the maneuver was controversial because no cash is exchanged.
By the end of 2000, InfoSpace counted at least $22 million in 2000 revenues from stock warrants and $32 million from "related party" and lazy Susan transactions. Together with barter advertising, these deals accounted for more than a quarter of InfoSpace's revenues that year.
These accounting gimmicks fulfilled the forecast of finance director MacLeod, who had warned earlier that hitting revenue targets will be tough "unless we buy revenue."
And just how real were the numbers? Again, MacLeod said in an e-mail to Jain that the stock-warrant deals "are driving revenues artificially high."
But the investing public had no idea at the time. Only InfoSpace insiders knew the extent to which their dot-com was built on artifice. They also knew what they had to do next.
David Heath: 206-464-2136 or dheath@seattletimes.com

Sharon Pian Chan: 206-464-2958 or schan@seattletimes.com
Copyright © 2005 The Seattle Times Company