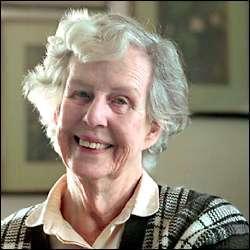 She lives comfortably in her First Hill condo with its Victorian furniture, a peekaboo view toward Elliott Bay and a homey clutter of books and magazines. She greets us with a hand-written list of images from the 1930s.

Street cars and soda fountains. Paperboys on the streets shouting: "Extry! Extry!" The ferry Kalakala. Playing Monopoly. Listening to the radio. Baseball games at Sicks' Stadium. The Sunday funnies, with Flash Gordon and Little Orphan Annie.

The Crystal Pool, where they pumped in water straight from Elliott Bay. Dancing at the Trianon, with live bands. Playland, out on Greenwood, with its roller coaster. And the Pike Place Market, where everybody went for fresh fruits and vegetables.

I grew up in The Highlands, but my father would drive me down to Seattle to school each day. It was a long drive down Greenwood and over the Fremont Bridge. There was no I-5, no Aurora Bridge.



I don't remember seeing the soup lines. But I do remember well-dressed men on street corners, selling apples. One of my favorite places was Hartman's Bookstore downtown. Mr. Hartman was blind, but he knew where every book was stacked and he knew everyone's voice.

People worried about their health. There was so much tuberculosis and polio and even smallpox. People died. That's why women wore gloves, to keep from being infected.

Seattle was really a collection of villages. People were segregated. If you worked downtown, you knew people there, but you wouldn't know the people in the Central Area, and vice versa. We didn't go to Chinatown and they didn't come downtown.

Then the war came and thousands of servicemen arrived. People had cars, so they could go wherever they wanted.

So, yes, things changed. But Seattle is always changing. You had the Klondike Gold Rush, the Great Fire in 1889. Things change, and we all try to adjust.