Moving the market
UBS inside report sparks sell-off of Isis stock
Isis Pharmaceuticals, a Carlsbad, Calif., company developing a lung-cancer drug, Affinitak, was battered in late 2002 when physicians testing the drug leaked results to UBS Warburg, now UBS, a prominent stock brokerage. Under confidentiality agreements signed by physicians testing the drug, all results were supposed to be secret until spring 2003.

Click chart for details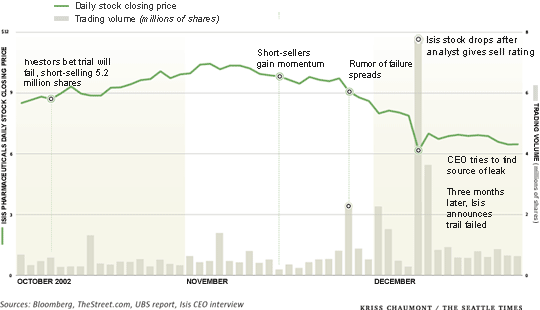 Analysts foretell Eyetech's fall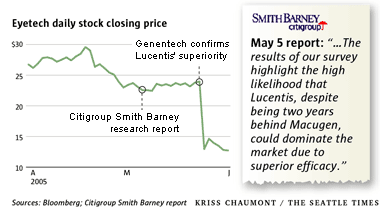 Citigroup Smith Barney talked to 26 eye doctors who had tested two competing drugs for macular degeneration, a leading cause of blindness in the elderly. The report declared a drug called Lucentis, from biotech giant Genentech, to be the clear favorite over Macugen, from small Eyetech Pharmaceuticals. Fifteen percent of Lucentis patients were able to read three more lines on an eye chart, the report revealed.
Investors get an early scoop on Encysive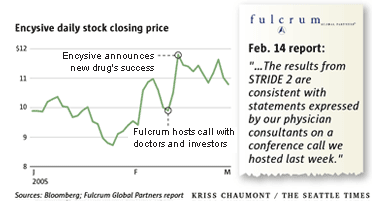 In a phone call, a doctor involved in monitoring research for an Encysive Pharmaceuticals drug for pulmonary hypertension told Wall Street firms not to worry too much about serious side effects. On Feb. 10, Fulcrum Global Partners advised its clients to buy the stock. Four days later, news of the drug's success was announced, and Fulcrum's analyst boasted that its clients already had the scoop.