How Wall Street gets the inside scoop on drug testing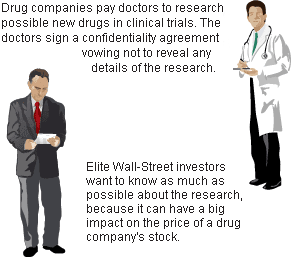 Clinical trial:
Testing on patients to see if potential drugs or medical devices are safe and effective. Drug companies often sponsor clinical trials, using doctors at research centers, hospitals or private clinics.

Confidentiality agreement:
A legal agreement drug companies require doctors to sign, forbidding them from discussing details about an ongoing clinical trial. Legal experts say paying a doctor to break a confidentiality agreement is against the law.



Investors can then buy or sell stock based on the confidential information. Legal experts say this is illegal, even criminal.
Stock brokerage:
A financial firm that charges fees to buy and sell stock for investors. Some have research analysts to help customers, including hedge funds, decide how to invest.

Hedge funds:
Mostly unregulated investment funds for institutions and wealthy people. Hedge funds are allowed to make risky investments, such as shorting stock or buying stock with borrowed money. They seek high returns and typically charge steep fees, including 20 percent of profits.

Shorting a stock, or "selling short":
A technique that allows investors to make money when a stock goes down. An investor borrows shares from someone and sells them. Later, the investor buys shares to give back to the lender. If the price has fallen, the short investor makes a profit.