Originally published December 3, 2012 at 9:46 PM | Page modified December 4, 2012 at 10:09 PM
Portland's baby elephant belongs to traveling show
The newborn calf is the property of a private company, Have Trunk Will Travel, of Perris, Calif., which assumes ownership of the newborn within a month.
Seattle Times staff reporter
GLAMOUR BEASTS:
The dark side of elephant captivity
Interactive: Thonglaw's tragic family tree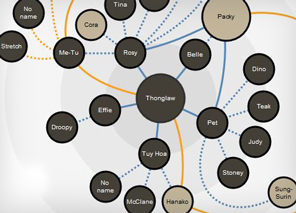 No comments have been posted to this article.
A baby elephant born at Portland's zoo last week may be fated to a life with a controversial traveling elephant show that rents out pachyderms to the entertainment industry, stages circuslike events and offers elephant rides at $500 an hour, The Seattle Times has found.
Last Friday's birth of a 300-pound Asian female at the Oregon Zoo sparked public celebration and generated national news. The zoo industry promptly declared the event a victory in its quest to preserve and propagate an endangered species.
But the newborn calf doesn't legally belong to the Portland zoo. Instead, it is the property of a private company, Have Trunk Will Travel, of Perris, Calif., which assumes ownership of the newborn within a month, according to a contract between the Oregon Zoo and the company that was obtained by The Times.
Oregon Zoo officials quietly cut a deal to give up the second, fourth and sixth offspring between Rose-Tu, owned by the zoo, and Tusko, a prolific male owned by Have Trunk Will Travel. Last week's birth was the second offspring between the pair.
The Times' discovery of the breeding contract highlights the dark side of elephant captivity, in which zoos are desperate to breed more elephants at any cost. The Times reported this week in a two-part series, Glamour Beasts, that elephants are dying out in America's zoos. Zoos have depended on elephants as crowd pleasers and revenue generators, but for every elephant born, on average two others die, a Times analysis has found.
Since 2005, the industry's trade group, Association of Zoos and Aquariums (AZA), has aggressively promoted breeding efforts to counteract declines in captive elephant populations. Just 288 elephants remain inside 78 U.S. accredited zoos.
Kari Johnson, who co-owns the business with her husband, Gary, confirmed Monday that Have Trunk Will Travel owns legal rights to the newborn under a contract signed with the Oregon Zoo in 2005. Details of the newborn's future have not been worked out, she said.
"We are just thrilled," Johnson said. "We'll go for a visit soon. I just want to hug her."
Hova Najarian, a spokeswoman for the Oregon Zoo in Portland, initially denied knowledge of the contract, saying Friday the unnamed newborn "is here for life."
After The Times provided a copy of the contract, zoo officials responded with a statement:
"The contract is valid. As per the agreement, official designation of ownership takes effect after the calf has lived 30 days. Once that happens, the Oregon Zoo will be in discussion with Have Trunk Will Travel regarding ownership, and it is the zoo's intent to retain Rose-Tu's calf."
At a Tuesday morning press conference, zoo director Kim Smith said the zoo is negotiating with the company to take ownership of the calf. She expects the calf to live at the zoo permanently.
But under terms of the contract, the zoo does not have the power to keep the elephant if Have Trunk Will Travel wants to take possession.
The contract, signed in June 2005, stipulated that Have Trunk Will Travel would transfer their male elephant, Tusko, to the Oregon Zoo. Records show that Tusko, now 40, arrived the following month; he remains at the zoo.
Because elephant gestation takes 20 to 22 months, breeding males may stay at zoos for many years.
Have Trunk Will Travel owns five Asian elephants, ages 27 to 47. In 2010, its 4-year-old Asian male succumbed to the fast-acting elephant endotheliotropic herpes virus (EEHV), which may spread by contact and kills only elephants.
The company has generated controversy over its 30-year history for its use of chains and bullhooks — long-handled, clawed-end training tools used to discipline elephants and train them to perform tricks.
Have Trunk Will Travel faces mounting criticism for offering elephant rides at regional fairs and zoos.
Kari Johnson said the company's elephant rides at wedding events is a fast-growing revenue stream.
"Imagine the groom carried high atop an elephant as friends and family dance around him," the company's website reads. "The elephants are beautifully decorated and are accustomed to taking part in Indian weddings."
The company has also provided elephants for such films as "Operation Dumbo Drop," "Larger Than Life" "George of the Jungle," "Jungle Book" and "Evan Almighty."
Have Trunk Will Travel practices unprotected contact with elephants, using bullhooks to control the animals. The practices are prohibited at most zoos. Even so, the company is accredited by the AZA.
As a result, the traveling show is free to breed its elephants and exchange offspring with most U.S. zoos.
Tusko's first calf with Rose-Tu was born in August 2008, a male named Sumudra. After the delivery, Rose-Tu went into a "frenzy," zoo officials said, and stepped on her newborn.
Zookeepers quickly rescued Sumudra. They believed the first-time mother, born at the zoo in 1994, was frightened and unfamiliar with the birthing process. Mother and son reunited without incident.
After Friday's birth, keepers put the female newborn in a rope harness in case they needed to quickly pull her away from her mother. But Rose-Tu and her daughter bonded smoothly, officials said.
In the wild, mother and daughter live together for life.
Michael J. Berens: mberens@seattletimes.com or 206-464-2288. News researcher Gene Balk contributed to this report.