---

This story ran in The Seattle Times on Sept. 29, 1996
By Sharon Boswell
and Lorraine McConaghy
Special to The Times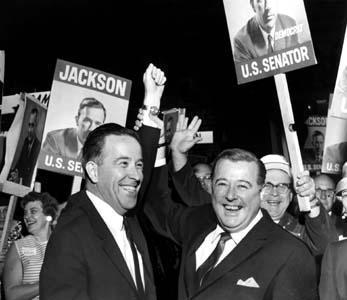 Here, the two "towers of power" raised cheers during the 1964 Democratic state convention. Photo Credit: Seattle Times.
SCOOP AND MAGGIE -- THE NAMES SEEM INSEPARABLE, AS FAMILIAR AND COMFORTABLE TOGETHER AS OTHER FAMOUS PAIRS OF THE 1960S LIKE HUNTLEY AND BRINKLEY, OR EVEN BATMAN AND ROBIN. But Henry M. "Scoop" Jackson and Warren G. "Maggie" Magnuson gained their national recognition as skillful politicians who made enduring contributions at all levels of American government.
Divergent in style but compatible in vision, the two senators provided Washington state with almost unprecedented attention in the nation's capital. Nicknamed the Gold Dust Twins for their ability to attract federal money and valuable legislation for their constituents, Scoop and Maggie were also distinguished by their ability to work together. They occasionally disagreed on national issues, most notably defense policy, but were almost always of like mind when it came to upholding the interests of their state.
Despite quite different childhoods, Scoop and Maggie had arrived in the Senate by remarkably similar paths. Magnuson, born in 1905, was raised by a foster family on a Minnesota farm. He left home at 17, working in iron mines and wheat fields before riding the rails west to Washington. Odd jobs helped pay for college and law school at the University of Washington.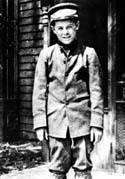 The young Warren Maguson at left. At a White House dinner for Winston Churchill, the British statesman noticed President Franklin Roosevelt referring to Warren Magnuson by the feminine nickname "Maggie." "Well, young man, don't mind it at all," he told Magnuson.
"I think the reason I'm prime minister of Great Britain is that I'm known as 'Winnie' in every pub in the country." Photo Credit: Magnuson files.

Elected to the state Legislature in the 1932 Democratic landslide ushering in Franklin Roosevelt, Magnuson considered himself a New Dealer throughout his life. After one legislative term he ran successfully for King County prosecutor, then for Congress in 1936, becoming at 31 one of its youngest members. In 1944 Maggie won the Senate seat he held for six terms.
Henry Jackson's parents were Norwegian immigrants who had settled in Everett, where his father built cement basements. Jackson managed a paper route to finance his education, and during the Depression lived at home and waited tables in order to finish law school at the UW.
Always intrigued by politics, Jackson entered his first campaign in 1938, running for Snohomish County prosecutor. His crackdowns on illegal gambling propelled the 28-year-old into Congress two years later. In 1952 he announced his candidacy for the Senate, beating the incumbent despite a Republican landslide and attacks from anti-Communists like Joe McCarthy.
Once in the Senate together, Magnuson and Jackson positioned themselves on committees important to Northwest interests such as Boeing and the Hanford nuclear reservation. By the late 1950s Magnuson was a high-ranking member of the powerful Appropriations Committee and chair of the Foreign and Interstate Commerce Committee while Jackson held seats on Armed Services, Interior and a joint committee on Atomic Energy.
But during the 1960s when the Democrats seized the presidency, Scoop and Maggie really came into national prominence. Their strong ties to the Kennedy and Johnson administrations brought prestige, media attention and the political clout to build an even stronger power base for the advancement of Washington.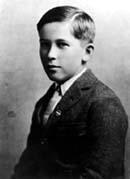 Scoop Jackson, at right. Henry Jackson's sister is usually credited with giving him his nickname. "Scoop" was a comic-strip newspaper reporter famous for getting others to work for him. Later regarded as diligent, perhaps too serious, Jackson paired well with the more charming Magnuson. Photo Credit: Archives and Manuscripts, University of Washington.
SCOOP JACKSON WAS A LEADING CONTENDER TO BECOME JOHN KENNEDY'S RUNNING MATE in 1960. But when Jackson lost to Lyndon Johnson, he accepted the Democratic Party chairmanship, rising in stature as he helped Kennedy to his narrow election victory.
Magnuson also took part, heading the campaign in 13 Western states. Kennedy later repaid him, coming to Seattle for a testimonial dinner honoring Maggie's 25 years in Congress and kicking off his 1962 Senate run. Nearly 3,000 guests heard Kennedy joke, "He sends messages to the rostrum, and when he is asked, 'What is it?' he replies, 'It's nothing important.' And Grand Coulee Dam is built."
Although Maggie was not really responsible for Grand Coulee, he and Scoop could take credit for bringing Washington one out of every six dollars in public-works appropriations, though the state ranked only 23rd in population. Several dams, a Grand Coulee powerhouse as well as numerous highway and irrigation projects were just part of the Magnuson-Jackson pork barrel. Many national programs the senators supported also had strong Washington state benefits -- from an oceanographic bill bringing the UW millions in research money to the law setting a 12-mile limit to protect coastal fisheries.

Photo Credit: Seattle Times.




Photo Credit: General Electric

Friendship with Democratic presidents added to the national stature Magnuson and Jackson earned while in the Senate. A new drydock at the Puget Sound Naval Shipyard in Bremerton,left, and a dual-purpose reactor at the Hanford nuclear reservation, right, were two of the defense projects the pair supported to benefit Washington.

But the dynamic duo probably had greatest success during the 1960s in bringing home defense contracts, expanding the area's shipyards and military installations, but most notably the local aircraft industry. Although Jackson always cringed when called "the senator from Boeing," Seattle's premier company benefitted substantially from both Scoop's and Maggie's efforts. In 1965, 80 percent of Boeing's contracts were military.
The Washington delegation's political power was never more in evidence than during the bitter Senate fight over the Supersonic Transport, the SST. Annual attempts to stop government support for SST development -- a huge portion of which went to Boeing -- were turned back by Scoop and Maggie, prompting an opponent, Wisconsin Sen. William Proxmire, to conclude: "There are just two strong, persuasive reasons for the SST" -- Scoop and Maggie.
Yet even their consummate political skills could not save the SST, which was finally grounded in 1971. Scoop and Maggie responded in character, obtaining an extension of unemployment benefits for states such as Washington facing serious economic problems.
The partnership could easily have been fractured by Jackson's campaigns for the Democratic presidential nomination in 1972 and 1976 and by his hawkish position on Vietnam, which Magnuson clearly opposed. Yet throughout their careers the two senators continued to support each other in promoting state interests.
In a changing world, those efforts often meant protecting the region's environment from the very development the pair had earlier championed. Whether sponsoring legislation for a North Cascades National Park or ensuring that supertankers could not pollute Puget Sound, Scoop and Maggie kept the benefits rolling into Washington.


Historians Sharon Boswell and Lorraine McConaghy teach at local universities and do research, writing and oral history. Original newspaper graphics courtesy of the Seattle Public Library.



More photos

Table Topics


---



---
Copyright © 1996 The Seattle Times Company