---

This story ran in The Seattle Times on February 4, 1996

By Sharon Boswell
and Lorraine McConaghy
Special to The Times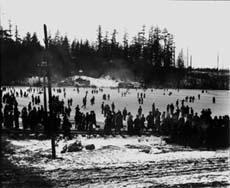 After a snowstorm, folks turn out to skate on frozen Green Lake and slide down nearby hillsides in 1902. A crowd of spectators watches the skaters' antics.
Photo Credit: Museum of History and Industry.


AT THE TURN OF THE CENTURY, MOST SEATTLE PEOPLE FOUND THEIR FUN CHEAP and close to home.
Few city folk owned a horse and fewer still boasted an automobile, the rich man's new toy.
People headed for the city's popular parks and resorts by streetcar, on foot or bikes.
Bicycles were the craze, and "wheels" were hot sellers in newspaper display ads. In 1900, cyclists rode on a path along Magnolia Bluff or on the loop trail that ran up Lake Union, east to Lake Washington, and south to Leschi. Riders also enthusiastically adopted thoroughfares and wagon roads, and biked alongside the city's street-railway tracks.
In cold weather, folks carrying skates and sleds boarded the streetcar, headed for frozen Green Lake.
In the summertime, they took the Yesler cable car out to Leschi Park, or rode to the picnic grounds at the end of the Madison Street line. Families rented a horse-and-wagon to haul a canvas tent and boxes of groceries to campsites along the shores of Elliott Bay. A dozen little steamships offered excursions, cruising the moonlit waters of Puget Sound or chugging over to Calkins' resort hotel on Mercer Island.
In 1900, having fun became an issue for serious political discussion. The city's public park system had begun humbly, with two pieces of land donated by David Denny and George Kinnear. Today's Volunteer Park was Seattle's only major land purchase before 1900. But in that year, the City Council flexed its muscles and authorized the Parks Board to buy "Woodlands," a 200-acre estate west of Green Lake, easily accessible by streetcar. The announcement focused debate about the nature of recreation and public ownership of city parks.
Some believed that urban parks should be retreats, groves threaded by paths leading to romantic vistas where city people would restore their spirits in quiet contemplation. Others believed that such parks should be playgrounds, and encouraged the city to buy land for sports fields or for sandboxes, wading pools and a "menagerie." Supporters of the rustic ideal fought the purchase of Woodlands, soon to be Woodland Park. It was just a "barren tract of land," they claimed; it could never be more than a lowbrow playground for Seattle's blue-collar families.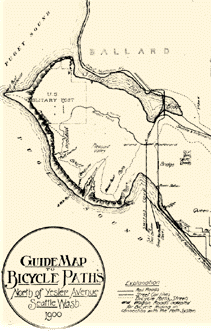 Map at left: Special Collections, UW Libraries
SKATING AND SLEIGHING IN THE WINTER, CAMPING, BIKING AND BOATING in the summer, city people played year-round in nearby places at the turn of the century. To guide fellow enthusiasts to paths linking the city's beaches and parks, Seattle bicyclists published a map in 1900. Parks and playgrounds soon became political issues as citizens debated where such amenities should be, how they should be used and who should pay for them.
Woodlands detractors like real-estate developer James Moore and Times publisher Alden Blethen were convinced that public purchase of this land would be "a serious calamity" and that Woodlands was overpriced, a burden to city taxpayers. These powerful spokesmen argued that public ownership confiscated land from private development -- if the city must buy parkland, let it buy Ravenna Park, unsuitable for residential construction because of its rugged terrain and distance from the city core.
But the city purchased Woodland Park for $100,000. Three years later, the council commissioned renowned landscape architect John Olmsted to design an elaborate system of city parks, linked by boulevards. Though it took years to pass the necessary bond issues, by 1911, Seattle owned nearly 1,000 acres of parkland with room for both sylvan meditation and boisterous play.
Over these years, the city acquired some of the old private parks -- such as Leschi -- and bought new ones, including Washington Park, known today as the Arboretum, and Ravenna Park. Seattle also developed Lincoln, Jefferson and other urban playfields with baseball diamonds and swing sets. Lake Washington resorts continued to thrive, as did West Seattle's exciting new Luna Park, the "Coney Island at the end of the streetcar line."
But by 1910, Locomobiles, Wintons and Cadillacs grew common on city streets. With each passing year, cars became more affordable and changed Seattle fun forever, as city people "motored" farther afield to ski, hike, camp and fish.

Historians Sharon Boswell and Lorraine McConaghy teach at local universities and do research, writing and oral history. Original newspaper graphics for this Centennial Page were provided courtesy of the Seattle Public Library.

More photos
Table Topics
---



---
Copyright © 1996 The Seattle Times Company