---

This story ran in The Seattle Times on February 11, 1996
By Sharon Boswell
and Lorraine McConaghy
Special to The Times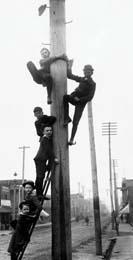 At right, these boys seemed ready for mischief around the turn of the century when this photograph was taken, but later in life they were solid citizens. The third young man from the bottom, Du Bois Mitchell, became the librarian of the University of Puerto Rico, while MacBurney Mitchell, clinging to the top of the pole, headed the German department at Brown University. Photo Credit: Seattle Times.
AS SEATTLE PROSPERED, MANY RESIDENTS HOPED THE CITY WOULD ABANDON ITS BOOMTOWN LIFESTYLE and become a family town.
The children of the rapidly expanding middle class grew up with the city and led a more pampered, protected existence than previous generations.
Their progressive parents gave them more attention and respect, but also insisted on solid moral instruction and strict control over their activities. City institutions also helped shape children's lives, providing better educational opportunities and new public places for them to have fun.
Parents in the early 1900s wanted to give their offspring the best, and local businessmen stood ready to oblige. Daily newspapers were full of advertisements for children's products -- everything from cold medicine to comfortable carriages and intriguing toys.
Department stores carried a full selection of children's clothing, including silk party frocks for "little women in miniature" and "manly little suits for boys." If mother and father wanted to pay the price, they could even outfit their tikes in the latest Paris fashions.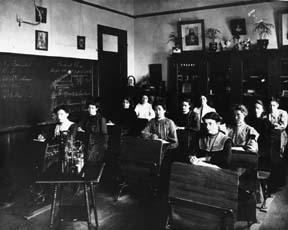 At left, new public and private schools built after the turn of the century provided the region's growing student population with a "modern" education. In about 1906, young women at the former St. Rose's Academy were learning the basics of physics. Photo Credit: Seattle Times.
THE WELL-BRED CHILD AT THE TURN OF THE CENTURY ALSO might learn to dance at a local academy, paint with a master, or take music lessons from Nellie Cornish, who later established Seattle's pioneering school for the arts.
Local newspapers soon began to run features devoted exclusively to the interests of young people. In 1906, The Times inaugurated an eight-page weekly magazine supplement for boys and girls, offering adventure stories, science projects, poems and puzzles.
Most of the children's fiction provided moral instruction -- work hard, be brave, always share and never lie. The magazine also sponsored essay competitions on topics like "What I Like to Read About," and "Industry Contests" offered prizes for hard-working students who gathered the greatest number of newspaper coupons.
Even some of the Sunday comics carried reminders about proper behavior. Among the most popular was the Buster Brown series, whose title character was a lovable 10-year-old who frequently got into mischief but always learned important lessons. Buster Brown became a national icon, the namesake for a line of clothes, shoes and other products.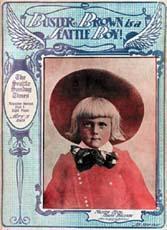 In 1905, The Times declared Cecil Bullock of Ballard, right, a look-alike to the famed comic character Buster Brown. Photo Credit: Seattle Times.

LOCAL BOOSTERS LIKED TO BRAG ABOUT THE SUPERIOR REPUTATION of the city's schools, "a sure index of the character and substantiality of any community." After a few early growing pains, the public-school system rapidly expanded to meet the needs of the burgeoning student population.
In 1903, more than 15,000 pupils enrolled, while 20 years earlier barely 1,000 had attended. During the next decade the School Board authorized construction of 40 schools in developing family neighborhoods to provide the up-to-date settings parents demanded.
The city could not keep pace, however, with demand for new recreational areas. Children flocked to Seattle's parks to enjoy sandboxes and wading pools, swings and teeter-totters. The city hired supervisors to organize playground programs during summer months and teamed up with the public library to encourage reading during park visits.
Not all Seattle young people had the free time to take music lessons or even to play outdoors. Many local children worked in stores, factories or on surrounding farms to support themselves or help out their families. And reformers failed to get stricter laws to control these practices.
Seattle's newsboys were the most conspicuous young laborers, hawking papers on streetcorners throughout the city. Some still resembled the street urchins of 19th-century Horatio Alger novels -- homeless and exploited -- but many 1900s newsboys worked after school hours or attended night classes through the public schools.
These entrepreneurs established a Newsboys' Union which protected their rights to sell papers at designated spots, paid medical expenses if they fell ill, and sponsored dances, picnics and other social functions. As late as 1915, nearly 14 percent of all eighth-grade boys in the city sold papers on the streets.
Seattle had its share of delinquents involved in pranks, robberies and assaults, but the city joined parents in trying to make childhood a happy, productive time for most young people. Vice and crime, however, continued to threaten their efforts to make Seattle truly a family town.

Historians Sharon Boswell and Lorraine McConaghy teach at local universities and do research, writing and oral history. Original newspaper graphics courtesy of the Seattle Public Library.
More photos
Table Topics
---



---
Copyright © 1996 The Seattle Times Company