---




This story ran in The Seattle Times on Dec. 29, 1996

By Sharon Boswell
and Lorraine McConaghy
Special to The Times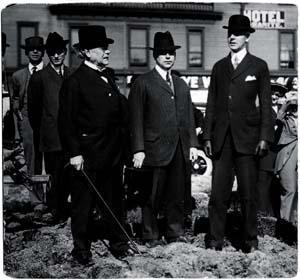 Seattle Times patriarch Col. Alden Blethen, with cane, and his sons C.B., center, and Joseph in 1914. The colonel died the next year and C.B. took over as publisher, a position he held until 1941. Photo Credit: Seattle Times file / 1914.

IN 1896, THE SEATTLE EVENING TIMES WAS A THIRD-RATE NEWSPAPER, SUPPORTED BY ITS PRINTING SHOP. But Alden Blethen -- great grandfather of Frank Blethen, The Times' current publisher -- called in every favor to scrape together his stake in the paper's purchase. Blethen transformed The Times, buying the best newsroom talent and the newest technologies.
Volcanic, stubborn and sentimental, he imagined a cosmopolitan Seattle that offered ballet and billiards, Delmonico steak and Dungeness crab; an international city whose docks welcomed the fleets of the world.
The Klondike Gold Rush offered this eager dreamer and his city their great shared opportunity to make good. The city and The Times began their long dance of leading and following one another, writers and readers shaping and in turn being shaped.
At his death, Alden Blethen left The Seattle Times in the hands of his sons. C.B. Blethen published the newspaper until 1941, and built Fairview Fanny, The Times that Seattle old-timers remember. Staid, dependable and partisan -- enlivened by an occasional stunt -- the paper perfectly suited the small-town conventions of Seattle's establishment between the wars.
After C.B. Blethen's death in 1941, the newspaper entered the wartime homefront under the guidance of a family friend and corporate attorney, Elmer Todd, then passed into the hands of Blethen's sons. The Times was a crucial source of information and good cheer to a mobilized society. But the newspaper went after some tough homefront stories, too, sending a reporter undercover to look into rumors of payroll-padding in local shipyards.
In 1950, The Times won its first Pulitzer Prize for Ed Guthman's investigative reporting of the Communist-hunting Canwell Committee's case against UW Professor Melvin Rader. Eleven years later, The Times published a series critical of the rightist John Birch Society to a storm of reader disapproval.
But in the pages of The Times, mid-century Seattle was white, self-satisfied and affluent. An occasional African-American minister, Asian calligrapher, or costumed Yakama dancer might appear in the newspaper; otherwise, The Times did not report on local communities of color.
As G.I. suburbanization swept Seattle and King County, The Times remained silent about red-lining to keep minorities out of certain neighborhoods. It left uninvestigated problems of local police corruption, substandard schools and pollution -- such problems were too reminiscent of Eastern cities, troubled beyond hope.
During his career, Alden Blethen had proudly proclaimed that metropolitan Seattle reminded him of Boston and Philadelphia. But the mid-20th-century newspaper celebrated Seattle as a distinctly Western metropolis, a sprawling city of single-family homes, the frontier destination of self-selected pioneers.
Capital of an empire of timber and fish, proud of its homegrown aircraft and shipbuilding industries, Seattle claimed its natural environment with careless pride -- and accepted casually the benefits of Commerce and Progress.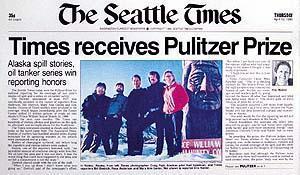 Coverage of the Exxon Valdez in 1989 won another Pulitzer Prize for The Seattle Times. The paper's first Pulitzer came in 1950. Photo Credit: Seattle Times file / 1990.
THE TIMES -- SEATTLE'S "GRAY EMINENCE" -- MET AND MATCHED THE CITY'S OWN RAINY RESPECTABILITY, its metropolitan complacency.
The '60s and '70s changed all that. The World's Fair in 1962 marked the birth of the Puget Sound hometown. Century 21 became a vision of breathtaking ambition that involved thousands of volunteers. Gazing from the Space Needle's observation deck, local people critically examined the region, and their own way of life. Then they got busy, re-imagining the sweep of land around them.
Local citizen activists developed the Metro proposals and persuaded voters to reorganize county government and clean up Lake Washington. The city's racial minorities refused to quietly endure discrimination, or be ignored by the city's newspapers.
Downtown businessmen had long held carte blanche in Seattle's development, but citizens rebelled to save the Market, the Square, and the International District from demolition in the name of Progress. Writers and artists interpreted the city and its heritage with irreverence and insight -- from John Okada's No-No Boy to Victor Steinbrueck's sketches of the Pike Place Market.
They discovered the complexities of America's Last Great Place, this coastal haven where westering gypsies finally settled, a place where problems could be acknowledged and debated, sometimes even solved. Along the way, the Puget Sound hometown grew cleaner, busier and richer, its way of life ever more "liveable" -- maybe ever more equitable -- compared with other American cities.
As the population has exploded, its set of common values has grown more distinct: Newcomers and oldtimers alike respect the natural environment, diverse cultures, and the notion that an individual can make a difference.
Leading and following us, The Times has become our hometown's daily meeting place -- to air and consider issues, to argue and advance solutions, to persuade or dissuade. We hear and see ourselves and our neighbors in its pages, in the conversations of its Front Porch Forum, in the editorial chorus of lefties and righties, cynics and innocents. We see the newspaper take on hard stories that defy its own economic self-interest. We see that newspaper people look like us and our neighbors, and that we share common cause.
For 100 years, the Blethen-owned Seattle Times has offered readers a daily bulletin board, a changing sense of identity and place, and a common ground where differences of experience and perspective can meet in civility. Today, The Times, in print and on-line, offers a forum for lively, informed discussion, a seedbed for new ideas, and critical examination of those ideas.
In 1913, Alden Blethen confided to his son that he hoped in a hundred years, The Times would be read by 5 million people each day; in 2013, 5 million visitors from an expanded Puget Sound hometown might participate in the cyberspace Times. Blethen would delight in the combination of high-tech sophistication and front-porch community, dynamism and tradition that characterize the changing Times, the changing region.

Historians Sharon Boswell and Lorraine McConaghy teach at local universities and do research, writing and oral history. Original newspaper graphics courtesy of the Seattle Public Library.


---



---
Copyright © 1996 The Seattle Times Company