---

This story ran in The Seattle Times on August 11, 1996
| | |
| --- | --- |
| | Actors posed for 1956 promotion photos in the spacious comfort of a 707 Stratoliner cabin mock-up. Photo Credit: The Boeing Co. |
AFTER A DIFFICULT POSTWAR READJUSTMENT, THE ECONOMY HIT ITS STRIDE IN THE 1950S, rolling up a 50 percent increase in the gross national product.
Many Americans enjoyed this broad national affluence, as real wages and employment rose despite recessions, strikes and inflation.
Fifties consumers went on a spending spree, eagerly buying television sets, power mowers, decorator telephones, poodle skirts, flashy cars and the ubiquitous barbecue grill.
On New Year's Day 1956, a Seattle Times front-page story ticked off the state's economic good news: The 1955 demand for lumber had been solid; plywood and paper manufacture was thriving; hydroelectric and natural-gas construction projects rushed ahead to meet demand; Hanford was booming; the aluminum industry was expanding capacity; the Port of Seattle raced to accommodate increasing cargo tonnage -- up nearly 40 percent above the previous year. But Boeing was the real success story.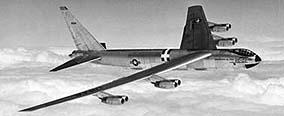 At left, a B-52 Stratofortress long-range bomber flies above the clouds. Photo Credit: The Boeing Co.

IN 1956, THE BOEING PAYROLL PUMPED NEARLY $8.5 MILLION into the local economy every two weeks. About 35,000 King County men and women worked for The Big B -- slightly more than half of all manufacturing employees in the metropolitan area. Only curmudgeons fretted about local dependence on one company.
Seattle was just plain happy to be Boeing's company town, proud of the industry giant that had grown from modest 1916 beginnings in the old Heath shipyard on Lake Union.
The Times provided eager coverage of Boeing's resurgence as a Cold War military contractor -- for B-47 Stratojet and B-52 Stratofortress jet bombers -- and as a developer of jetliners for the commercial airlines. Longtime Boeing-watcher Bob Twiss followed the home-grown success story for Times readers, rooting for the company all the way. After all, "As Boeing goes," the local joke ran, "so goes Seattle. And Bellevue. And Bothell. And Renton. And so forth."
From 1955 on, the race between Boeing 707 Stratoliners and Douglas Aircraft Company DC-8s to win the commercial jet transport market made monthly headlines in The Times.
In 1959, 1.5 million air travelers passed through Seattle-Tacoma Airport, putting to rest earlier fears that air travel would remain a luxury and the airport would be an empty failure. Instead, commercial jet flight was a raging success: Twiss noted in a 1959 year-end economic review that Boeing had booked orders for nearly 200 707s.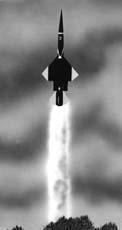 In the '50s, local affluence depended on sales of Boeing jets to both the U.S. Cold War arsenal and the civilian transportation industry. At right, a Bomarc missile streaked skyward at an Air Force test center. Photo Credit: The Boeing Co.
PRESIDENT EISENHOWER'S PROPOSED DEFENSE BUDGET FOR BOEING PROJECTS in 1960 made headlines in Seattle. The contracts totaled more than $1 billion and included 72 LC-135 jet tanker-transports, 40 B-52H Stratofortress bombers, a secret number of Superbomarc missiles and nearly $500,000 for the DynaSoar, Boeing's candidate for the manned space program.
The aerospace giant's military contracts were a big story, but so was the 707 jetliner. In 1956, Boeing had depended on federal money for 98 percent of its business but in 1960, more than 50 percent of the company's revenue would come from commercial sales.
Outside the Seattle area, most state residents earned their living in agriculture and resource-based industries. And those people were doing well, too: In 1959, Washington wages exceeded $6 billion -- a record to that date.
In Seattle, local retail sales nearly doubled and the average family income increased from $5,255 to $7,042 -- a 34 percent jump -- during the boom between 1951 and 1960.
Seattle's streets and shops were bustling: its theaters, restaurants and cultural institutions more sophisticated and cosmopolitan. The Alaskan Way viaduct was completed along the waterfront, and the Washington, Logan and Norton buildings changed the city's skyline. Seattle had grown north to 145th Street, and new residential subdivisions followed. New shopping malls, such as Northgate and Bellevue Square, drew branches of downtown department stores.
Confident, the metropolitan area tackled some of its enduring problems: the argument over a north-south superhighway through town and another on the Eastside; the issue of a second floating bridge; cleaning up a polluted Lake Washington; what to do about King County's antiquated system of government.
There was even enough optimism to consider holding a world's fair.
Critics have called these years the Fatuous Fifties, deriding the complacent culture of materialism, respectability and conformity. But local prosperity didn't just drive the purchase of decorator phones and big-finned cars -- it encouraged a surge of civic energy that transformed the city.

Historians Sharon Boswell and Lorraine McConaghy teach at local universities and do research, writing and oral history. Original newspaper graphics courtesy of the Seattle Public Library.
More photos
Table Topics
---



---
Copyright © 1996 The Seattle Times Company