---

This story ran in The Seattle Times on August 18, 1996
By Sharon Boswell
and Lorraine McConaghy
Special to The Times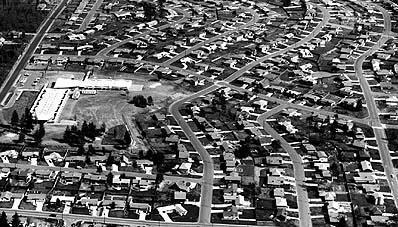 By 1963, 4,000 ranch and split-level houses sprawled across
1,200 acres of the Lake Hills development.
Photo Credit: Seattle Times.


SUBURBANIZATION WAS THE SINGLE MOST STRIKING PHENOMENON OF THE 1950S, as more than a quarter of the American people left behind city apartments and row houses to buy new homes of their own. The GI Bill provided entry into the homeowning middle class by guaranteeing low-interest mortgage loans for millions of World War II and Korean War veterans.
Previous suburban development had followed corridors of public transportation, but most '50s suburbs took advantage of postwar automobility. Subdivisions sprawled in a sheet across the countryside, bulldozers obliterating chicken farms and meadows to build ranch houses and split-levels, six to the acre. Powered by federal policy, cheap land, innovative building techniques and enormous demand, postwar suburbs transformed the American way of life.
But '50s social critics raised their hands in horror at rows of identical houses thrown up overnight in treeless seas of mud. The new communities were held to be transient, their social life superficial, their pursuit of "nature" ridiculous. Critics derided the new "bourgeois utopias" as monotonous, sterile and vulgar.
And yet people continued to stream from the cities to the suburbs, and most declared that they were happy there.
In 1955, news items began to appear concerning the largest planned development in the Pacific Northwest to date, an Eastside subdivision initially called "Eastgate Hills." Marketed in The Seattle Times as a "self-contained city in a country atmosphere," this huge subdivision would eventually spread over 1,200 acres and be called Lake Hills.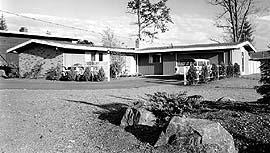 Quintessential suburbia: Lake Hills. A station wagon sat in the driveway of this model home, the "Country Squire," in the Lake Hills development. Builders staged a new show of model homes each year of construction. Photo Credit: Special Collection, University of Washington Libraries.

IT WAS BUILT MILES EAST OF BELLEVUE'S BOUNDARY AT THE TIME. Leapfrogging over the suburban frontier, the subdivision was approved with no water, sewer, or fire district; no schools, stores, streets, churches, parks, or public transportation. It took months to get telephone service; the nearest hospital was in Seattle.
"We felt," one early resident recalled, "just like pioneers."
Lake Hills opened in August 1955. The real-estate salesmen stood by impatiently as Gov. Arthur Langlie presided over the festivities. Amid the popping of flashbulbs and champagne corks, Langlie unveiled a sign at the subdivision's entrance; then formalities gave way to the business of selling houses to the land rush of suburban homesteaders.
Just six ranch houses stood ready, in a landscape of devastation. The paint was still wet and the furniture had been delivered the previous day. You could get around the subdivision only by four-wheel-drive Jeeps. But that first weekend, 45,000 people shuffled through the model homes -- they simply headed east from Seattle on I-90 and followed the traffic. Priced at about $13,000, the houses on this 1955 street of dreams sold like hot cakes.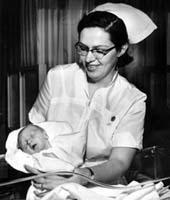 1957. The postwar baby boom peaks, and a baby is born every seven seconds in the U.S. Photo Credit: Seattle Times.
THAT SAME YEAR, BELLEVUE WAS CHOSEN AS AN ALL-AMERICA CITY by Look magazine. Bellevue's Chamber of Commerce celebrated the award, publishing a booklet, "Gracious Living," that emphasized an elite, suburban way of life. The booklet loftily pointed out that most Bellevue homes were "built by individuals hiring their own architects," in distinctive enclaves of quiet charm. The booklet's cover featured the Bellevue ideal: a lakeshore residence surrounded by manicured grounds, with a private dock and a bridle trail heading off into the fir trees.
At mid-decade, Lake Hills reality stood in stark contrast to Bellevue aspirations. Lake Hills promotions in The Times and other area newspapers described the growing suburb as a "new city," promising a "new way of life in a planned community." But Bellevue wags dubbed the subdivision Fake Hills or Bellevue's Levittown. They joked about door handles that fell off in your hand and water that came out of the faucets brown.
Compared with Bellevue, Lake Hills was an instant community, mass-marketed to middle-class families. There, your architect was everybody's architect; the houses looked so much alike that people joked about driving into the wrong garage by mistake.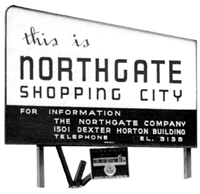 1950. The Bon Marché is the first store to open at Northgate. Photo Credit: Seattle Times.

LAKE HILLS' SUCCESS IN MEETING THE MARKET only made matters worse -- its crass commercialism rubbed Bellevue the wrong way.
Lake Hills ads continued to sell city convenience in a country setting, "getting away from it all just 20 minutes from downtown Seattle." Eventually, 4,000 homes would cover Lake Hills and, in 1969, the area would be annexed into Bellevue.
Once feared as "GI Bill shelter housing" that would act as Bellevue's great leveler, today Lake Hills just seems a series of pleasant homes on quiet cul-de-sacs, landscaped with rhododendrons, shaded by maples.

Historians Sharon Boswell and Lorraine McConaghy teach at local universities and do research, writing and oral history. Original newspaper graphics courtesy of the Seattle Public Library.

More photos
Table Topics
---



---
Copyright © 1996 The Seattle Times Company