---

This story ran in The Seattle Times on April 14, 1996
By Sharon Boswell
and Lorraine McConaghy
Special to The Times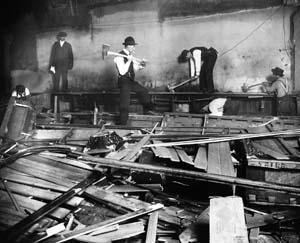 With hatchets swinging, agents from the Seattle Police Department's Dry Squad destroyed the American Cafe for violating Prohibition.
Photo Credit: Seattle Times
THE SPLINTERED REMAINS OF TABLES AND CHAIRS lay in heaps amid broken glass, bottles and other debris. Jagged shards from what once was a room-length mirror still clung to the walls. Electrical cords dangled and an oil painting, slashed in two, leaned against an overturned spittoon.
The devastation of the American Cafe, one of many local drinking spots, was all in a day's work for the Dry Squad.In January 1916, this special Seattle Police unit had started what was to become a 17-year battle to enforce Prohibition.
At first, the city put on a show of zealous prosecution, wrecking illegal saloons like the American Cafe, busting up stills, even raiding the home wine cellars of the Boeings, Skinners and other Seattle elite.
Washington had begun Prohibition before most of the rest of the nation, initially closing bars and stopping the manufacture of liquor, but allowing limited imports by special permit. In 1917 the state went "bone dry," and in 1919 a majority of states ratified the 18th Amendment, beginning Prohibition.
Progressive politics of the day called for the moral regeneration of American life, and a host of reform groups, led by the Anti-Saloon League and the Women's Christian Temperance Union, stood ready to rid Washington and the nation of "demon rum."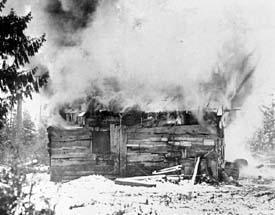 Federal agents often torched illegal moonshine operations such as this Pierce County still near Summit, at right. Photo Credit: Wash. State Historical Society

BUT ALTHOUGH A MAJORITY OF CITIZENS SUPPORTED PROHIBITION MEASURES, a similar number was unwilling to obey these laws once in force.
As a result, speak-easies multiplied, and rum runners and moonshiners happily provided all the supply they needed. Proximity to Canada ensured that the Northwest would have a steady, though high-priced, flow of liquor.
Trucks and cars loaded with cases of contraband jolted through fields and forests to sneak across the border, but the daring rumrunners, dodging Coast Guard patrol boats, brought most packaged whiskey into Washington. In high-powered speedboats, equipped with false bottoms or cleverly concealed compartments, they made nightly trips depositing their secret cargo on the docks and beaches of Puget Sound.
Roy Olmsted, a former Seattle Police officer, ran the most notorious and successful of these operations, reputedly netting as much as $200,000 a month.
Federal enforcement officers could not figure out how he consistently evaded them until finally learning that his wife, a radio broadcaster, relayed coded messages to the smugglers during her evening program of children's stories.
One of Olmsted's best customers was John "Doc" Hamilton, the urbane proprietor of Seattle's most popular speakeasy. Doc's Barbecue Pit on 12th Avenue near Marion Street attracted the cream of Seattle society with its fine cuisine and even finer selection of wines and liquor.
For many years, "Doc" was able to keep his business running by judicious payments to local law-enforcement officers and by the fact that most of the city's high-placed judges and politicians frequented his establishment.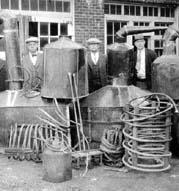 Local lawmen also seized stills from clever hiding places throughout the countryside.
Photo Credit: White River Valley Hist. Society

But for those who couldn't afford the pleasures of Doc's or one of the hundreds of other boozy night spots and music clubs along Jackson Street, in Belltown or even on Lake Union houseboats, there was always a bottle of locally produced bootleg available to consume in the privacy of home.
Illegal stills laced the countryside as many farmers found it more profitable to produce whiskey than traditional crops. From Pierce County to Whidbey Island, from Auburn to Snohomish, moonshiners distributed milk bottles of 150-proof alcohol at $3 a quart.
Federal agents often faced a challenge locating these clandestine operations. Tunnels beneath hay fields and cellars under hen-house floors concealed thriving businesses, and elaborate communication systems warned of impending raids.
When deputies did find a moonshine plant, like one producing 1,000 gallons a day on Lake Washington's east side near Newport, they usually hacked apart the equipment, burned the building and confiscated any liquid evidence.
Some paid a price for their sins -- both Roy Olmsted and "Doc" Hamilton served jail sentences. Yet by early 1930, widespread disregard for Prohibition laws made a mockery of enforcement, and growing economic depression turned public attention to weightier problems than rumrunning and liquor sales. For many, a little alcohol was a welcome antidote for hard times.
"Stamp out Prohibition" became a more popular rallying cry than the "Stay Dry" pleas of temperance supporters. In 1932, a Seattle "bring back beer" parade drew several thousand onlookers, a larger crowd than attended a dry march just a few weeks later.
Finally, on Nov. 7, 1933, as the state of Utah cast the last vote needed to ratify repeal of the 18th Amendment, Seattle held its own "little New Year's Eve." Prohibition was not officially over until December, but local residents were in a partying mood, ready to welcome the return of alcohol immediately.

Historians Sharon Boswell and Lorraine McConaghy teach at local universities and do research, writing and oral history. Original newspaper graphics courtesy of the Seattle Public Library.
More photos
Table Topics
---



---
Copyright © 1996 The Seattle Times Company