---

This story ran in The Seattle Times on April 21, 1996
By Sharon Boswell
and Lorraine McConaghy
Special to The Times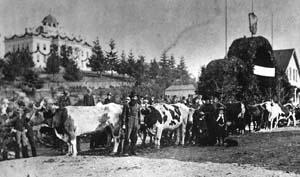 The imposing Territorial University building, on the school's original downtown campus,
seems out of place in frontier Seattle as herds of cattle are driven along the city's dirt streets.
Asahel Curtis / Seattle Times

THE UNIVERSITY OF WASHINGTON HAS BEEN SEATTLE'S PRIDE AND JOY since its founding -- a measure of the city's own growth and sophistication.
But its first 70 years were marked by a struggle for money and political autonomy only partly solved by Seattle's continuing support.
The original Territorial University opened in 1861 in what is now downtown Seattle. The non-Indian population of King County was just over 300, but eager settlers had lobbied for the prestige of a university even before creating a public-school system.
By 1895, enrollment had risen and Seattle expansion threatened to engulf the university. The Legislature had already approved a move to a bigger campus on Lake Washington, initially planning to pay for new buildings by selling the original 10-acre university tract. But, unable to get a high enough price, the regents decided to keep the land and moved anyway, leaving little money for development.
The present campus began with only two major buildings, Denny Hall and a separate gymnasium. The 1909 Alaska-Yukon-Pacific Exposition staged on campus left three more permanent buildings and many temporary ones.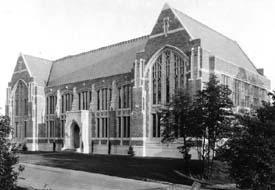 The UW moved to its Lake Washington site in 1895. Under the Suzzallo administration, university buildings adopted a modified Gothic style, giving the new campus a more unified look. Anderson Hall, at left in 1925, originally housed the forestry department.
Photo Credit: Seattle Times

BUT THE UNIVERSITY CONTINUED TO GROW, AND SO DID ITS NEEDS. The main problem was that tuition and endowments did not provide sufficient money to hire qualified professors and improve facilities.
Neighboring states provided half again as much funding for higher education, but Washington's lawmakers repeatedly rebuffed appeals from Seattle lobbyists on the UW's behalf.
Hopes rose in 1915 with a new UW president, Henry Suzzallo, a Columbia University professor born and reared in California. An engaging public speaker, he offered a unique combination of eastern stature and western values.
During Suzzallo's administration, the number of students doubled, reaching nearly 8,000 by 1925. The campus also gained eight buildings, most designed in a modified Gothic style that gave the campus a cohesive look for the first time.
In the 1920s, the university finally seemed poised to emerge from provincial status into a nationally respected center of learning. But first it had to withstand strong challenges from powerful opponents, including the governor of the state.
Suzzallo wisely had reached out to the community, encouraging local experts to serve as advisers to professional programs like forestry, mining and business administration. He'd also given more attention to athletics, completing a new football stadium, and commissioning plans for what became Edmundson Pavilion, touted as the largest athletic complex west of the Mississippi. The school also built up its crew program, winning national intercollegiate championships in 1923 and '24.
To reflect a more positive image of its hometown, the university dropped its team nickname of "the Sun Dodgers," and replaced its old mascot, Sunny Boy, with the more powerful and aggressive symbol of a Husky.
Yet Suzzallo's own aggressive style made him enemies. He alienated President Ernest Holland of Washington State College and many others in Eastern Washington by advocating that the Pullman institution stick to agriculture.
He also clashed continually with the state Legislature over money. And when Gov. Roland Hartley was elected in 1924, the battle for funding got personal, and bitter.
Hartley, a former lumberman and mayor of Everett, was a fiscal conservative whose hardline policies included opposition to spending for road construction and even child-welfare protection. His advocacy of "more education for less money" brought him into head-on combat with Suzzallo.
Suspecting that the university president had his own political ambitions, Hartley became incensed by Suzzallo's statewide lobbying campaign to gain public support for more university funding. Using his power to appoint members of the university's Board of Regents, Hartley filled two board vacancies with his anti-Suzzallo friends.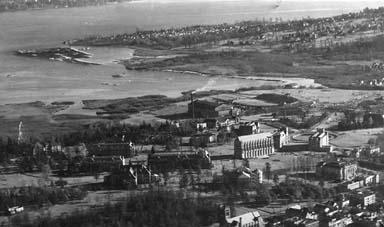 When this aerial view was taken in 1927, the campus had begun to take shape.
Photo Credit: NW Aerial Mapping Co. / Seattle Times

THEN HE ORDERED ALL STATE COLLEGES AND UNIVERSITIES TO REFRAIN from spending their yearly appropriations. When the UW defied him, Hartley retaliated, dismissing two regents for misconduct and adding more Suzzallo opponents to the board.
In October 1926, at the opening of the fall term, the newly constituted board fired Suzzallo.
The outcry stretched from the campus into the Seattle business community. While students held huge protest parades and rallies, threatening to strike if their president was not reinstated, civic leaders vowed to fight in the political arena.
The Seattle Times and The Post-Intelligencer both launched strong anti-Hartley campaigns, encouraging a recall movement and accusing him of "wicked and contemptible despotism." In a front-page editorial, The Times likened Seattle's citizens to the "Minutemen at Concord Bridge," urging them to repel the enemy by stopping the "Hartley blight."
Although headlines declared "Whole State Demands Hartley Impeachment," the forces of recall were mainly centered in Seattle, which had a clear self-interest in the UW's growth.
After a few weeks of rabid meetings and petition drives, the recall movement began to fizzle: Rural and small-town residents as well as other state colleges had little interest in supporting this big-city, big-university cause.
The UW and Seattle had lost -- for the moment. The university limped along with tight finances compounded by the onset of the Depression. Only when voters ousted Governor Hartley in the Democratic landslide of 1932 and the state felt the stirrings of economic revival did the university again become a symbol of civic and intellectual progress.


Historians Sharon Boswell and Lorraine McConaghy teach at local universities and do research, writing and oral history. Original newspaper graphics courtesy of the Seattle Public Library.


More photos

Table Topics


---



---
Copyright © 1996 The Seattle Times Company