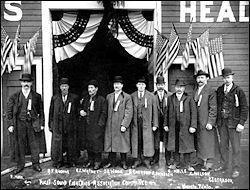 NORDIC HERITAGE MUSEUM




Members of the Puget Sound Fisheries Association committee pose at the 1913 opening of Fisherman's Terminal.

They gazed west from their new homes and were reminded of the places they had left. Comforted by the familiar, they spread the word. Northern European immigrants wrote letters home, raving about economic opportunities and living conditions in the Pacific Northwest.

"The jagged summits of the Olympics now appeared clear and cold, sticking out of the dark, green bank of firs on the foothills. I thought of Norway. This scene was different but just as beautiful," wrote O.B. Iverson, a Norwegian immigrant who settled north of Seattle in the 19th century.

With come-ons such as that, it's no wonder they came. By 1910, about one-third of Seattle's foreign-born residents hailed from Sweden, Norway, Denmark or Finland. They established a Nordic community in Ballard and defined a young city's ethnic identity — a legacy that endures.

City still quite white

The city's racial and ethnic mix today is not like the olden days, but the fact remains that 150 years after five white families from the Midwest and Northeast settled at Alki, the city's visage is still quite white. Among the 30 U.S. cities with populations over 500,000, Seattle's non-Hispanic white population of 68 percent ranks second behind only Portland.

The city's minority population has gone from less than 6 percent in 1950 to 32 percent in 2000, according to the U.S. census. Asians, the city's most prominent racial minority, have settled in Seattle since the 1800s. Yet they do not define Seattle in the way they define San Francisco.

Blacks, slow to migrate to Seattle, came in significant numbers during the decade of World War II. But the percentage of blacks living within the city is now declining.

"The reality is the booming areas for African Americans have not been in the Pacific Northwest," said Quintard Taylor, a University of Washington ethnic-studies professor whose book, "The Forging of a Black Community — Seattle's Central District from 1870 through the Civil Rights Era," is a supreme source of local black history.

Word of mouth, such as a letter back home, amplifies the settlement patterns for a city.

"When the population is small," Taylor said, "there also is a small network out there encouraging people to come."

Scandinavians felt at home

Seattle became the last outpost for Scandinavian immigrants whose first stop was Minnesota or the Dakotas. Elen Hevly, who settled along the Stillaguamish River in the 19th century in what is today Snohomish County, wrote her sister in the Dakotas, touting the Northwest's temperate climate.

"Now we are in full swing of summer and, if I remember correctly, it isn't any warmer here than in Norway. We can well have a fire in the stove as it is always cool and one can sleep just as well in summer as in winter," she wrote.

The immigrants worked as millworkers and mariners, filling jobs similar to ones they'd had in Europe. Swedish immigrants established logging camps on the outskirts of Seattle. The Puget Sound Fisheries Association Committee, which founded Seattle's Fishermen's Terminal in 1913, was made up almost entirely of Norwegians.

Early Seattle retail entrepreneurs whose names are synonymous with the city — John W. Nordstrom and Nels B. Nelson (co-founder of Frederick & Nelson, a longtime Seattle department store now defunct) — were Swedes. Two of the state's most influential politicians, the late U.S. Sens. Henry Jackson and Warren Magnuson, bragged about their Scandinavian roots.

And it's no accident Seattle's most prominent hospital is named Swedish, an allusion to the heritage of its founders.

"The Nordic influence was very strong over Seattle for a very long time," said Marianne Forssblad, director of the Nordic Heritage Museum in Ballard.

"But it has been diluted greatly in the past 30 years."

Seattle's Nordic reputation has been sustained over the years even though few from Northern Europe immigrate to the city today and obituaries tell the story of a fading heritage.

"It seems like every day you can look in the newspaper and read about a Scandinavian immigrant in Ballard who has died," Forssblad lamented.

Influx of Asians

Who's taking their place? The number of Asians in Seattle has tripled since 1970, fueled in part by the influx of Southeast Asians.

"Now, about 50 percent of the Asians in King County live in Southeast Seattle — Beacon Hill and the Rainier Valley — and most of the rest live outside the city," said historian Doug Chin, author of "Seattle's International District: The Making of a Pan-Asian American Community."

"It used to be that 50 percent of the Asians lived in the International District and the rest were scattered across the city," he said.

The first Asians in Seattle were Chinese, arriving via San Francisco in the 1860s to work as fishermen, millworkers or domestic servants.

Like many of Seattle's early residents, the Chinese immigrants were transitory workers who left town as soon as their work dried up. Riots broke out in 1886 when white workers tried to deport Chinese immigrants they felt were taking away jobs.

"Most of the Chinese were kicked out after the riots," Chin said.

"They came dribbling back after that to work on the railroads and in public-improvement projects."

Most Asians who flocked to Seattle in the early 20th century were Japanese, many arriving by way of Hawaii, Chin said. The census reported 8,500 people of Japanese descent lived in Seattle in 1930, compared to 1,350 Chinese and 1,600 Filipinos.

Japanese immigrants set up restaurants and other businesses that clustered around Sixth Avenue South and South Main Street. Their presence permeated the International District until World War II, when a federal directive ordered them to internment camps.

"People don't think of the International District in terms of Japantown as much as they do Chinatown because most of the Japanese businesses never re-established after World War II," Chin said.

Seattle's first black resident

World War II ushered many Japanese Americans out of Seattle and ushered in African Americans. Seattle's first black resident, however, arrived in 1858, seven years after Arthur Denny and his fellow pioneers set anchor at Alki. Manuel Lopes was a middle-aged sailor, born in the Cape Verde Islands off Africa's west coast, who had settled in Massachusetts before heading west. He became Seattle's first barber.

Lopes also earned the distinction of being the first black person to leave Seattle. He relocated to Port Townsend in the early 1870s in a quest for work, Taylor, the UW professor, said.

Only 19 blacks lived in Seattle in 1880, less than 1 percent of the city's population, according to the census.

Seattle's black population increased with each passing decade but it wasn't until World War II that a significant number of blacks moved to the city — a belated migration.

During World War I, black populations in northern industrial cities multiplied exponentially as labor recruiters sought them out to fill war-related manufacturing jobs. In Detroit, the black population went from less than 6,000 in 1910 to 41,000 in 1920, according to Taylor's book. Seattle's black population grew by a mere 600 during that same span.

"This wasn't a two-ocean war as it was in World War II," Taylor said. "The number of jobs created in Seattle, even though significant by Pacific Northwest standards, was quite small in comparison to other parts of the country. There were more than enough white workers in the Northwest to fill those jobs."

During the 1940s, however, the black population more than quadrupled, according to the census. Taylor said many black migrants worked in defense-related jobs either in the shipyards or for Boeing. Today, among the 30 largest U.S. cities, Seattle ranks 23rd in blacks in the population at 8.4 percent — higher than every West Coast city except Los Angeles.

But gentrification, the price paid last decade for high property values, has dispersed blacks away from Seattle's Central Area and toward South King County. The percentage of blacks in Seattle actually decreased between 1990 and 2000, the first time that has happened since 1930.

"The misperception nationally is Seattle has an insignificant black community," Taylor said. "I think people are surprised when they get here and discover a vibrant black community."

Leap in number of Hispanics

The biggest leaps recently in Seattle's population are among Hispanics, whose numbers barely broke 8,000 in 1970.

The Hispanic population swelled to 18,000 in 1990. There were nearly 30,000 Hispanics living in Seattle in 2000, accounting for 5.28 percent of the total population.

As generations pass, Seattle's ethnic identity will change — just as it did 150 years ago when white settlers began living among thousands of Native Americans. Today, Native Americans total just over 1 percent of the city's population.