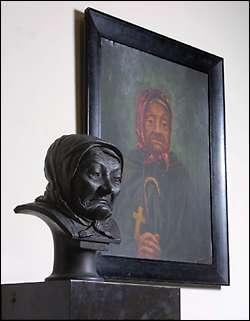 ELLEN M. BANNER / THE SEATTLE TIMES
These donated pieces of Princess Angeline — an oil on canvas and a plaster bust — are featured at the Museum of History and Industry.
Her brow weathered and wrinkled, her lips downturned, her kerchief knotted under her chin.
It's the iconic image of Angeline that, for Seattleites at the beginning of the 20th century, represented reverence for the indigenous people of this place, while at the same time they were being pushed aside in the name of progress.
Named Princess Angeline by early settlers, Chief Seattle's eldest daughter was, for many years, the visible link connecting Natives and newcomers.
Now, for the first time in almost 100 years, two works depicting the woman who was called Kick-is-om-lo in her Lushootseed tongue are on display at the Museum of History and Industry.


Museum info



The Museum of History and Industry, 2700 24th Ave. E., Seattle, is open daily from 10 a.m. to 5 p.m. Admission is $1 for children ages 2 to 5, $3 for youths (ages 6 to 12), seniors (55 and over) and people with disabilities, and $5.50 for everyone else. Group rates for 10 or more people are also available. Phone: 206-324-1126.

Angeline was an important figure — because of her lineage and her character. She was a close friend to many of Seattle's founding families, most notably Henry Yesler, owner of Seattle's first saw mill. She is buried near him in Lakeview Cemetery. She was also known to throw rocks at children who harassed her, says James Rasmussen, a third-generation council member for the Duwamish tribe.

A private collector recently donated an oil-on-canvas portrait and a plaster bust of Angeline to the museum. The donor, who asked to remain anonymous, says The Seattle Times history series, "150 Years: Seattle By and By," on the area's first 150 years of cityhood inspired him to give away artwork that hasn't been publicly exhibited for nearly a century. He's also stipulated that the Duwamish and Suquamish tribes or other area art organizations can be loaned the works for exhibitions.

The acquisition came as a surprise, says Leonard Garfield, the museum's executive director. Both works are incredibly rare. The portrait is the first painting in the museum's collection that was exhibited during the 1909 Alaska-Yukon-Pacific Exposition, Seattle's first world's fair. Most early 20th-century works created in Seattle have disappeared into private collections or languish in basements and attics somewhere, says Garfield. As for the bust, it's unusual to see a woman depicted; to have one of a Native American woman is even more remarkable, he says.

Now, Angeline keeps watch over the entrance into the museum's "A Change of Worlds" exhibit. The yearlong installation, which includes a commemorative plate, a souvenir vase and two apple dolls of Angeline, recognizes "the endurance of Native American culture since the arrival of whites in 1851," says Garfield.

"There's the myth Native American culture vanished — but it survived, it adapted, it endured," he says. "It's a perfect complement to (these works) of Princess Angeline."

When the exhibit closes next month, Angeline will stay.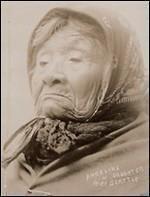 Princess Angeline, daughter of Chief Sealth Seattle.

The portrait was painted sometime before 1904, when it was among 14 works by Alma Royer Lorraine entered in one of Seattle's first art shows at the Women's Century Club, now home to the Harvard Exit Theater. The price tag: $40. Five years later, "Princess Angeline" won the artist a silver medal at the Alaska-Yukon-Pacific Exposition, the event "that really put Seattle on the map for the first time," Garfield says.

The artist, a high-born Ohio native, studied painting and drawing in France and Italy. When she returned to the United States, Lorraine exhibited works at Chicago's World Fair before she married and moved to Seattle in 1893.

Russell Johanson, owner of Ravenna Rare Books in the University District, bought the portrait 15 years ago from another art dealer who'd purchased it at an estate sale. Johanson couldn't remember from whose estate it came. He, in turn, sold it to the anonymous donor 10 years ago for $1,500.

The city of Seattle grew up around Angeline, Johanson says, and she became the symbol that linked the past with the present.

"I think it's a very good depiction of Princess Angeline," Johanson said. "I've seen photographs and postcards, but a full-scale, quality oil painting — it was the first I'd seen."

But nothing is known about the plaster bust, painted a charcoal color, that the donor bought six years ago at a local antique store. The work isn't dated and, so far, MOHAI researchers and other art experts haven't been able to turn up any information on the artist, believed to be C.W. Chapin. But there's a chip on the base of the sculpture that obscures part of the last name, making it even harder to unravel the mystery of the bust's maker.

Created from photo

The painting was almost certainly done from a photograph, says David Martin, co-owner of Martin-Zambito Fine Art on Pike Street. Johanson agrees. Martin is one of this city's authorities in early Northwest art. Though it's possible Angeline sat for the artist (Lorraine arrived in Seattle in July 1893, almost three years before Angeline's death), the work shows the same pose and demeanor as countless other photos, postcards and paintings, Martin says.

"It's more iconic than it is a portrait," said Martin, examining a photograph of the painting. "The other thing is, she's not looking at you and has a kind of vacant look. (If Angeline had modeled), you'd expect to see more interaction between the artist and the sitter and the eyes are a very important part of that."

The fact Lorraine chose to paint Princess Angeline is indicative of the respect and dignity shown the old, stooped woman who was once a common sight on Seattle streets, says Garfield.

"She's a symbol of endurance," Garfield said of Angeline who, despite the 1855 Treaty of Point Elliott, which stipulated all Duwamish Indians were to leave their ancestral lands for reservations, stayed in Seattle. She lived in a small, waterfront cabin on Western Avenue between Pike and Pine streets and eked out a living as a laundress who also sold baskets on street corners. She died May 31, 1896.

Changing scenario

By 1900, Seattle's settler population was exploding and industry was transforming the landscape.

"These artists at the turn of the century were motivated by history, and in a sense, nostalgia," Garfield says.

The portrait of Princess Angeline represents the dichotomy of Indian-white relations here, Garfield says.

"On the one hand, we revered Native American culture ... and their efforts to help non-Natives come here, settle and help build a community," Garfield said. "At the same time, it was a society where Native people were faced with discrimination and so much had been taken away from them.

"Our society has never fully resolved those conflicts," he says.

Indeed, struggle and heartbreak seem etched in Angeline's face. But in both paint and plaster, it's her quiet strength and will to survive that's been immortalized.

Sara Jean Green: 206-515-5654 or sgreen@seattletimes.com.