Originally published December 2, 2012 at 8:00 PM | Page modified December 4, 2012 at 2:44 PM
Elephant havens face zoo-industry backlash
American zoos face swift and harsh punishment when they retire their aged elephants to a 2,300-acre sanctuary in the California foothills.
Seattle Times staff reporter
GLAMOUR BEASTS:
The dark side of elephant captivity
Interactive: Thonglaw's tragic family tree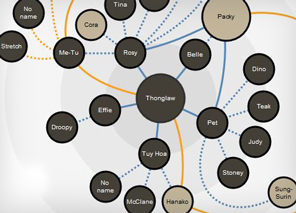 No comments have been posted to this article.
Second of two parts
SAN ANDREAS, Calif. —
After decades of captivity inside America's zoos, the elephants arrived broken in many different ways.
Maggie barely survived the harsh winters of the tiny Alaska Zoo. Confined many days to a cramped, indoor pen, she developed crippling foot and joint disease, collapsing to the floor — lifted only by a crane. Zookeepers conceded that frigid Anchorage was no place for a 4-ton tropical beast.
Annie spent much of her life in chains at the Milwaukee County Zoo until the public learned of brutal training sessions. Zookeepers routinely anchored the elephant's feet with chains, then struck and gouged her with a bullhook, even videotaping sessions to teach others how to make an elephant perform on command.
And there is Wanda, whose cracked feet and arthritic legs deteriorated with each bitter winter at the Detroit Zoo. Its officials concluded that captivity was unnecessarily cruel for the world's largest land mammal.
The three elephants now share a different life at a 2,300-acre compound nestled in the San Andreas foothills. Pat Derby, co-founder of the nonprofit sanctuary, says, "This is where elephants come to die."
But if the zoo industry's trade group had its way, their elephants would never come at all.
The Northern California sanctuary, and another in Tennessee, could represent a welcome, zero-cost option for zoos with aging or ill elephants. Instead, the Association of Zoos and Aquariums (AZA) opposes sanctuaries for a key reason: Sanctuaries refuse to breed more elephants into captivity.
Privately-owned sanctuaries are not open to the public and "inhibit zoos' efforts to preserve and study elephants," says Bruce Bohmke, deputy director of Seattle's Woodland Park Zoo and member of the AZA national committee that oversees elephant management inside accredited zoos.
"We believe that breeding is essential to sustaining elephant populations in zoos," Bohmke said.
Despite repeatedly telling the public that elephants are thriving in captivity, the zoo industry knows otherwise and is desperate to breed more elephants.
For every elephant born in a U.S. zoo, on average two others die, a Seattle Times analysis has found. Under current conditions, with just 288 elephants inside 78 accredited U.S. zoos, they could be "demographically extinct" within 50 years, studies show.
Elephants are the zoo industry's glamour beasts — reliable crowd-pleasers and revenue generators. But for most zoos, elephants are the most expensive exhibit. With the economic downturn in recent years and an inability to get new and younger elephants, more zoos may view sanctuaries as an attractive option.
To dissuade accredited zoos from endorsing sanctuaries — as the Detroit and Milwaukee zoos had done — the national association adopted harsh punishments designed to hurt zoos' bottom lines.
This summer, the AZA used that power when Toronto City Council members voted to shut down the zoo's elephant exhibit and retire three African elephants to the California sanctuary. Council members decided that captivity was harmful.
The zoo association revoked Toronto's accreditation, preventing the exchange of animals with other accredited zoos.
But the association does allow zoos to give their unwanted elephants to circuses, where breeding can occur.
Fuzzy rules
By their very nature, sanctuaries focus attention on a question the zoo industry doesn't eagerly discuss. How much space do these social, most humanlike of mammals require to lead a healthy life? Industry guidelines are fuzzy on the issue.
Generally, indoor facilities must provide "adequate room for elephants to move about and lie down without restriction," which means a "recommended" minimum of 600 square feet for males and 400 square feet for females, according to AZA guidelines.
Outdoor spaces must provide "sufficient space and environmental complexity to both allow for and stimulate natural behavioral activities and social interactions resulting in healthy and well-adapted elephants." Recommendation: 5,400 square feet per elephant, significantly smaller than a baseball infield.
Elephants commonly tower 10 feet tall or higher and weigh about 8,000 pounds for females and 12,000 pounds for males.
"Space is one of the most difficult measures to standardize," a zoo-association manual says. "There is no scientific data which clearly indicates the amount of space needed for an elephant to be healthy and well adjusted."
Some zoos have taken steps to mitigate problems. The Pittsburgh Zoo owns a 724-acre preserve where zookeepers plan to breed African elephants in a more natural environment. The Oakland Zoo randomly scatters food throughout its 6-acre exhibit to encourage its 15 elephants to constantly roam in search of food as they do in the wild.
Woodland Park's exhibit exceeds minimum recommendations with a 1-acre outdoor area for its three elephants. The indoor barn is divided into four sections. The largest stall is 22 by 39 feet; the smallest is 22 by 14 feet.
Animal-welfare advocates maintain that the size of many elephant exhibits, including Woodland Park's, is tantamount to neglect.
The debate over space and conditions recently played out in a Los Angeles County courtroom. Two citizens, with the backing of animal-welfare, groups sued the Los Angeles Zoo, with its relatively new $42 million Elephants of Asia exhibit, over treatment of the animals.
After weeks of testimony, Judge John L. Segal in a scathing opinion this June ordered zookeepers to exercise elephants at least two hours a day and to routinely till dirt surfaces to lessen potential damage to elephants' feet and joints.
He banned the use of disciplinary and training tools such as electric-shock rods and bullhooks. Zookeepers said they already had stopped using them.
The zoo was not a "happy place for elephants, nor is it for members of the public who go to the zoo and recognize that the elephants are neither thriving, happy, nor content," the judge wrote. "Captivity is a terrible existence for any intelligent, self-aware species, which the undisputed evidence shows elephants are. ... To believe otherwise, as some high-ranking zoo employees appear to believe, is delusional."
At sanctuaries, elephants behave in ways rarely seen in zoos. They move as a herd in a straight line over long distances. They stop to play. They often take midday naps by lying on the dusty ground wherever they can find shade. On the hottest days, they might wander to a pond and submerge their massive bodies.
Also striking is what is not seen: elephants standing still while repetitiously rocking their heads or shuffling their feet for hours at a time — a common behavior among zoo elephants.
Many of the world's top elephant researchers call it "stereotypical behavior," which they say is aggravated by close-quarter captivity and stress.
Up to 40 percent of elephants in zoos display symptoms, zoo-industry studies show.
Dr. Joyce Poole, recognized as a global elephant expert, reports that stereotypical behavior — the kind exhibited by many zoo elephants — is not found among elephants in the wild.
All three of Woodland Park's elephants — Chai, Bamboo and Watoto — have exhibited this behavior, said Alyne Fortgang, a Seattle animal-welfare advocate who has monitored the elephants for a decade.
Woodland Park officials do not disagree. But they insist that the prolonged foot shuffling or head rolling is normal, healthy behavior. Woodland Park's deputy director Bruce Bohmke characterized the behavior as a sign that elephants are anticipating food or eager to return to the barn.
Too many males
For decades, zoos were able to mask the high mortality rates of captive elephants by simply importing more wild elephants — usually in groups of up to 11.
By 2003, however, relentless pressure by animal-activist groups and public awareness about the tolls of captivity led the federal government and international agencies to severely clamp down on the number of imports of wild-born elephants. Consequently, zoos have been forced to concentrate on improving their breeding programs.
Despite intensified breeding efforts, however, the number of births continues to fall far short of deaths. Zoos' stepped-up breeding also created an unintended problem — too many male elephants have been born.
In the wild, bull elephants pose no threat to the natural order. Females lead the herd, bonding for life with daughters. Males are banished at puberty, around age 15, and roam with other males or live alone. Much larger and more aggressive, the males have weeks long periods of sexual arousal, called musth, that can turn even placid elephants uncontrollably violent.
In captivity, bull elephants must be segregated from females for safety, which can add millions of dollars in costs for zoos. It's a reason most zoos, such as Woodland Park and Point Defiance, own only female elephants.
But with industry pressure to breed more elephants, at least 12 zoos have been left with an unwelcome bounty of male births. Of the 41 elephants in zoos born since 2004, 21 are males. Many smaller zoos aren't equipped to handle even one adult male.
The first wave of elephants born since the 2003 import ban will enter sexual maturity in about six years.
Facing a ticking biological budget bomb, several zoos with juvenile males have warned AZA officials that they cannot absorb the extra costs or they lack the space to accommodate a male elephant.
Zoos in Denver and Birmingham, Ala., are expanding their elephant exhibits to take in more males from other zoos, if necessary.
A consortium of zoos is also building its own sanctuary where zoos can send unwanted males. Officials broke ground in April on a 225-acre sanctuary called the National Elephant Center in Fellsmore, Fla. The first phase includes a 13,000-square-foot barn and enough pasture for nine elephants. The $15 million project will eventually house up to 36 elephants.
Accredited zoos also plan to use the center for breeding, one way to revitalize the nation's elephant population. But for some zoos with elephants, a new center won't matter.
The Bronx Zoo in New York — the nation's largest and wealthiest zoo system — announced in 2006 that it would shut down its elephant exhibit after its three remaining elephants die.
Zoo officials say they were motivated by concerns about costs as well as the deleterious effects of captivity. Their elephants were too old to breed and acquiring fertile females was unlikely. Elephants can live from 50 to 60 years, representing long-term financial commitments. Since the early 1990s, at least 22 zoos — including Chicago, Detroit, Philadelphia and San Francisco — have closed their elephant exhibits or said they plan to do so.
Woodland Park officials say they will keep their elephant exhibit indefinitely and hope to expand it to include room for a male elephant and two more females. Point Defiance officials say they may be forced to shutter their exhibit when their two elephants, aged 48 and 49, die and new elephants are unavailable.
Dodging import squeeze
To more quickly replenish captive herds, the zoo industry is working to circumvent limitations on imports of wild-born elephants.The zoo association, whose members include zoos in Mexico and Canada, sponsored a mass importation this year that many animal-welfare advocates fear is designed to get around U.S. restrictions.
In June, nine wild-born African elephants were shipped to an AZA-accredited zoo in Mexico, which is not bound by U.S. law. With AZA approval, Africam Safari in Puebla, Mexico, bought the elephants for an undisclosed amount, bringing its elephant total to 13.
The purchase proved controversial. A Mexican zoo official claimed that the animals, aged 4 to 10, were rescued in Namibia after their parents were slaughtered by ivory poachers. Namibia government officials, as reported by The Associated Press, said that claim was false, that the elephants weren't in danger or needing rescue. They came from the Namib Game Services, which was identified as a private reserve.
But The Times found that Namib Games Services is the corporate front for Mount Paresis Guest & Hunting Farm, a 51,400-acre compound with six private luxury suites, a swimming pool and elephants wandering the grounds. Recreational hunters pay exorbitant fees to kill exotic animals, selecting from a menu that offers dozens of species, but not elephants, which are endangered and protected worldwide.
This means an AZA-accredited zoo cut a private deal with animal profiteers in order to bring elephants into a North American facility.
To kill a giraffe at the hunting farm costs about $2,080. Bagging a cheetah is $3,250. At the top of the list is the sable, a ringed-horned cousin of the antelope, which runs $11,050.
According to a promotional brochure, "Wounded animals will be charged for in full."
Battling abuse
On a sultry August day at PAWS, Pat Derby took visitors on a tour around the scenic sanctuary, staying just outside its 7-foot-high, steel-barred fences.
"Always keep a barrier between you and the elephant," Derby explained. "And don't get too close. They can reach out through the bars with their trunks and grab you before you can blink."
Derby was Hollywood's foremost wild-animal trainer during the 1960s, working on such popular shows as "Flipper," "Lassie" and "Daktari."
She rocked the entertainment industry in 1976 with her tell-all book, "The Lady and Her Tiger," which exposed Hollywood's harsh treatment and neglect of its photogenic animal stars. By then she had traded show business for animal-welfare advocacy.
She and her partner, Ed Stewart, opened their first sanctuary in 1984 on 30 acres in Galt, Calif., a half-hour drive south of Sacramento. They called it the Performing Animal Welfare Society (PAWS), which is unrelated to the Lynnwood pet-rescue organization with the same name.
They began with a jaguar, a menagerie of lions, bears, wolves, and a 3-year-old African elephant called No. 71 that they rescued from a wealthy man who kept it on his Florida estate.
She and Stewart crusaded against circuses, staging protests and securing hidden videos of elephant abuse. PAWS sued the circuses in federal court, charging animal cruelty. The circus industry fought back, hard. In 2000, PAWS filed a lawsuit against Feld Entertainment, owner of Ringling Bros. and Barnum & Bailey circuses, for racketeering and fraud, accusing the company of spying on PAWS, infiltrating it, and stealing documents as part of a campaign to discredit it. The parties settled for an undisclosed seven-figure sum — and six circus elephants — going to PAWS.
By then, wealthy and famous patrons had joined their efforts, among them actress Lindsey Wagner and former game-show host Bob Barker.
Derby and Stewart used the money to build the San Andreas sanctuary, which features several animal barns and a 12-foot-deep pool with massaging jets to treat the elephants' feet.
Elephants there are segregated by sex and by species, Asian and African. There is a quarantine section, where for a while they kept elephants that came with or acquired tuberculosis.
As part of their daily routine, the elephants receive one-on-one care — showers, foot cleanings, and nutritional snacks of carrots and apples. They are never chained.
Elephants may come to the sanctuary to die, but in the meantime many find new life.
For elephant No. 71, veterinarians predicted she would die within weeks from pancreatic disease and severe bouts of colic, Derby said.
The elephant, which took its name from its numbered tag at an animal auction, had been plucked from the African wild as a baby, and then sold to a wealthy Florida man who kept her at his estate until she fell ill from neglect.
"I never gave her a name," Derby said. "I wanted people to ask me why she was just a number." Then she'd explain how elephants are exploited for profit.
Derby and Stewart bottle-fed the young calf and slept near her in the barn for several months. Pound by pound, the calf grew more robust and recovered. No. 71 lived another 22 years before dying of pancreatitis linked to conditions from its first few years in captivity, an autopsy showed.
Annie, the Milwaukee elephant, no longer feels the bite of chains. She came to PAWS in 1995 after community outcry forced her transfer. People were upset after television stations showed unsettling training videos, obtained by animal-welfare activists, that showed Annie being restrained and repeatedly struck. In one video, zookeepers are shown around a blackboard, outlining the steps to take next time to better control Annie and get her to obey.
At the sanctuary, Annie was aggressive at first and tried to strike her keepers. She bobbed her head, for hours at a time, classic stereotypical behavior. Now 52, she no longer bobs her head.
After arriving from the Detroit Zoo in 2005, Wanda recovered from her arthritic legs after rehabilitation sessions in a special pool. She now roams the sanctuary without apparent signs of pain.
One of PAWS' greatest triumphs is Maggie. She came from the Alaska Zoo in 2007 after suffering years of crippling foot and joint problems, collapsing several times. Maggie wasn't abused but her plight underscores the challenge for zoos that try to provide superior care in climates where the tropical animals have to stay indoors for weeks and months as temperatures drop below freezing and snow piles up outside.
On that August day at the PAWS sanctuary, temperatures climbed to 80 degrees. After Derby tossed bulging paper bags of vegetables over the fence, Maggie shambled down a grassy hill to get at them.
Outside the fence, PAWS elephant keeper Michelle Harvey monitored Maggie's progress. She had been her keeper at the Alaska Zoo. Harvey said she left her Alaska job so she and Maggie would never be apart.
Maggie's feet are healthy now, Harvey said, so she no longer collapses.
Michael J. Berens: mberens@seattletimes.com or 206-464-2288. News researchers Gene Balk and David Turim contributed to this report.