Print
— Chapter 9 —
The Final Collapse, A Career in Ruins
Seattle Times staff reporter
As aiding-the-enemy theories founder, even minor charges evaporate in confusion over evidence.
FORT BENNING, Ga.
Dec. 8, 2003
In a small military courtroom, a crush of journalists expected to finally get some clues about the case against Capt. James Yee.
How had the West Point graduate become an espionage suspect in the first place?
Was the case really falling apart, or were prosecutors going to spring new evidence of treason?
The most serious counts Yee faced so far were of mishandling classified documents. Today's preliminary hearing was to determine whether there was enough evidence to go to trial on those and other charges of lying to a Guantánamo official, adultery and downloading pornography.
But military investigators still hoped to find evidence of something more serious: aiding the enemy.
In an adjoining room, the two men most responsible for launching the Yee investigation waited to testify. Capts. Theo Polet and Jason Orlich remained convinced that Yee's sympathy for the detainees had gone too far.
The hearing began and, to the surprise of many in the room, the government's first witness was a 36-year-old woman who was there to talk not about secret documents, but a secret affair.
Karyn Wallace, a Navy lieutenant who had been ordered to testify under grant of immunity, told the court that she and Yee had been friends at Guantánamo in the summer of 2003. They soon became lovers.
Yee sat in his dress-green uniform at the defense table. His parents were behind him, next to his wife, Huda Suboh. She began to cry as she held their 3-year-old daughter, Sarah.
The affair lasted two months, Wallace testified. They had sex in his quarters and hers, she said, and once they took a trip together to Orlando, Fla.
FORT BENNING, GA.
Capt. James Yee was brought to Fort Benning for preliminary hearings.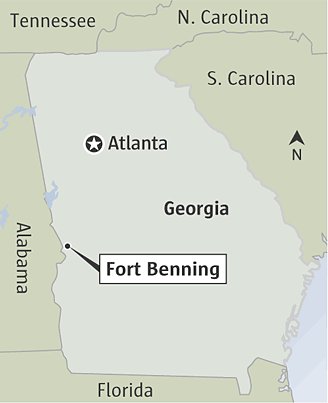 After Wallace finished testifying, Yee's wife confronted her in the hallway. You've broken our family apart, Suboh told her as reporters looked on. Wallace touched her on the shoulder and replied: You need to talk to your husband.
The hearing, known as an Article 32, continued.
An Army computer analyst told how Yee had used his government computer to search for Internet pornography. A Customs inspector testified about the documents found on Yee the day of his arrest, including a typewritten list with names of prisoners being held at Guantánamo.
Orlich and Polet still waited. They were there to explain why Yee's documents were considered classified and why they could be a threat to national security.
But as the first day came to a close, prosecutors still had not called them.
Prosecutors had a problem. They had no proof the documents were classified. Not one was stamped "secret." Up to that point they had relied on Polet to tell them which documents were classified, but they were beginning to doubt his judgment, two sources close to the government's case recalled.
If prosecutors couldn't show the documents were classified, they might have to present them in open court.
They went to Orlich, wanting to know the consequences of baring the evidence in a courtroom full of reporters.
Would you want this stuff on the front page of The New York Times, they asked.
"Hell no," Orlich replied.
The confusion over classified documents already had caused delays in the case, as well as an embarrassing incident for prosecutors. Over Thanksgiving weekend, prosecutors had hand-delivered a manila envelope stuffed with documents to Yee's lawyer, Eugene Fidell.
A few days later, Polet informed lead prosecutor Michael Mulligan that some of those documents were classified. And Fidell did not have the proper security clearance.
"In essence, prosecutors had done the same things Yee had done," Polet said later, "which was mishandle classified information."
As Yee's hearing was set to resume for a second day, prosecutors asked for another delay to thoroughly review the documents. The hearing was postponed until Jan. 19.
The case was at a critical juncture. Prosecutors already were doubting they could get Yee on making a false official statement. That charge rested on an allegation that Yee had given a CD laced with radical Islamic sermons to a hospitalized detainee, and then lied about it to a guard who asked if it had been cleared by camp security.
Defense lawyers wanted access to the prisoner as a material witness, but Pentagon policy strictly prohibited it. Prosecutors knew that without access to the detainee, the defense had a strong claim to have the charge dropped.
Prosecutors' best hope for a conviction was on the two counts of mishandling classified documents, which carried a maximum of two years each. But first, they had to prove they were secret.
Polet and Orlich were sent to Southern Command headquarters in Miami, where they joined four other officers. They called themselves a "classification tiger team."
They had nearly 700 documents to review, gathered in searches of Yee's residence in Guantánamo and from his luggage the day of his arrest. They included personal log books, literature downloaded from the Internet and notebooks and lists containing references to detainees, their cell locations and the names of their interrogators, according to investigators.
Not one document by itself was classified. But the team was working on what was called the "compilation theory" of classification: One document with a detainee serial number might not be secret, another with a detainee name or cell number might not be, but put them together and they were.
Page by page, the investigators spent the next four weeks scrutinizing every line, looking for sensitive material that could threaten the prison, or the country, if it got into the wrong hands.
The Army, meanwhile, had not given up on trying to charge Yee with aiding the enemy.
Counterintelligence agents with the 902nd Military Intelligence Group continued to chase the government's last major theory: that Yee and the "Muslim clique" were using the prison library to help the prisoners run a secret communication network.
Intelligence officers worried that detainees returning from interrogations were sharing their questioners' tactics with other prisoners through secret messages written in the margins of books and literature. And that Yee, who had virtually unlimited access to the prisoners, was shuttling books back and forth between them, along with radical Islamic literature.
The theory formed after investigators searching the prison library found a "Cleared by U.S. Forces" stamp, used to clear literature that could then be given to prisoners. They also found hundreds of photocopied pieces of paper, including blank sheets, that had been pre-stamped.
Orlich insisted that only his intelligence section had such a stamp and the authority to clear material for detainee use. Investigators soon learned, though, that Orlich's predecessor at Camp Delta had authorized the library to stamp its own materials.
Quinn Henderson, a former intelligence officer who is now a private attorney in Miami, told investigators he had purchased the stamp off the Internet after Army supply channels proved too slow.
"You had to have a way to stamp the books that had been cleared," he said, and the only people who could clear the books were the linguists who could read them. "You had to trust them."
Nonetheless, investigators pursued their theory.
At a secret location in Virginia, analysts at a national intelligence lab examined hand-scribbled notes and commentary in the margins of thousands of pages of books and documents swept up from Camp Delta in October. Linguists from Guantánamo were flown in to help.
They found hints about how the detainees organized and who their leaders were. But they found no evidence that Yee was helping them. "A lot of it didn't pan out," Orlich said.
Counterintelligence agents realized their last major theory, what many close to the case had called "80 percent of the investigation," was going nowhere.
By early January, Polet and the "tiger" team in Miami had completed their review. They had found dozens of documents that they considered to be classified.
But their report stalled as Southern Command continued to review it. Prosecutors were forced to ask for another delay. And another, still waiting for the report.
Then came damning news.
They were shown a memo written by Carol Haave, deputy undersecretary of defense for counterintelligence and security. It explained that the Southern Command had never approved the classification guidelines for the prison at Guantánamo.
The guidelines were still considered drafts — not usable in court. Prosecutors came to a stark realization. An investigation that had begun on allegations of sedition, espionage and aiding the enemy had come down to minor charges of mishandling classified documents — a security infraction that had been rampant at Guantánamo. And now they couldn't even prove Yee had done that.
Time was running out. It was now March. Prosecutors already had stretched the case out two months beyond the 120 days required by military law to bring a person to trial after an arrest. All they had was pornography and adultery.
They broke the news to Guantánamo commander Maj. Gen. Geoffrey Miller, the man who had once accused Yee of spying. How are such charges usually tried, Miller asked.
Administratively, not criminally, prosecutors said.
Then it would be unfair to treat Yee any differently, Miller replied.
The statement from Southern Command came March 19: "Citing national security concerns that would arise from the release of the evidence," Miller dropped all criminal charges against Chaplain Yee.
His military career was ruined. His reputation was smeared. But James Yee was a free man.
Ray Rivera: 206-464-2926 or rayrivera@seattletimes.com
Descriptions of the hallway confrontation between Huda Suboh and Karyn Wallace were drawn from news accounts at the time, including those from The New York Times and Knight Ridder Newspapers.