Wednesday, March 30, 2011 - Page updated at 06:38 p.m.
Fan's Guide 2011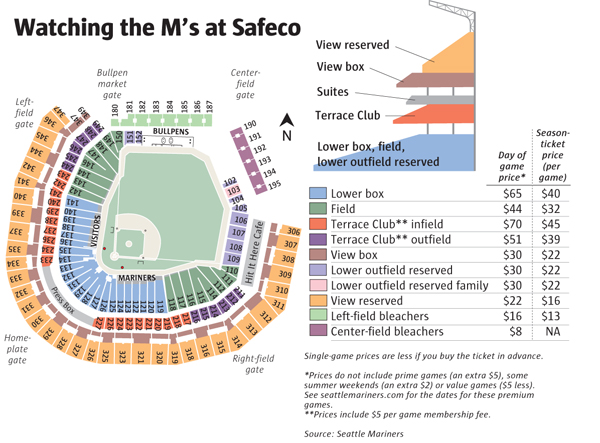 Ticket information
In person: Tickets are available at the Safeco Field ticket office, all Ticketmaster outlets in Washington, Oregon and British Columbia, and at Mariners team stores.
By phone: Call Ticketmaster at 206-622-HITS.
On the web: Order online at www.mariners.com or www.ticketmaster.com.
Discount Programs
Special group nights: During various games, groups of 40 or more can purchase view reserved seats for as low as $8. Also, receive two complimentary tickets for groups of 40 or more.Details: www.seattlemariners.com/groupsor 206-346-4001.
Hit it Here group seats: A special $8 group ticket for midweek games throughout the season (some blackout dates apply).
Ticket-Plus Nights: On April 21, May 5 and June 2 fans have the opportunity to purchase a regularly priced ticket in the Terrace Club Outfield, View Reserved or Field seating areas and the ticket includes $5 free concession credit to use toward food or merchandise at Safeco Field.
BECU Half-Price Family Nights: View reserved seats are $10 each (day of game $11) for 10 select games.
Grand Slam Family Pack Nights: Tickets, hot dogs and Pepsi brand soft drinks for as low as $14 per person for families of 4 to 12 on 10 Wednesdays in select View Reserved ($14 per person), Field ($28 per person), and Terrace Club Outfield ($34 per person). Price increases on day of game. Must purchase minimum of four and maximum of 12 tickets for special price.
Senior Sundays: $10 off View Reserved seats for Seniors, aged 60 and over, for every Sunday home game (limit of four tickets).
Military nights: Every Tuesday home game, U.S. military get $10 off the price of View Reserved tickets. (Limit of four tickets).
College nights: Students can purchase View Reserved tickets for as low as $8 in advance online at www.seattlemariners.com/college. Tickets are $10 per seat ($11 on game day) at the Safeco Field ticket office and Mariners Team Stores.
Singles nights: The special ticket includes a seat in the Singles Night section, admission to the pregame party and the first beverage.
Rail service
Link Light Rail has 13 stations from Tukwila to downtown Seattle, including Stadium Station one block east of Safeco Field. Fans from the south of Seattle are encouraged to park at the Tukwila station and ride Link Light Rail.
Sound Transit will also offer special Sounder service to various Mariners weekend games.