Monday, August 30, 2010 - Page updated at 09:47 a.m.

The backstory
Cherie Moore, 49, and her son, who just turned 18, slid into homelessness in the way an increasing number of families do, first bunking with relatives and friends until those options run out.
Although Moore works as a care-giver for the elderly and disabled, the number of hours she works often fluctuates. The job pays only about $11.55 an hour -- not enough, Moore says, to pay for housing. Her son, Cody Barnes, does not have a job and has not been attending school.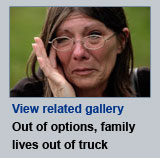 During the winter, they rented a room in an house from an acquaintance. But drug and alcohol use by others living there, among other problems, prompted the pair to move out and live in her truck for three weeks in May.
Moore tried contacting services for homeless families, but had fewer options available to her because she had a teenage son. Eventually, Moore connected with the YWCA, which moved her and Cody into a Tukwila hotel and then an emergency shelter in Kent.
Caseworkers at the YWCA and Solid Ground helped Moore apply for the Homelessness Prevention and Rapid Re-Housing Program. With aid from the program, she was able to afford rent for a two-bedroom apartment in Kent. They moved into their new apartment in mid-July. Their rental assistance will likely taper off over the course of a year before ceasing completely in 2011.
Read the full story of Cherie and Cody and about the growth of family homelessness.
br>

The backstory
June Lloyd, 45, never expected she would need to ask anyone for help. After health issues limited her ability to work, she faced homelessness while caring for her two teenage sons.
In June 2008, Lloyd moved to Seattle from Cleveland by way of Reno, Nev., in search of a better future for herself and her sons, now 15 and 17. Having worked previously as a security guard, she thought she could find work while attending community college to gain business skills.
Not long after arriving, Lloyd's chronic pain worsened and she was eventually diagnosed with fibromyalgia. Unable to work, she lived off her savings until they ran out. Because she had two teenage sons, she had fewer options in finding emergency housing. They lived in various apartments with other people and in hotel rooms, and they spent a few nights living in a rented moving van.
In May, Lloyd began going to Mary's Place, a day center for women run by the Church of Mary Magdalene in Seattle that provided her with daily hotel vouchers. She spent the daytime hours at the shelter making phone calls for services. Her sons spent the days attending Cleveland High School and Aki Kurose Middle School Academy. They spent the evenings together at various hotels throughout the city.
In June, Lloyd found an apartment in Auburn that she believed she could afford through income from child support from her sons' father. Donations from the International District Housing Alliance, the Salvation Army and Mary's Place assisted her with the initial deposit needed to move in. In August, Lloyd decided that rent at the Auburn apartment was too expensive and moved her family into a studio apartment in Burien with cheaper rent. Lloyd is continuing treatment for her fibromyalgia. Her sons will both be attending Cleveland High School in the fall.
br>

The backstory
Kim Ahern, 47, moved sons Jack, 9, and Tom, 19, as well as their cockapoo, Gracie, from Chicago to Seattle in April after reading in an article online that jobs would open up in the region at the end of the recession.
Tom agreed to watch Jack while Kim looked for work and settled into their new city. A former administrative assistant, she hoped to find clerical work here and enroll Jack in a school in Shoreline.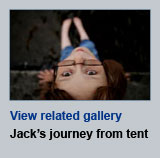 Before moving, Kim said she called social service agencies in Seattle, and was promised hotel vouchers on their arrival. When they reached the Seattle, however, the agency told her the vouchers were no longer available due to funding issues. Kim reluctantly moved the family into Nickelsville, her backup option. Nickelsville is the only tent city in King County that allows children on a long-term basis.
Kim supported her family through unemployment checks and partial child support while living in the tent city, which was temporarily located in the Central District, then Skyway.
She navigated a complicated web of social-service agencies, while keeping Jack clean and fed without running water and electricity at times. After securing financial assistance with rent from a couple of local organizations, the family in mid-May moved to the University District.
Although they have a room of their own, Kim and Jack still struggle. Tom left for a few months during summer, leaving Kim without options for child care. He is now researching his options for going back to school and may be able to help with some child care for Jack. Although money is tight, they have each other, Jack's active imagination and a new city to explore.
br>

The backstory
Jacob Smith, 35, is in a waiting game. Already approved to move into transitional housing with his three children, now 8, 4 and 20 months, but waiting for an opening, the single father is trying to care for his children while living in an emergency shelter in Everett.
Smith was laid off from a food services job in October. He said he had a history of weekend drug use and that his wife had more serious substance-abuse problems. The couple lost custody of two of their children. As he had to make monthly payments to the state for child support, Smith believed he could no longer afford rent and moved into his car.
In January, Smith's wife and youngest son were accepted into emergency housing at the Interfaith Shelter in Everett. In February, Smith joined them. After he accused his wife of a violent outburst, she was asked to leave the shelter.
Smith has cut ties with his wife and is filing for divorce. He has regained custody of his two oldest children and now lives at the shelter with all three of his kids. As a single father, however, there are fewer resources available to him. Smith has been accepted into a transitional housing apartment, but is waiting for the current tenant to move out. As the current tenant will not move out until there is an opening in Section 8 housing, Smith does not know how long he will need to continue living at the shelter.
br>

The backstory
First Place is a Seattle non profit that provides support to homeless families, including schooling for homeless children, from kindergarten through sixth grade. The school aims to provide homeless children with education, but also stability, counseling and regular meals.
Darasavanh Kraven was living on the streets and on public buses in Seattle with her daughter in 2003. She received services from First Place. Her daughter attended its school and Kraven was able to break the cycle of homelessness. She is now an employee at First Place and organizes afterschool activities. She lives in Seattle with her husband and two daughters.

The backstory
Diana Pearce, a senior lecturer and the director of the Center for Women's Welfare at the University of Washington's School of Social Work, conducts research on the level of income necessary for individuals and families to meet their basic needs. A study she conducted -- "The Self-Sufficiency Standard for Washington State 2009" -- underlines the growing costs of basic needs such as housing, food, child care, health care and transportation.
The study determined that a family of one adult with one preschool child and one school-age child living in the Seattle area needs an annual income of more than $50,000 in 2009, a standard that had jumped more than 35 percent since 2001. During that same period, the minimum wage in Washington state increased from $6.72 to $8.55, or 27 percent.
Findings from the study were used to build an online calculator that offers personalized estimates on how much income an individual or family needs based on a variety of variables.
Related links:
• Self Sufficiency Calculator
• Center for Women's Welfare
• Self-Sufficiency Standard for Washington State report
• Times archives | Basic needs of families in state are costing more

br>
| | |
| --- | --- |
| | The homeless you don't see |
Project Home
---