Copyright © 1997 The Seattle Times Company
Sunday, June 29, 1997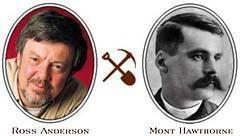 Intrepid reporter journeys north to dig for gold-rush romance
100 years since backwater Seattle blossomed into boomtown

by Ross Anderson
Seattle Times staff reporter
One hundred years ago, Mont Hawthorne quit his job at a Puget Sound salmon cannery and went home to Astoria. He sat silently for a while in his favorite chair, gazing out the window at a steamship as it eased away from the docks and sailed off into the dusk. Then he announced to his aging mother:
"Mama, I'm goin' Up North."
His mother was not surprised. She had been expecting this, now that the entire world knew about the steamer Portland and its "ton of gold" arriving in Seattle. That event had triggered a stampede north to the Klondike country, and Mont was bound to catch the fever.
So it was that Mont Hawthorne resumed the quest for fortune, adventure, elbow room or whatever it is that continues to lure Americans westward and, in Seattle's case, northward.
Now old Mont Hawthorne is goin' Up North again. And this time, I'm goin' with him.
By the time you read this, Mont and I will be on our way to Alaska, the Yukon Territory and Dawson City, all in observance of the Klondike Gold Rush centennial.
The Klondike stampede, which began in July 1897, was perhaps the single most dramatic event in Pacific Northwest history. It made Seattle a household word around the world, luring an estimated 30,000 Klondike-bound fortune-seekers to these streets and transforming a frontier port into a booming metropolis.
For Mont, the journey is a return engagement. Like thousands of other men and women, he made the journey a century ago, hauling a ton of supplies onto a steamer and up the Inside Passage to Skagway, Alaska, over the snow-clogged Wrangell Mountains to Lake Bennett, then 500 miles down the mighty Yukon River to Dawson, the City of Gold.
And your reporter? A former editorial writer, worn-out but recovering, approaching his 50th birthday and yearning for an adventure.
Like Mont a century ago, I've spent weeks collecting my gear, haunting the outfitters, trying to figure out what I need and what I don't. I have a comfortable backpack, a nylon tent that weighs 6 pounds, polypropylene fleece, freeze-dried foods and a miniature stove that weighs nothing and boils water faster than my kitchen range.
For company, I have old Mont Hawthorne in the form of a dog-eared copy of "The Trail Led North," long out of print, in which he tells the story of his Klondike adventure.
OK, I'm well aware that he's been dead half a century. But Mont climbs out of those pages larger than life. So does his dog, Pedro. They will be fine company. And they don't eat much.
Why are we doing this? Good question.