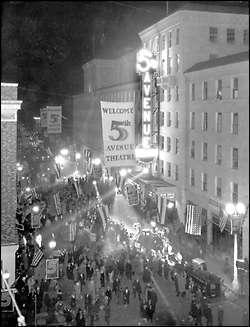 WEBSTER & STEVENS




Spotlights illuminate the night of Sept. 24, 1926, at the opening of the 5th Avenue Theatre.

In early Seattle, traveling minstrel shows, Shakespearean orators and amateur acting companies played in the cookhouse of Henry Yesler's mill, and the whole town turned out. Afterward, Yesler enjoyed feeding the entertainers.

When Seattle prospered from timber, it did what most every prosperous new town in America did — it built an opera house. And in the heyday of vaudeville, from the turn of the century to the Roaring '20s and beyond, Seattle was the center of activity, with three entrepreneurs who controlled most of the vaudeville theaters in America. They vied with each other to build the grandest theater in Seattle.

Indeed, Seattle was the last city to have a full-time vaudeville theater, The Palomar, which lasted until the early 1950s. Its last act was Sammy Davis Jr.

Our sophisticated city now boasts a world-class symphony hall (Benaroya), a professional ballet company (Pacific Northwest Ballet), a thriving theater community (in company with New York, L.A. and Chicago), several quality museums, and some exceptional theaters. The story of how we progressed to this point is full of interesting characters.

Seattle's rough-hewn beginnings were mostly about logging, and the resulting prosperity helped the city grow quickly. Yesler's cookhouse soon gave way to more suitable spaces for entertainment — initially, "box houses." They were essentially beer halls with a series of curtained boxes on a mezzanine, so monied patrons could watch the show on the stage below without mingling with the drinkers on the first floor.



When the city's first adequate space for assembly, Snoqualmie Hall at First and Main, was built in 1859, wags said nobody would come if there were no beer. But they were wrong.

The city's first real theater was Squire's Opera House, built in 1879 by future governor and senator Watson Squire. In 1880, Rutherford B. Hayes, the first president to visit Seattle, held a reception there. It was said he shook 2,000 hands.

In 1900, John Cort built the Grand Opera House, "the finest theater in the city." Cort eventually moved to New York where, in 1912, he opened the Cort Theater on Broadway, which is still in operation.

Cort had two rivals when he was in Seattle: John Considine and Alexander Pantages. Both built vaudeville-theater chains throughout the country. Pantages built three theaters here, named after himself, each bigger than the one before. Considine built the grand Orpheum Theater, which was torn down, with much difficulty, in 1967.

But many notable theaters remain. Read on for a look back at the historic Nippon Kan, Washington Hall, Playhouse, Moore, 5th Avenue and Paramount theaters.