Pages from the April 8, 1962 edition of the Seattle Times, a Seattle World's Fair Souvenir Edition.
Boeing sees big future in space
Previous: Region's technology development touted | Next: Fair's effect on travel, recreation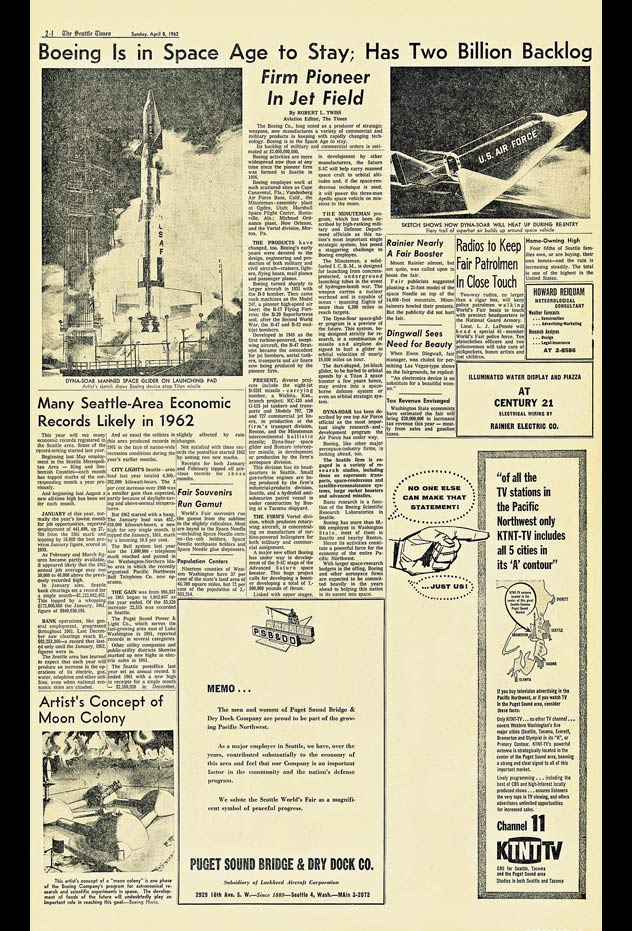 Previous: Region's technology development touted | Next: Fair's effect on travel, recreation
Published April 8, 1962:
Boeing Is in Space Age to Stay; Has Two Billion Backlog
By Robert L. Twiss
Aviation Editor, The Times
The Boeing Co., long noted as a producer of strategic weapons, now manufactures a variety of commercial and military products. In keeping with rapidly changing technology, Boeing is in the Space age to stay.
Its backlog of military and commercial orders is estimated at $2,000,000,000.
Boeing activities are more widespread now than at any time since the pioneer firm was formed in Seattle in 1910.
Boeing employees work at such scattered sites as Cape Canaveral, Fla.; Vandenberg Air Force Base, Calif.; the Minuteman assembly plant at Ogden, Utah; Marshall Space Flight Center, Huntsville, Ala.; Michoud Ordnance plant, New Orleans; and the Vertol division, Morton, Pa.
THE PRODUCTS have changed, too. Boeing's early years were devoted to the design, engineering and production of both military and civil aircraft - trainers, fighters, flying boats, mail planes and passenger planes.
Boeing turned sharply to larger aircraft in 1931 with the B-9 bomber. Then came such machines as the Model 247, a pioneer high-speed airliner; the B-17 Flying Fortress; the B-29 Superfortress; and, after the Second World War, the B-47 and B-52 multijet bombers.
Developed in 1945 as the first turbine-powered, sweptwing aircraft, the B-47 Stratojet became the antecedent for jet bombers, aerial tankers, transports and air liners now being produced by the pioneer firm.
PRESENT, diverse projects include the eight-jet B-52H missile-carrying bomber, a Wichita, Kan., branch project; KC-135 and G-135 jet tankers and transports and Models 707, 720 and 727 commercial jet liners, in production at the firm's transport division, Renton, and the Minuteman Intercontinental ballistic missile; Dyna-Soar space glider and Bomarc interceptor missile, in development or production by the firm's aerospace division.
This division has its headquarters in Seattle. Small gas-turbine engines are being produced by the firm's industrial products division, Seattle, and a hydrofoil anti-submarine patrol vessel is under construction by Boeing at a Tacoma shipyard.
THE FIRM'S Vertol division, which produces rotary-wing aircraft, is concentrating on manufacture of turbine-powered helicopters for both military and commercial assignment.
A major new effort Boeing has under way is development of the S-1C stage of the advanced Saturn space booster. This huge project calls for developing a booster developing a total of 7,500,000 pounds of thrust.
Linked with upper stages, in development by other manufacturers, the Saturn S-1C will help carry manned space craft to orbital altitudes and, if the space-rendezvous technique is used, it will power the three-man Apollo space vehicle on missions to the moon.
THE MINUTEMAN program, which has been described by high-ranking military and Defense Department officials as the nation's most important single strategic system, has posed a staggering challenge to Boeing employees.
The Minuteman, a solid-fueled I.C.B.M., is designed for launching from concrete-protected, underground launching tubes in the event of hydrogen-bomb war. The weapon carries a nuclear warhead and is capable of ocean-spanning flights of more than 8,300 miles to reach targets.
The Dyna-Soar space-gliders program is a preview of the future. This system, being designed strictly for research, is a combination of missile and airplane designed to hurl a glider to orbital velocities of nearly 18,000 miles an hour.
The dart-shaped, jet-black glider, to be hurled to orbital speeds by a Titan 3 space booster a few years hence, may evolve into a space-borne defense system or even an orbital strategic system.
DYNA-SOAR has been described by one top Air Force official as the most important single research-and-development program the Air Force has under way.
Boeing, like other major aerospace-industry firms, is looking ahead, too.
The Seattle firm is engaged in a variety of research studies, including those on supersonic transports, space-rendezvous and satellite-reconnaissance systems, large rocket boosters and advanced missiles.
Basic research is a function of the Boeing Scientific Research Laboratories in Seattle.
Boeing has more than 60,000 employees in Washington state, most them in Seattle and nearby Renton.
Hence its activities constitute a powerful force for the economy of the entire Pacific Northwest.
With larger space-research budgets in the offing, Boeing and other aerospace firms are expected to be committed heavily in the years ahead to helping this nation in its ascent into space.

No comments have been posted to this article.