Pages from the April 8, 1962 edition of the Seattle Times, a Seattle World's Fair Souvenir Edition.
Third-graders predict the future
Previous: Envisioning a pool for every home | Next: Quilted pants for moon trip?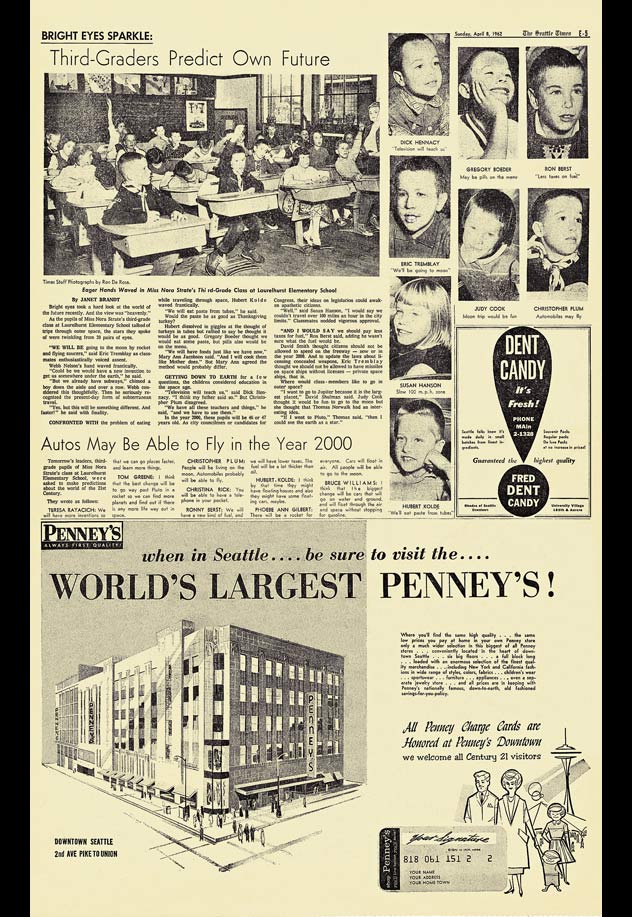 Previous: Envisioning a pool for every home | Next: Quilted pants for moon trip?
Published April 8, 1962:
Third-Graders Predict Own Future
By Janet Brandt
Bright eyes took a hard look at the world of the future recently. And the view was "heavenly."
As the pupils of Miss Nora Strate's third-grade class at Laurelhurst Elementary School talked of trips through outer space, the stars they spoke of were twinkling from 29 pairs of eyes.
"WE WILL BE going to the moon by rocket and flying saucers," said Eric Tremblay as classmates enthusiastically voiced assent.
Webb Nelson's hand waved frantically.
"Could be we would have a new invention to get us somewhere under the earth," he said.
"But we already have subways," chimed a boy down the aisle and over a row. Webb considered this thoughtfully. Then he seriously recognized the present-day form of subterranean travel.
"Yes, but this will be something different. And faster!" he said with finality.
CONFRONTED WITH the problem of eating while travling through space, Hubert Kolde waved frantically.
"We will eat paste from tubes," he said.
Would the paste be as good as Thanksgiving turkey?
Hubert dissolved in giggles as the thought of turkeys in tubes but rallied to say he thought it would be as good. Gregory Boeder though we would eat some paste, but pill also would be on the menu.
"We will have foods just like we have now," Mary Ann Jacobson said. "And I will cook them like Mother does." But Mary Ann agreed the method would probably differ.
GETTING DOWN TO EARTH for a few questions, the children considered education in the space age.
"Television will teach us," said Dick Hennacy. "I think my father said so." But Christopher Plum disagreed.
"We have all these teachers and things," he said, "and we have to use them."
In the year 2000, these pupils will be 46 or 47 years old. As city councilmen or candidates for Congress, their ideas on legislation could awaken apathetic citizens.
"Well," said Susan Hanson, "I would say we couldn't travel over 100 miles an hour in the city limits." Classmates nodded vigorous approval.
"AND I WOULD SAY we should pay less taxes for fuel," Ron Berst said, adding he wasn't sure what the fuel would be.
David Smith thought citizens should not be allowed to speed on the freeway - now or in the year 2000. And to update the laws about licensing concealed weapons, Eric Tremblay thought we should not be allowed to have missiles on space ships without licenses - private space ships, that is.
Where would class members like to go in outer space?
"I want to go to Jupiter because it is the largest planet," David Shulman said. Judy Cook thought it would be fun to go to the moon but she thought that Thomas Norwalk had an interesting idea.
"If I went to Pluto," Thomas said, "then I could see the earth as a star."
Autos May Be Able to Fly in the Year 2000
Tomorrow's leaders, third-grade pupils of Miss Nora Strate's class at Laurelhurst Elementary School, were asked to make predictions about the world of the 21st Century.
They wrote as follows:
TERESA RAYACHICH: We will have more inventions so that we can go places faster, and learn more things.
TOM GREENE: I think that the best change will be to go way past Pluto in a rocket so we can find more planets and find out if there is any more life way out in space.
CHRISTOPHER PLUM: People will be living on the moon. Automobiles probably will be able to fly.
CHRISTINA RICK: You will be able to have a telephone in your pocket.
RONNY BERST: We will have a new kind of fuel, and we will have lower taxes. The fuel will be a lot thicker than oil.
HUBERT KOLDE: I think by that time they might have floating houses and also they might have some floating cars, maybe.
PHOEBE ANN GILBERT: There will be a rocket for everyone. Cars will float in air. All people will be able to go to the moon.
BRUCE WILLIAMS: I think that the biggest change will be cars that will go on water and ground, and will float through the air and space without stopping for gasoline.

No comments have been posted to this article.