Originally published August 10, 2014 at 7:00 PM | Page modified August 10, 2014 at 9:30 PM
After landslide took cherished cabin, family finds solace in song
A family whose vacation cabin was destroyed in the Oso landslide produced a Facebook page that explores how we deal with loss. It includes a haunting video merging a daughter's song about the cabin with the family's return to the site where all was laid to waste.
Seattle Times staff reporter
Oso landslide: Comprehensive coverage of the March 22 disaster and recovery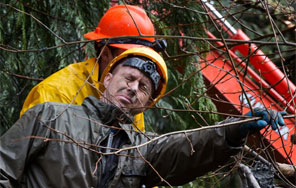 The Seattle Times
A collection of stories and visuals about the disaster, why it may have happened and the people it affected.
Interactive: Building toward disaster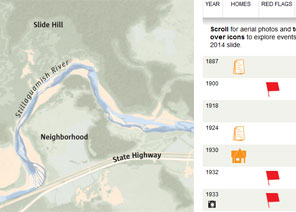 THE SEATTLE TIMES
Use an interactive to see how, even as warnings mounted, homes kept being built in slide-prone Steelhead Haven.
Remembering the victims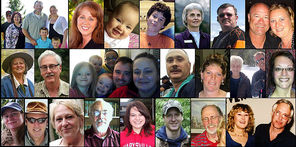 Compiled by The Seattle Times
Read about the lives of the victims.
Interactive map: A detailed view of the neighborhood hit by the landslide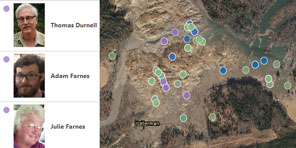 Garland Potts, Cheryl Phillips / The Seattle Times
Use an interactive tool to see the landslide's deadly path.
Midnight in the northwest wood
On a mountain far and high
We played our family songs around the fire
As the whiskey well ran dry
Seri Ann Shaw wrote "Family Song" in 2013, a year before a landslide destroyed the cabin that she attached to so many childhood memories.
Growing up, she hated that cabin at first. Campgrounds offered so much more to do. But in time, she took to it. With her two sisters she'd hike a mile back, to this huge boulder, to these abandoned railroad tracks. Old-growth cedars towered. Ferns went on forever. She'd find dead fish dropped by eagles; she'd take in the smell of decaying leaves.
Birds sang in the morning. At night her family sang — her dad on steel guitar, others on acoustic, singing "Shenandoah," or "Working in the Coal Mine," or one of Seri's favorites, improbable as it is to think now, "Landslide."
Fingerpickin' and strumming Dickens
At the site by the river bend
The music stopped the rustle of the neighbors' tents
The steady of their breath kept the beat
John "Blackie" Thompson grew up in Burien, Rhonda in West Seattle. John's band needed a singer, and Rhonda auditioned. "I got the job — and I got the guy," she says.
The Thompsons had three girls: Amber, Seri and Chelsea. They bought the cabin in 1993. It was small, with history. It had been the model cabin for Steelhead Haven, when the development opened in 1960.
The Thompsons would drive up maybe every other weekend. "Back in the old days, if you wanted to see a person, you had to go looking for them. Which was nice," John says. When he wasn't reading or fishing or playing the guitar, John tinkered with fixing the place up: "My proudest achievement was digging that hole and building that outhouse. We called it Republican headquarters."
Here, they collected memories.
John remembers the mountain man: Mincio Donciev, an escaped murder convict from Bulgaria who burglarized vacation cabins while eluding capture for 12 years. When police found Donciev's cave in 1998, newspapers ran pictures of the loot within. "There's our lantern and binoculars," John told his family.
Rhonda remembers a stand of five cedars, branches entangled. When her daughters were young, she'd tell them those trees were like their family: "There was a daddy tree with its arms around the mom tree and three little girl trees."
Seri remembers how Amber would get wrapped up in Archie comics, and how Chelsea would tag along with their father and their dog, Narnia, a Brittany spaniel-dachshund mix.
Over the years the neighborhood grew, with year-round homes outnumbering the vacation cabins. Come Sunday, when it was time to leave, John would always say: "Goodbye, little house. See you soon. I don't want to go, but I've got to go."
Mama leaned in near
She said, "Make a memory, Dear.
Precious and short are each moment, each note."
Pop kept the guitar going
When the landslide hit on that Saturday morning in March, killing 43 people, the Thompsons weren't at their cabin. They were more than 70 miles away.
"John and I often felt we had no right to feel loss because so many neighbors lost so much more."
Rhonda wrote that on Facebook. She created a blog, "Mile Post 37.5," where she posts photos of the cabin and describes the family's memories and their gratitude for the support the landslide's victims have received.
Twice, John and Rhonda have driven up. The first time, a couple of weeks after the slide, it was to bring supplies — blankets, gloves, bolt cutters — to the people searching for bodies.
They called ahead to Burien's Big 5 Sporting Goods, to see if the store had what they needed. When they arrived, the store had everything ready. What's more, the employees had kicked in, to pay for it. The folks at Home Depot donated, too.
At the Oso fire station, Rhonda, her back to the room, began crying when she saw a large photograph of what used to be Steelhead Haven. A firefighter approached and put his arm around her, saying nothing. They stayed like that for minutes.
The family's second visit was on April 26. They got closer this time, escorted in to maybe a mile and a half from their cabin. Rhonda shot video as they walked — taking in the wreckage, the twisted cars, the litter of people's belongings — while behind the camera she cried.
Later she combined this footage with "Family Song," Seri's song about her childhood days at the cabin. The result juxtaposes a lovely song about what was with devastating images of what is.
Sunday came with a heavy weight
As we caught that morning train
And waved goodbye to the place down by the river bank
Where we'd played our family songs around the fire
John owns West Seattle Brake Service while Rhonda works as a data analyst for a medical group.
On the side, John has a band that plays everything from Otis Redding to Tom Petty and the Heartbreakers. But request "Achy Breaky Heart" and the answer will be: "No."
He's contemplating a new name for the group, thinking "Pistol Whipped" might not be best for a band that sometimes plays weddings.
Seri lives in Shoreline and works at a coffee shop in Seattle. Asked about "Family Song," she wrote this in an email:
"While songwriting is new, I have always been an artist. Two years ago I started to work with found objects (making mosaics with tile grout, any old and rusted tools, metals, broken glass, and boat epoxy). The product really spoke to me. It gave these old things new purpose and a new life — a place in the world.
"When this tragedy took out Steelhead Haven, the once delicate connection that I had to my childhood place became corroded and rusted itself. And now the task is to repurpose these torn pieces; to give meaning to the tragedy and to the ruins left behind."
The family so loved their cabin on lot 16 that they bought other lots around it. They asked Genevieve Taylor if they could buy lot 15. Taylor had developed Steelhead Haven way back when; lot 15 was her last tie to the place. She told the Thompsons she couldn't let it go.
"She said it was the most beautiful place on Earth," Rhonda says.
Snohomish County property records say the Thompsons' cabin is now worth nothing.
"Total value: 0."
"Type: Destroyed Property."
But Seri's song says it's worth more than that.

Four weeks for 99 cents of unlimited digital access to The Seattle Times.
Try it now!