Originally published April 27, 2014 at 8:29 PM | Page modified February 27, 2015 at 10:44 AM
Days after slide, state firefighters panel worried about 'fractured' response
In an emergency conference call four days after the Oso mudslide, a group of Washington state's top firefighters agreed that Snohomish County first responders needed help and voted to urge them to get a more sophisticated management team, state documents show.
Seattle Times staff reporter
John Lovick (left) and Travis Hots
Oso landslide: Comprehensive coverage of the March 22 disaster and recovery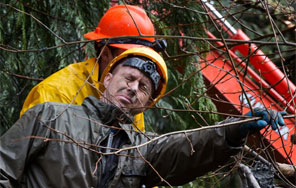 The Seattle Times
A collection of stories and visuals about the disaster, why it may have happened and the people it affected.
Interactive: Building toward disaster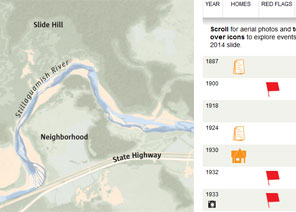 THE SEATTLE TIMES
Use an interactive to see how, even as warnings mounted, homes kept being built in slide-prone Steelhead Haven.
Remembering the victims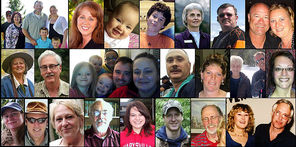 Compiled by The Seattle Times
Read about the lives of the victims.
Interactive map: A detailed view of the neighborhood hit by the landslide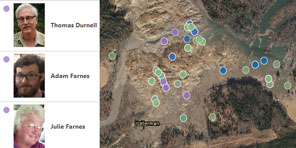 Garland Potts, Cheryl Phillips / The Seattle Times
Use an interactive tool to see the landslide's deadly path.
In an emergency conference call four days after the deadly Oso mudslide, a group of Washington state's top firefighters agreed that Snohomish County first responders were overwhelmed, and unanimously voted to urge them to get a more sophisticated management team, newly released state documents show.
The two dozen firefighters on the call said the incident-management team in place was "fractured and operating without a Delegation of Authority," according to a draft copy of the minutes of the call.
They wanted County Executive John Lovick and incident commander Travis Hots to request a so-called "type II team," made up of 50 federal, state and local responders trained to coordinate complex response operations, communications and general management.
Without one, requests for things such as medical aid on the debris field were duplicated or dropped, participants said in interviews.
Snohomish County officials, including a Lovick spokeswoman, said it was too soon to address questions about operations.
At an annual emergency-management conference last week, county emergency-management director John Pennington said he thought the March 22 mudslide would force officials to "take a hard look at how we look at the interface of incident-management teams" in natural disasters.
County officials requested the type II team the day after the conference call, according to state records. The team arrived the day after that — Day 6 of the response.
"That's just unheard of," Eric Andrews, chief of Snohomish County Fire District 26, said in an interview, adding that officials "didn't understand the need for it."
Usual procedure
Type II teams are usually requested almost immediately and often arrive within two days of a disaster, said Andrews, who was on the scene of the slide in the first couple days and participated in the call as the representative for Snohomish County and four other counties on the State Fire Defense Committee, which coordinates how wildfires are handled.
The minutes of the committee's emergency conference call, released in response to a public-records request, add another layer to the debate about whether officials responded quickly enough to a slide that killed more than 40 people.
Amid praise of the resolve of first responders and volunteers in the face of unimaginable destruction, some politicians and residents have questioned whether requests for help from the Washington National Guard and Federal Emergency Management Agency might have come sooner.
As with those requests, it is difficult to know whether the delay in seeking a type II team affected search-and-rescue operations.
Local officials have acknowledged it took them a little while to comprehend the scope of the destruction. But they — and Gov. Jay Inslee — have said operations were not delayed in any way.
"This was a local incident that was able to marshal huge resources very, very quickly and very, very professionally," Inslee told reporters this month.
The State Fire Defense Committee's thoughts about the type II team request follow previous lobbying for the committee's regional mobilization plan to be used for disasters other than wildfires.
Members of the committee have long complained that state law assigns them responsibility for only wildfires.
They have argued that their model — with pre-written plans enabling backup to be quickly deployed once approved by the Washington State Patrol — allows for the fastest possible response to any disaster.
"There's no question about what's going to happen and who's going to pay for it. It's done. It's there," Andrews said.
The catch is that because the plan is state-funded, the model gives the fire committee power to make decisions about the response without having to pay for it.
State lawmakers have been hesitant to offer such a blank check to fire officials for all disasters.
In this year's legislative session, a bill to give the committee control over nonfire disasters did not get a vote in the state House Appropriations Committee.
"My job in writing a budget is to strike a balance between what would be the best way for services to delivered and what we have the funds available to pay for," said Chairman Ross Hunter, D-Medina. "Sometimes you want to have a tripwire, where someone who actually has to balance the budget makes decisions about what resources get mobilized."
Hunter and other state officials also said it wasn't clear that the committee's regional model would produce a better response to nonfire disasters.
The Oso mudslide, predictably, has produced differing opinions on that question.
Dan Smith, a Kitsap County fire official who chairs the State Fire Defense Committee, said that if the committee's model had been in place, "search-and-rescue operations would have operated more quickly and smoothly."
Smith said the regional model would have enabled reinforcements from around the state to arrive within six hours.
But the slide's first responders have said that anybody who could have been saved was rescued within the first couple of hours.
Inslee said this month the model would only help with "subsequent reimbursement for the local jurisdictions by the state government," not faster rescue operations.
But Pennington, the county emergency-management official, seemed to endorse something like the model in his talk at the conference this week.
"We can't do this alone — even a county that's as large and robust as ours is," he said. "I think it's about time, honestly, that we take a look at regionalized risk, regionalized emergency management."
Committee members said they intend to bring up the issue again next year.
"I believe this will come up in the future," said former Chairman Dave LaFave, a Cowlitz County fire official. "It's very visible on the radar screen now."
Staff reporters Sandi Doughton and Jayson Jenks contributed to this report.

Four weeks for 99 cents of unlimited digital access to The Seattle Times.
Try it now!