Originally published April 26, 2014 at 6:18 PM | Page modified April 27, 2014 at 9:51 AM
County mudslide warnings failed to reach hill's residents
Last month's deadly mudslide is raising new questions about how well Snohomish County — and local governments across the country — share what they know about landslide hazards.
Seattle Times staff reporters
Oso landslide: Comprehensive coverage of the March 22 disaster and recovery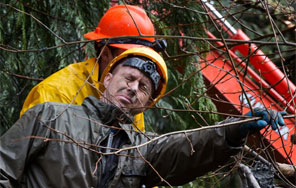 The Seattle Times
A collection of stories and visuals about the disaster, why it may have happened and the people it affected.
Interactive: Building toward disaster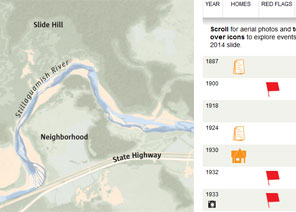 THE SEATTLE TIMES
Use an interactive to see how, even as warnings mounted, homes kept being built in slide-prone Steelhead Haven.
Remembering the victims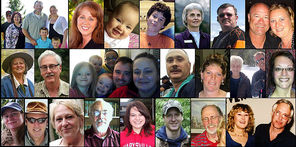 Compiled by The Seattle Times
Read about the lives of the victims.
Interactive map: A detailed view of the neighborhood hit by the landslide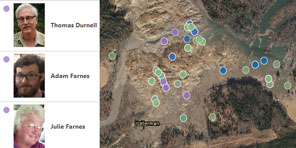 Garland Potts, Cheryl Phillips / The Seattle Times
Use an interactive tool to see the landslide's deadly path.
Several weeks before her death, the happy young nurse pulled up to her new neighbor on East Steelhead Drive and gushed about her purchase.
"She rolled down the window and said, 'I just bought the house down at the end of the lane,' " recalled Amanda Lennick's Oso neighbor, Davis Hargrave.
Hargrave chatted with her about their community. Lennick already had asked other neighbors about the scar on the hill across the river. She'd been told a 2006 landslide caused flooding nearby but didn't damage homes. She, like Hargrave, seemed satisfied it was safe.
But others knew more than Lennick apparently did about the potential threat she faced in her new home.
Last month's deadly mudslide is raising new questions about how well Snohomish County — and local governments across the country — share what they know about landslide hazards.
Experts say it also spotlights how politics, property-rights concerns and inadequate regulations allow homebuilding to continue in areas vulnerable to natural disasters such as landslides, flooding and forest fires.
"The U.S. is doing a perfectly wretched job of dealing with things we know darn well are going to happen," said Ed Thomas, president of the Natural Hazard Mitigation Association.
Snohomish County Council Chairman Dave Somers last week proposed a temporary ban on new residential construction within a half-mile of slopes known to be at risk of landslides. The six-month moratorium, scheduled for a council vote on May 5, would not affect projects that have already received building permits.
Somers said the "timeout" would give the county time to assess whether to tighten restrictions on building in such areas, and whether the county can do more to warn homeowners of risks.
Such actions arrive too late for Lennick, who bought her home just weeks before the March 22 mudslide. She's among 41 dead and two missing in the disaster.
Geologists had warned that the hill across the river could collapse in a catastrophic slide. But some longtime residents who survived say that risk was never adequately communicated.
Residents would have been hard pressed to measure the danger on their own.
Consider:
• Snohomish County's emergency preparedness website offers tips on preparing for floods, wildfires, earthquakes, storms — even volcanic eruptions and tsunamis — but not landslides.
• Real-estate disclosure forms in Washington require home sellers to specify all sorts of potential deficiencies in houses, from leaky roofs to known flooding issues. But landslides aren't on the list.
• While a 1999 report by Seattle geologist Daniel Miller filed with the U.S. Army Corps of Engineers warned of "the potential for a large catastrophic failure" of the slope above Lennick's new home, that language does not appear on county maps identifying landslide hazards.
• Even if Lennick had known where to look for county landslide maps, those maps offer detailed information primarily about the location of previous slides — and come with disclaimers downplaying their own accuracy and urging users to seek verification elsewhere.
• The county in 2004 considered buying out Steelhead Haven homes — including the one later purchased by Lennick — due to the risk of a deadly landslide. But there is little evidence the seriousness of the risk was communicated to residents.
Public records show that after the 2006 landslide at least one public meeting was scheduled at the Oso firehouse, at which the buyout was supposed to be brought up by Steve Thomsen, Snohomish County's director of public works. But most of the rest of the meeting's agenda was to talk about flooding concerns.
Slide survivors — and some others who live near slide-prone hills nearby — say they want to know why the county didn't take more action.
Snohomish County Executive John Lovick's office declined to make Thomsen or other top officials available for interviews. After twice asking The Seattle Times to put questions in writing, county officials declined to answer any of them.
Rebecca Hover, a spokeswoman for Lovick, said in an email the county has "done its best" to put slide-related public records on a website.
Hover said the county would review its decisions related to the Steelhead Drive area after the recovery effort is complete.
Residents' safety
Rich Sewell, whose family owned a cabin in Oso for more than 30 years before selling it in 2007, recalled neighborhood meetings where officials explained the area was prone to slides. But he never heard any suggestion the county was concerned about residents' safety.
"There was never any impending doom, or anything like that," Sewell said.
Hargrave, who divided his time between his Kirkland home and his Oso cabin, which was destroyed by last month's slide, says more information should have been shared.
"I did not once ever hear of the possibility of a catastrophic event," said Hargrave, who also said he did not recall hearing about any community gathering.
Even if he had, Hargrave said, "We shouldn't have heard about it during some Power Point presentation in a casual meeting at a fire hall. We needed a registered letter from someone in a position of power telling us we're in danger."
Former Snohomish County Councilman John Koster visited the Oso area after the 2006 slide, which caused flooding and pushed the North Fork of the Stillaguamish River closer to the houses along Steelhead Drive.
"I made a comment at the time: 'I don't think I'd build a home there,' " Koster said.
But even Koster said county officials' main worry was flooding. They didn't anticipate a devastating mudslide. "Nobody, and I mean nobody, regardless of their claim to fame, ever imagined anything of this magnitude," he said.
Examining risks
A 2010 Snohomish County report said there were 4,669 structures — mostly homes — on parcels exposed to steep slopes vulnerable to landslides. The report estimated that 13,642 people lived in those areas.
The Oso disaster is prompting governments to examine whether they understand the risks of landslides in such areas and how to relay them to homeowners who might be in jeopardy.
"The Snohomish County incident has raised the profile of this issue internationally," said John Starbard, director of King County's Department of Permitting and Environmental Review. King County has begun a review of its own landslide risks.
Under the state Growth Management Act, counties are required to limit new development in environmentally sensitive areas such as wetlands, as well as hazardous zones vulnerable to disasters such as earthquakes and landslides.
In Seattle, people seeking building permits in known landslide hazard zones are warned of risks via written covenants required by the city planning department.
The covenants, which are publicly recorded, warn landowners of the risk of "property damage, loss of use, personal injury and death" from landslides. They also shield the city from lawsuits and require future buyers to be informed of risks. Similar warnings are used in Island County.
But experts say those sorts of formal warnings are rare. And both warning requirements and development limits frequently face blowback from property owners who want to preserve the development value of their land.
Starbard said there's a limit to what public agencies can do to protect property owners.
"I don't know that it could be done, short of the type of regulation that would create a Tea Party rebellion like you'd never seen," said Jim Schwab, head of hazard mitigation for the American Planning Association.
Still, Schwab said, if Snohomish County believed the threat to the Oso neighborhood was great enough to consider buying out home­owners, "You need to convey that information to the people in the strongest possible terms."
Freedom County
Even if the county had pursued a buyout, there is no guarantee the residents would have gone along with it.
Thom Satterlee, who died along with his wife, Marcy, was a leader in the Freedom County movement, which sought to break away from what supporters saw as excessive government regulation. The Satterlees bought their house in 2012.
"Thom didn't like the government to tell him to do much of anything," said Koster, a Republican who supported the Freedom County movement when he served in the state Legislature.
A few years ago, when Snohomish County tried to do environmental work along the riverbank — such as planting native foliage to protect the river from silty runoff — officials couldn't get easements from Steelhead Drive property owners.
Another couple who perished in the mudslide, Larry and Sandy Miller, had quarreled with county officials over flood-plain restrictions as they built their dream home over several years.
Kim Peterson, a consultant who helped the Millers deal with regulatory issues, said the county did not grant the permit easily.
In an email, Peterson said the Millers were insistent on building at the location, despite the roadblocks. They wanted to live by the river and hillside.
"I don't know that if someone had pointed right up the hill and said, 'That will slide here,' that it would have changed the outcome," Peterson said. "I know that the projected flood issues, which were extreme, did not change my clients' desire to be in that spot."
Koster said hazards are everywhere and the government can't protect everyone.
"If you extrapolate a little bit, all of Seattle is built on an earthquake fault. If that's the case, should you be building any more buildings in Seattle?" he said.
But some surviving Steelhead Drive residents said people can't be expected to make informed choices if the government doesn't share what it knows about risks.
Better communication
It's too late for Lennick and the others killed last month, but better communication about landslide risks could be important for people like Michelle Braun.
Since the Oso slide, Braun has been trying to find out if the same thing could happen to her neighborhood, just four miles upstream.
Braun lives at the base of Mount Higgins, whose steep flanks are scarred by past slides. When she and her husband went through the permit process to build their house in the late 1990s, they followed the rules and hired a geotechnical engineer to assess the site. No one mentioned the possibility of a catastrophic slide.
"You do your due diligence, the county signed off on it — so you assume you're safe," said Braun. Now she looks at the mountain with new trepidation.
"Whenever it rains, I have a panic attack."
But Braun's search for information has been frustrating.
Snohomish County officials didn't respond to her questions about slide risk, so she sent out a blitz of messages to everyone from the U.S. Geological Survey to the governor's office. She has accumulated a slew of maps and even spoke with a consulting engineer — and she's still not sure what the risk is.
"I can't get anybody to look at this hill," she said.
Geologic maps of Mount Higgins show a fingerlike pattern of past landslides reaching down the slopes and coalescing into a large slide complex. Lidar images, which strip away the vegetation and reveal the bare landscape, also show the tracks of past slides.
But without expert study, it's impossible to say whether the area is likely to slide again, said University of Washington geomorphologist David Montgomery.
That leaves Braun with few options.
She would like to sell, but doesn't feel it would be ethical to hand the property over to someone else if there's a chance of a massive slide someday.
"If something happens, and I say nothing and do nothing ... well, I'm not good with guilt," she said. "But if I find out my hill is safe — then I can sell."
Jim Brunner: 206-515-5628 or jbrunner@seattletimes.com. On Twitter @Jim_Brunner
Craig Welch: 206-464-2093 or cwelch@seattletimes.com. On Twitter @craigawelch

Four weeks for 99 cents of unlimited digital access to The Seattle Times.
Try it now!