Originally published April 25, 2014 at 8:49 PM | Page modified April 26, 2014 at 9:09 AM
Sailors taken by Oso mudslide remembered at Navy services
Two Navy men who were killed in the Oso mudslide were honored at a memorial service Friday at Naval Station Everett.
Seattle Times staff reporter
Oso landslide: Comprehensive coverage of the March 22 disaster and recovery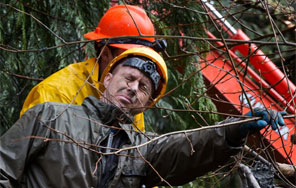 The Seattle Times
A collection of stories and visuals about the disaster, why it may have happened and the people it affected.
Interactive: Building toward disaster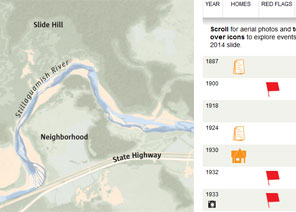 THE SEATTLE TIMES
Use an interactive to see how, even as warnings mounted, homes kept being built in slide-prone Steelhead Haven.
Remembering the victims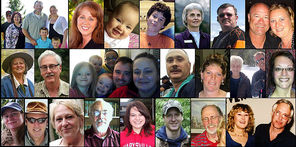 Compiled by The Seattle Times
Read about the lives of the victims.
Interactive map: A detailed view of the neighborhood hit by the landslide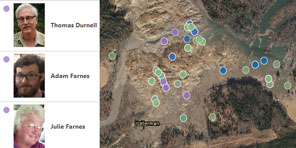 Garland Potts, Cheryl Phillips / The Seattle Times
Use an interactive tool to see the landslide's deadly path.
A Navy commander and a chief Navy counselor who perished in the deadly Oso mudslide were memorialized Friday by sailors at Naval Station Everett in a somber service attended by their survivors.
Cmdr. L. John Regelbrugge III, 49, and NCC Billy L. Spillers, 30, were remembered as good and decent men who loved their families and their country, and who "had the courage to be leaders."
"They were wonderful husbands, fathers, sons, friends and shipmates,'' said Capt. Steve Williamson, commander of the Puget Sound Naval Shipyard. "They served our detail, our community and our nation with pride and dedication.
The outdoor service was attended by more than 200 people, including Spillers' 4-year-old son, Jacob, who stood out from the sea of black uniforms like a ray of light in his white, blue and black striped polo shirt.
The boy, who walked into the service holding the hand of his mother Jonielle Spillers, was pulled from the mud by rescuers in the immediate aftermath of the slide that took his father and three siblings, Brooke, 2; Kaylee, 5; and Jovon Mangual, 13.
His mother was at work when the hillside gave way on March 22, taking out an entire neighborhood and killing at least 41 people.
Regelbrugge was home with his wife, Kris, at the time. She is one of two people still listed as missing.
At the hourlong service, Senior Chief Eric Payne remembered Spillers' "goofy grin," his passion for NASCAR and his generous spirit that always made time for people.
"He was the epitome of high moral character," Payne said. "He never turned anyone away. ... He was always willing to help everyone."
Spillers enlisted in the Navy in 2002. Six years later, he graduated with a bachelor's degree in business administration from Strayer University.
He was selected chief petty officer last year, and he became the command career counselor in November. During his service, he was awarded the Navy and Marine Corps Achievement Medal four times, and received various other unit awards.
Regelbrugge spent 32 years on active duty in the Navy, 20 of those at sea during 13 deployments, said Capt. John Swanson.
"He loved going to sea,'' Swanson said. "He believed sailors belonged at sea."
Regelbrugge became the officer in charge for the shipyard and maintenance facility, Detatchment Everett, in February.
Swanson said Regelbrugge's professional ethos was summed up in a Facebook photo showing Regelbrugge at work with his sleeves rolled up. The caption read: "A true leader is never afraid to roll up their sleeves and get dirty."
"That, I think, captures what John was about,'' Swanson said. "He never asked people to do anything he wouldn't do himself."
Regelbrugge "was a master at his craft. His professional knowledge and experience were unmatched and unparalleled. There was nothing he didn't know or couldn't tell you about a ship,'' Swanson said.
Still, he noted, "No matter how storied the biography, it never gives full justice to the person."
Susan Kelleher: 206-464-2508; skelleher@seattletimes.com

Four weeks for 99 cents of unlimited digital access to The Seattle Times.
Try it now!