Originally published April 21, 2014 at 8:48 PM | Page modified April 21, 2014 at 10:43 PM
Obama to witness ruin, strength of North Fork Stillaguamish Valley
President Obama visits the Oso mudslide on Tuesday. His visit engenders a variety of hopes and expectations from mudslide survivors and other area residents.
Seattle Times staff reporter
Oso landslide: Comprehensive coverage of the March 22 disaster and recovery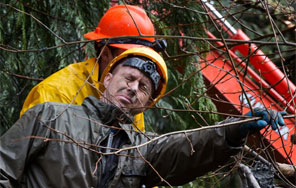 The Seattle Times
A collection of stories and visuals about the disaster, why it may have happened and the people it affected.
Interactive: Building toward disaster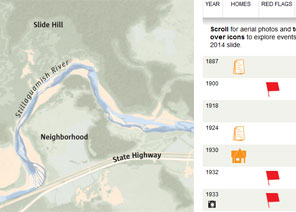 THE SEATTLE TIMES
Use an interactive to see how, even as warnings mounted, homes kept being built in slide-prone Steelhead Haven.
Remembering the victims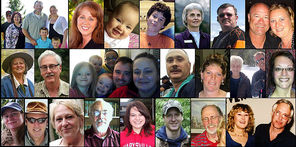 Compiled by The Seattle Times
Read about the lives of the victims.
Interactive map: A detailed view of the neighborhood hit by the landslide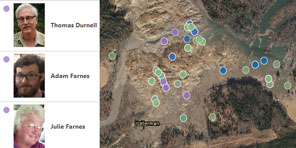 Garland Potts, Cheryl Phillips / The Seattle Times
Use an interactive tool to see the landslide's deadly path.
DARRINGTON — Dan Rankin, the mayor of Darrington, wants President Obama to know that the North Fork Stillaguamish Valley needs continued government help, but that might not be the first thing he mentions when he sees the president Tuesday.
"I'd like him to know how strong and how wonderful this community is, and how we've held together during this tragedy," said Rankin, who lost close friends and many acquaintances among the 41 confirmed fatalities of the Oso mudslide March 22.
The president is to view the slide area and to meet with first responders and slide victims before making a statement in the afternoon. Many of the logistical details of his travels were not released to the public.
Rankin said that even if the president's visit doesn't take him as far as Darrington, he's glad Obama is coming to get a firsthand look at the slide.
"He is doing his job," Rankin said. "Unless you actually see it for yourself, you can't understand the magnitude of this event, the loss the families have suffered and how this has changed this valley forever."
"It's going to be a long recovery," Rankin said, and he's hopeful Obama's visit indicates the federal government plans to be committed long term.
Arlington Mayor Barbara Tolbert, who will also see Obama, said the president has already shown his support by issuing a disaster declaration, authorizing the expenditure of federal funds to help those hurt by the slide.
"We understand this was one of the fastest tracks that's ever been done on," she said.
Even though Obama has already authorized aid, Tolbert said those who have lost loved ones in the slide say they feel comforted by the president's willingness to meet with them in person.
Both mayors said that up and down the North Fork Stillaguamish Valley, people have pulled together to help those in most need.
But more help is needed, and for many Darrington residents that would include reopening Highway 530 as soon as possible. Its closure has created a two-hour detour between Arlington and Darrington.
"That highway is a lifeline for this community, both economically and socially," said Dr. Gary Schillhammer at the Darrington Clinic.
The highway's closure prevents him from seeing patients at Cascade Valley Hospital in Arlington, which he visited several times a week before the slide. It also means that the nearest full-service emergency room to Darrington is now an hour away in Sedro-Woolley, instead of a half-hour away in Arlington.
Schillhammer agrees with Rankin that no one in the valley was untouched by the slide. "Probably a third of the victims were my patients. And I delivered two of the babies," said Schillhammer, who has practiced here for 30 years.
At Mountain Loop Books & Coffee, owner Tony Gobroski said if the federal government really wants to help the valley, it would lessen restrictions on logging, and recognize that logging can be done in an environmentally responsible manner.
"We were struggling before the slide," he said. "A lot of rural communities are. And the people of rural communities are the backbone of this country."
Gobroski said he wishes the government could learn a lesson from this valley's response to the mudslide, a crisis in which people of differing political views have worked effectively side-by-side for the common good.
Quinn Nations, who was driving along Highway 530 when the slide happened, said he hopes Obama doesn't just view the debris field from the air.
"I'd like the president to walk through it," he said. "That's the only way you can really sense what happened."
Nations, who operates a tree-care service in Darrington, was seven cars back when the slide closed the highway. He and several others were able to pull a badly injured woman and a child from the slide.
A big concern of his rests with the people whose homes simply don't exist anymore and who are finding out their losses may not be covered by insurance. "If there was a way he (Obama) could help them out, that would make me happy."
Carolyn Erickson, a distant cousin of 4-month-old Sanoah Huestis, who was killed in the slide, said that even before the disaster, Darrington has been a difficult place for kids to stay active and out of trouble.
"This town has been dying," she said. "It needs business. And it needs something for the kids to do. There's no bowling alley. No movie theater."
She'd like to see a government project that would include building athletic fields, outdoor basketball courts and other recreational facilities for the valley's long-term benefit.
Arnold Knapstad, 81, who lives barely a mile east of the area closed by the slide, said the detour, via the North Cascades Highway, means his grandchildren in Stanwood are now 85 miles away instead of 26.
That makes visiting them difficult, particularly since Knapstad doesn't do well driving after dark.
"We really need to get that road open," he said.
Jack Broom: jbroom@seattletimes.com or 206-464-2222

Four weeks for 99 cents of unlimited digital access to The Seattle Times.
Try it now!