Originally published March 31, 2014 at 9:54 PM | Page modified April 1, 2014 at 12:20 PM
22 names of missing released; Inslee seeks more federal aid
Snohomish County officials on Monday released the names of 22 people presumed missing in the Oso mudslide and 18 names of those who had been confirmed killed. Meanwhile, Gov. Jay Inslee asked President Obama to give the mudslide "major disaster" status, to secure federal aid for individ
Seattle Times staff reporters
Oso landslide: Comprehensive coverage of the March 22 disaster and recovery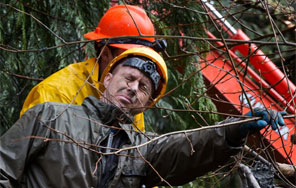 The Seattle Times
A collection of stories and visuals about the disaster, why it may have happened and the people it affected.
Interactive: Building toward disaster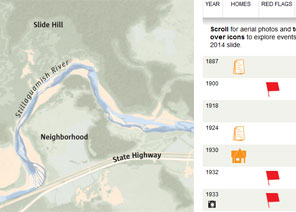 THE SEATTLE TIMES
Use an interactive to see how, even as warnings mounted, homes kept being built in slide-prone Steelhead Haven.
Remembering the victims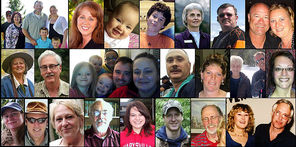 Compiled by The Seattle Times
Read about the lives of the victims.
Interactive map: A detailed view of the neighborhood hit by the landslide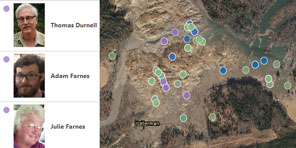 Garland Potts, Cheryl Phillips / The Seattle Times
Use an interactive tool to see the landslide's deadly path.
No comments have been posted to this article.
After days of chill rain and cloud-shrouded peaks, Monday dawned clear in Darrington, the town that serves as an eastern hub of search operations for one of the state's worst natural disasters of the past century.
Work crews, as they headed down the valley to the site of the March 22 mudslide, could soak in the craggy vista of Whitehorse Mountain, its flanks carrying deep loads of fresh snow.
The somber task of locating and removing human remains continues this week, with some 125 searchers now making numerous finds of human remains on the east side of the slide, according to Steve Harris, a division supervisor for the incident command post based in Darrington.
The official number of people who died in the mudslide rose Monday to 24, with the identities of 18 released by the Snohomish County Medical Examiner's Office. Three more bodies were discovered Monday, though they are not part of that count. Officials also released a list of 22 people they have identified as missing.
Identification is a slow process. The mudslide hit with enough force to compress a car into the size of a refrigerator or splinter a tree, and searchers are sometimes finding only partial remains.
"It is correct to say that it is very difficult in some of the finds to make identifications," Harris said.
In Olympia on Monday, Gov. Jay Inslee asked President Obama to give the mudslide a "major disaster" status, a declaration needed to secure federal aid to individual victims who survived the mudslide or lost their homes in it.
Inslee's application includes the most detailed tally to date of the economic damage from the disaster.
He said the mudslide destroyed 25 primary homes worth an average of $165,000 each and rendered five more uninhabitable. Another 12 secondary homes were damaged, as were two outbuildings. He estimated total direct losses at almost $10 million, including $3.4 million for lost personal property.
"This disaster is quickly becoming one of the worst in state history" in terms of death and destruction to a community, Inslee wrote in the letter, which was addressed to Ken Murphy, regional administrator in Bothell for the Federal Emergency Management Agency.
Karina Shagren, spokeswoman for the Washington Military Department, which directs emergency and disaster responses, would not speculate on how long it might take the Obama administration to respond.
"It could be 24 hours, it could be 24 days," she said.
Gary Haakenson, Snohomish County executive director for public-safety issues, said he expects the designation within the next two days.
Obama has already approved an expanded emergency declaration, allowing for federal help and reimbursement on rescue operations. But only a declaration of major disaster would make direct federal aid available for affected families.
Such a designation is granted in cases where a disaster is catastrophic enough to overwhelm the capabilities of state and local authorities.
That help could include up to 18 months of temporary housing and grants for home repairs, medical and dental expenses, and even fuel costs incurred while retrieving lost possessions during the disaster. Unemployment benefits are included as well.
Inslee also asked for funeral expenses for "up to 48 people."
Federal aid would kick in after any insurance coverage. Expenses such as mortgages and car payments are not eligible, said Shagren, of the Military Department.
Inslee's letter describes the disaster's horrific damage, from which only 15 people were rescued alive. Inslee said some victims likely will remain buried in the mountain of mud.
The sunshine Monday put the hillside that caused so much pain and grief in stark relief.
The slide zone itself appeared as a raw cut in the slope, divided into three distinct zones.
A lower level had hummocks and was streaked with gray.
A middle zone was covered with dozens upon dozens of trees that had slid down from the hillside and were now strewn on the ground.
The upper portion of the slide zone was a harsh, steep cliff.
With the clear weather came lower waters in the debris field formed along the valley floor by all the material that had thundered down the slope.
It also allowed searchers to finally pump water out of some pools to help in the search for victims, said operations chief Karrie Stevens.
Searchers are concentrating on a small area — up to 50 or 100 acres — where geologists have told them people are most likely to be, Stevens said.
As of Monday night, searchers had thoroughly examined only about 5 percent of that smaller area, she estimated.
"Searching through the debris is a very laborious task for us ... we can't just go in there with a bulldozer and push a lot of stuff around," Stevens said. "We want to be respectful about what we're doing out there, and respect the people we are looking for."
From a ridge viewpoint Monday afternoon, a bulldozer, excavator, log stacker and other heavy equipment could be seen working amid the mud, timber and wrecked homes. In some places, the debris is 70 feet deep.
The water also had retreated from three houses just outside the landslide zone. Those homes escaped the mudslide but still had flooded.
On Monday, their bright green lawns offered hopeful signs of spring and normalcy.
Almost.
One lawn was partially covered with white and tan tents set up to assist in the rescue effort.
At the edge of another lawn, a large, brown cross had been recently erected to memorialize the dead.
Beyond the cross lay a pond full of murky water and debris.
Hal Bernton: 206-464-2581 or hbernton@seattletimes.com

Four weeks for 99 cents of unlimited digital access to The Seattle Times.
Try it now!