Originally published March 31, 2014 at 8:42 PM | Page modified March 31, 2014 at 9:35 PM
Photographer heard trees snap, grabbed camera and headed out
The March 22 mudslide missed Larry Taylor's nearby home, but the river that backed up behind the slide drowned his home in six feet of water.
Seattle Times staff reporter
Oso landslide: Comprehensive coverage of the March 22 disaster and recovery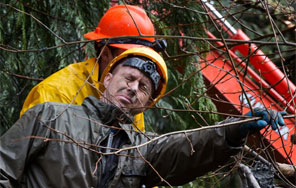 The Seattle Times
A collection of stories and visuals about the disaster, why it may have happened and the people it affected.
Interactive: Building toward disaster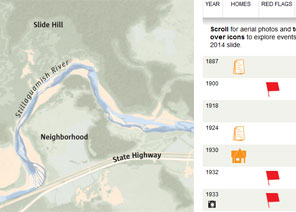 THE SEATTLE TIMES
Use an interactive to see how, even as warnings mounted, homes kept being built in slide-prone Steelhead Haven.
Remembering the victims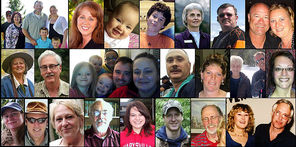 Compiled by The Seattle Times
Read about the lives of the victims.
Interactive map: A detailed view of the neighborhood hit by the landslide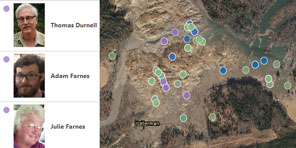 Garland Potts, Cheryl Phillips / The Seattle Times
Use an interactive tool to see the landslide's deadly path.
No comments have been posted to this article.
ARLINGTON — Larry Taylor had one tennis shoe on and one off a week ago Saturday when the lights in his home and his computer blinked and then went dark.
Power outages are not uncommon in rural terrain along the banks of the North Fork of the Stillaguamish River, but this one came with a noise Taylor, 65, couldn't fathom.
"It was the sound of trees snapping and cracking, a lot of them," he said. But he couldn't hear any heavy equipment and couldn't figure out what could be pushing and crushing the trees. "It was like Godzilla going through the woods."
After a quick look outside, Taylor, an avid amateur photographer, grabbed his camera and headed out.
He followed a neighbor, LoAnna Langton, who shouted his name and pointed to where two women were sitting atop the crumbled remains of a house. In another direction, he could hear an injured man yelling for help.
Between Taylor and the victims was "a river of yuk." It was such a deep, black sludge, Taylor thought it must have come from a ruptured oil tank or a septic tank — or both. And it was so deep, he could see it would be impossible to cross. "I heard a roar. It was almost like a waterfall."
Taylor doesn't know how much time passed as he took in the scene, stunned and in disbelief.
But as he watched, a miracle took place. A helicopter appeared, and rescuers helped the women to safety, one at a time.
Taylor photographed the scene as Randy Fay, a volunteer rescue technician with Snohawk 10, reached and rescued Jetty Dooper, who had been visiting the home of the other woman, Robin Youngblood. A photo Taylor took of the scene appeared across the front page of Sunday's Seattle Times.
As he took photos, the river of sludge had come within about 80 feet of Taylor's place, on a gravel road just off Highway 530, on the east side of the slide. But the danger continued to build as the blocked river rose.
Taylor watched as Langton loaded seven children — some hers and some who had been visiting for a sleepover — and two adults into her Chevy Suburban. "She is my hero. Holy cow. Mother of the year."
Taylor said Langton told him to come along in her rig, too. But he headed out in his own pickup, after grabbing the four things he felt he needed most: the camera, a briefcase, a safe with personal documents and his prescription medications.
Before he could drive to safety, emergency crews had moved some trees that had fallen across the roadway.
It would be the next day before he learned that his home had been inundated in at least six feet of water as the river built up behind the debris dam. He knows the river has since subsided somewhat but doesn't know when he'll be able to go back, or what he'll find.
On Monday, he was working in Arlington at the offices of the Stillaguamish Valley Genealogical Society, one of his interests. Over the past few years, he said, he has photographed 30,000 gravestones for Find a Grave, part of Ancestry.com.
Taylor declined any payment for the photos he provided to The Seattle Times and The Associated Press, saying that any proceeds should go to the Red Cross, which has helped many people at the disaster scene.
A retired administrator with Volunteers of America, Taylor said he's humbled by the number of people who have offered help. About the gray Seahawks sweatshirt he was wearing Monday, Taylor said, "I got this from my son two days ago. All my stuff is underwater."
Jack Broom: jbroom@seattletimes.com or 206-464-2222

Four weeks for 99 cents of unlimited digital access to The Seattle Times.
Try it now!