Originally published March 28, 2014 at 9:50 PM | Page modified March 29, 2014 at 8:26 AM
New Fire Chief Travis Hots being tested by disaster
Fire Chief Travis Hots, the weary face of the response to the deadly Snohomish County mudslide, has led the Arlington rural fire district for only three months. But colleagues say he's ready.
Seattle Times staff reporter
Oso landslide: Comprehensive coverage of the March 22 disaster and recovery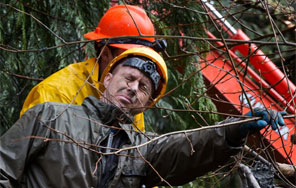 The Seattle Times
A collection of stories and visuals about the disaster, why it may have happened and the people it affected.
Interactive: Building toward disaster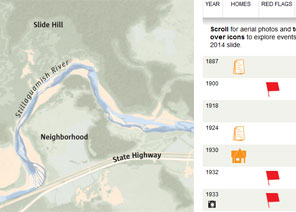 THE SEATTLE TIMES
Use an interactive to see how, even as warnings mounted, homes kept being built in slide-prone Steelhead Haven.
Remembering the victims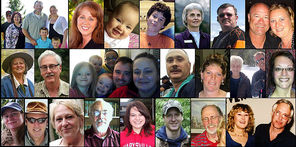 Compiled by The Seattle Times
Read about the lives of the victims.
Interactive map: A detailed view of the neighborhood hit by the landslide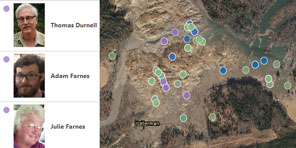 Garland Potts, Cheryl Phillips / The Seattle Times
Use an interactive tool to see the landslide's deadly path.
No comments have been posted to this article.
Travis Hots looked like hell.
The 38-year-old stepped toward the cameras Tuesday night in muddy boots and a rumpled firefighter's uniform, his jet-black hair matted down and eyes so bloodshot that a reporter later felt compelled to ask how he was feeling.
Hots opened the briefing with a statement obvious to everybody packed into the small city of Arlington administrative building: "We had a very challenging day today."
After describing the conditions on the mudpile and the pace of rescue and recovery operations, he delivered the news: Workers believed they had located 10 more bodies in the muck.
There is no shortage of gruesome jobs in the aftermath of one of the deadliest disasters in state history. But Hots, the local fire chief leading the response to the massive mudslide, may have the most unenviable: Twice a day, he has faced the cameras to tell the community — his community — how many lives have been lost.
The chief has other duties, too — coordinating operations, supporting his firefighters, even pleading for donations for residents.
Although higher-ups have since arrived, local fire officials say it was Hots who last Saturday made decisions such as where to deploy the first search-and-rescue teams and when to pull back crews because of the instability of the ground.
Some of those calls have already been questioned, including by a state representative and the county council member representing the area.
As the initial incident commander, Hots is technically still in charge of an effort that has now swelled to more than 200 responders.
"You just can't fathom what we're up against out there until you get out there and see the lay of the land," he said at a news conference. "You can't look at a photograph and understand it. You can't even fully understand what we're up against out there and what has happened even if you watch on TV. It's unreal."
It is a demanding assignment for someone who only three months ago became chief of the rural fire district tapped to lead the response.
Arlington Rural Fire & Rescue, which serves 8,200 residents, has a $1 million budget and 30 volunteer firefighters. They respond to an average of one fire a month.
But Hots has some unusual assets: He is a fifth-generation Snohomish County resident and second-generation firefighter. His father served for 34 years. He volunteers as a helicopter-rescue pilot and has led a smaller nearby district for several years.
Hots declined to be interviewed, saying through a spokeswoman he wanted reporters to focus on the slide instead of him. He also asked his closest confidant, his father, not to comment.
Other family members, friends and colleagues described Hots as a soft-spoken and dedicated leader who inspires others in part by letting them see his emotions.
Merlin Halverson, chairman of the Snohomish County Fire Chiefs Association, said Hots is a vice chairman and well-respected member of the association, which lobbies in Olympia and works on issues common to all firefighters.
Halverson said Hots is doing a fine job.
"The thing that people don't realize about those of us who are fire chiefs in these rural areas is that we live here. You're talking about people that Chief Hots may know," he said. "It's a huge emotional burden. It's a huge emotional burden when you don't know the people, and when you do, it just adds to it."
Kept working
On Wednesday, the day after Hots seemed at his most exhausted, he did not appear before reporters. Snohomish County Executive John Lovick said the chief was taking a "very well-deserved day off."
But at the next morning's briefing, Hots revealed that despite being urged to go home, he hadn't.
"I just couldn't bring myself to do that," he said. "So I spent the day yesterday up at the site. I wanted to be out there in the trenches with my people."
That move did not surprise Hots' grandfather. Roger Hots Sr., 82, said his grandson has always epitomized empathy and loyalty — and always wanted to be a firefighter.
The grandfather said the family emigrated from Germany and came to Snohomish County in the 1920s.
He said he was a store manager, but his brother-in-law served in the Everett Fire Department and inspired his son — Travis' father — to pursue the profession.
Travis Hots attended Marysville Pilchuck High School and started as a volunteer firefighter before rising to chief in District 22, in the county's Getchell area. He married and has two kids.
In January, he assumed the additional command of District 21, Arlington Rural Fire & Rescue. Despite doubling his responsibilities, the chief told the local newspaper he chose to keep his salary at $110,000.
Halverson, of the fire-chiefs association, said it is not "terribly uncommon" for chiefs to manage two districts and it is not very difficult for a chief to learn new territory.
Jim Strago, chairman of the Fire District 21 board of commissioners, said the commissioners recruited Hots to try to improve the district.
Hots has increased training requirements, instituted more-rigorous preparation programs and addressed longstanding building-maintenance issues, Strago said.
"He's done a great job for us so far," Strago said.
"Incredibly difficult job"
Strago and others also praised the chief's handling of the mudslide. The commissioner said the slide hit in a neighboring fire district and Hots was not on duty at the time. But as responders raced to the scene, Hots was asked to take control, he said.
Strago defended the chief's decision to pull back crews, saying it was the right call.
He added that Hots is dealing with "an incredibly difficult job."
"There are so many questions, so many people wanting information and it's just a grueling, thankless position," he said.
David Postman, spokesman for Gov. Jay Inslee, agreed. "What you see in front of the cameras is what I see inside the command center," Postman said. "I think when he's up there talking, you see his character. You see who he is."
Brian M. Rosenthal: 206-464-3195 or brosenthal@seattletimes.com

Four weeks for 99 cents of unlimited digital access to The Seattle Times.
Try it now!