Originally published March 26, 2014 at 2:30 PM | Page modified March 27, 2014 at 12:28 AM
90 may be missing in mudslide, officials announce
Emergency managers now believe up to 90 people may be missing in the mudslide that destroyed a community near Oso, Snohomish County, last Saturday.
Seattle Times staff reporters
Oso landslide: Comprehensive coverage of the March 22 disaster and recovery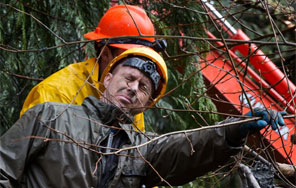 The Seattle Times
A collection of stories and visuals about the disaster, why it may have happened and the people it affected.
Interactive: Building toward disaster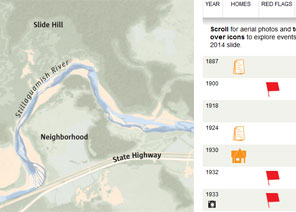 THE SEATTLE TIMES
Use an interactive to see how, even as warnings mounted, homes kept being built in slide-prone Steelhead Haven.
Remembering the victims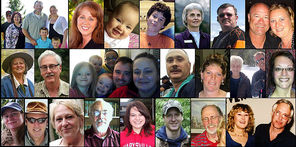 Compiled by The Seattle Times
Read about the lives of the victims.
Interactive map: A detailed view of the neighborhood hit by the landslide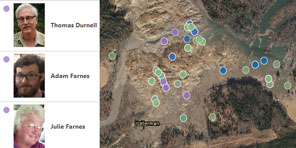 Garland Potts, Cheryl Phillips / The Seattle Times
Use an interactive tool to see the landslide's deadly path.
No comments have been posted to this article.
Even as Snohomish County officials adjusted downward the number of people missing after the deadly mudslide near Oso, the natural disaster will likely prove to be one of the worst in state history.
On Wednesday, John Pennington, head of the county's Department of Emergency Management, said that the number of people unaccounted for after the Saturday mudslide had dropped to 90, down from the earlier estimate of 176.
Pennington said that there were an additional 35 people who may have been in the area and whose status "is still unknown at this time."
He said unchanged was the number of confirmed fatalities: 16. In addition, there were another nine bodies that remain in the debris, officials said. Because they had not been identified they are not considered confirmed.
Pennington could not answer whether the 16 confirmed deaths are included in the 90 identified as missing.
"I don't know," Pennington said during a Wednesday evening news conference in Arlington.
He reluctantly conceded it's unlikely that those on the list of missing will turn up alive.
"I think we have to be logical here," Pennington told reporters. "All of our faces in this event have gone worldwide. Unless you're in a jungle in South America you know what happened here. The logical assumption is that if you're on this list of 90, you're on this list of 90," Pennington said.
Sheriff's Capt. Steve Westlake said that the nine unidentified bodies were being taken out of the disaster area Wednesday and it's likely additional deaths will be added to the count.
"Tomorrow (Thursday) morning you will have a fresh number," Westlake said.
On Wednesday, some 200 emergency responders, volunteers who live in the area, heavy-equipment operators and at least three dogs went through the gray debris on the west side of the slide area nearest to Arlington.
Additional teams from Darrington are searching the east side, where a small pond is blocking their path.
Rescue personnel told reporters additional bodies had been found.
"There are finds going on continually. They are finding people now," said Steve Mason, a fire battalion chief from South Snohomish County, who is leading the westside operation.
Work has been difficult because wreckage is covered in gray muck. Backhoes scoop only partial loads, some of which are spread on the ground. Searchers then examine the muck for clues that could reveal whether a victim may be buried nearby.
The debris field is one square mile and 30 to 40 feet deep in places, a moonlike landscape with mud piled atop and around household items, crumbled cars, insulation, and broken furniture.
"People are under logs, mixed in. It's a slow process," Mason said.
Like Mount St. Helens
The disaster scene, a 25-mile drive east of Arlington, has been compared to the damage left behind by the 1980 eruption of Mount St. Helens, in which 57 people were killed.
The state's deadliest natural disaster occurred on March 1, 1910, when an avalanche swept two passenger trains down a ravine near Stevens Pass, killing 96.
Rescue of young boy
Also Wednesday, rescue-helicopter crewmen who responded to 911 calls immediately after the Saturday morning mudslide described the desperate effort to pluck survivors from the muck and collapsed homes.
After the initial 10:45 a.m. call that two people were trapped on a rooftop, crewmen steeled themselves for what they thought would be one of the small-scale landslides that are common in this area.
"It took us about 15 minutes to get over to the scene," said Randy Fay, one of the rescue technicians aboard the first helicopter to fly over the mudslide. What they found was the crushed, nearly invisible remains of a former community buried under a titanic pile of sand and silt, with clots of insulation foam floating aimlessly.
"When we flew over, we were thinking (just) a single house. But it was like a moon landscape of pickup sticks. There were trees and debris," Fay said.
They searched frantically for visible survivors as well as sources of heat, said Bill Quistorf, chief helicopter pilot for the Snohomish County Sheriff's Office. Within the first hour of their arrival, they airlifted two women, one with an injured foot, and a man who had lost his arm.
They also rescued two firefighters who became stranded in the quicksandlike mud. But the most harrowing moment was when rescuers spotted 4-year-old Jacob Spillers trapped in the mud.
When the rescue chopper came upon the youngster, he was dressed only in a lightweight, sleeveless shirt and pants that had fallen around his ankles, said Fay, growing emotional as he spoke.
Two men who lived in the area had seen the boy and were trying to make their way through the mud by throwing piles of debris that they could walk on, but the debris was sinking.
"We have no clue how he ended up there by himself," Fay said of Jacob. He was "out in the middle of nowhere. No homes, no nothing."
One of the men on the ground managed to reach the boy but both got stuck in the mud. The rescuers had to pull them out to get them into the helicopter.
The boy "was obviously very, very traumatized. He was hypothermic — he was shivering badly," Fay said.
Jacob has since been reunited with his mother, Fay said. But four members of his family are among the missing. Helicopters were equipped with sensors that could pinpoint heat sources on the ground, like that from a human being. Unfortunately, few so-called "heat signatures" were picked up after the initial wave of rescues, even after low-level searches, Quistorf said.
"The fact is that we searched and we got the people out that we saw," he said.
In Darrington, Fire District 24 volunteer firefighters Jan McClelland and Shaylah Dobbins explained to reporters they used swiftwater rescue skills Saturday to reach a man whose arm was barely hanging onto his body. It took them about an hour and 15 minutes to figure out how to cross 100 dangerous feet of rocks, mud, timber and water and reach him so he could be airlifted out.
The man was taken to Seattle's Harborview Medical Center in critical condition, but has since been upgraded to serious condition, said McClelland.
McClelland said that she doesn't think the number of victims trapped in the mud is as high as the number of missing-person reports. However, she believes most victims have not been found yet — and may never be.
"Because of the amount of debris and the amount of mud, I'm fearful we won't find everybody, and that's the reality of it," McClelland said.
"We did everything"
Snohomish County authorities reiterated that they had done all they could do to prevent or mitigate the damage from such mudslides.
Pennington said extensive resources were dedicated to mitigating risks following a major slide at the same site in 2006, and the effort was successful in preventing smaller slides.
After that effort, "the community felt safe," he said, adding that people here "fully understood the risk" of living in an area prone to floods and landslides.
But, he said, it's unclear why a slide of Saturday's magnitude occurred.
"We did everything we could do. Sometimes big slides happen," he told reporters. "I'm not sure that we could have been more prepared to prevent a landslide of this magnitude."
Pennington made his comments as the county has come under fire for allowing residential development in a known slide zone on the banks of the North Fork of the Stillaguamish River.
Pennington also defended the county's out-of-the-gate response to the disaster.
Answering a question from a reporter about whether responders accurately gauged the amount of help they would need to deal with the mudslide early on, Pennington said that "we had to get a situational assessment on everything" in an area that was hard to reach. "None of us could get there."
But it quickly became clear "we were getting overwhelmed," he said.
The scene in Darrington, Oso
Authorities also focused on reconnecting Darrington, a town on the east side of the mudslide that has been isolated by the disaster.
Pennington said that county buses will start an emergency bus service to and from the town, providing a "critical line" for foodstuffs and other necessities. In addition, the Mountain Loop Highway was reopened Wednesday, providing a rugged, but vital route to Darrington and access to the slide area.
At midday in Oso, a rural community peppered with horse ranches and dairy farms a few miles west of the mudslide, U.S. flags flew at half-staff outside some houses, including that of Teresa Smith, who lives across from the closed-up Oso General Store in the same house where she and her seven siblings grew up.
Smith evacuated to Arlington on Saturday when authorities warned neighbors of the possibility of a flash flood, but she came back the next day. On Wednesday, she walked in front of the fire station, a staging site for responders, with her 15-year-old dog, Angus.
She said that people in the community knew that the hill that collapsed "had slipped before," but that there was no way a disaster of this magnitude could have been averted. "I think everyone did the best they could," she said.
Two of her three sons are taking part in the rescue effort, she said.
"It's hard work, but my boys are Oso boys. They know what they're doing."
Mike Lindblom: mlindblom@seattletimes.com
Angel Gonzalez: agonzalez@seattletimes.com
Staff reporters Angel Gonzalez and Mike Lindblom reported from Arlington. Staff reporters Alexa Vaughn reported from Darrington and Jennifer Sullivan reported from Seattle.

Four weeks for 99 cents of unlimited digital access to The Seattle Times.
Try it now!