Originally published March 25, 2014 at 11:50 AM | Page modified March 26, 2014 at 11:18 AM
Heartbreaking search intensifies in mudslide zone
Rescuers expanded their search Tuesday and found additional bodies in the muck of a massive mudslide in Snohomish County.
Seattle Times staff
Oso landslide: Comprehensive coverage of the March 22 disaster and recovery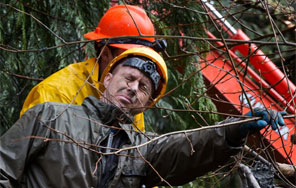 The Seattle Times
A collection of stories and visuals about the disaster, why it may have happened and the people it affected.
Interactive: Building toward disaster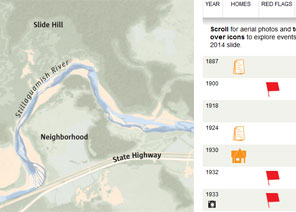 THE SEATTLE TIMES
Use an interactive to see how, even as warnings mounted, homes kept being built in slide-prone Steelhead Haven.
Remembering the victims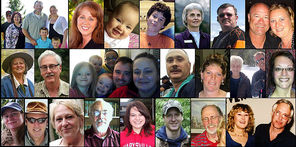 Compiled by The Seattle Times
Read about the lives of the victims.
Interactive map: A detailed view of the neighborhood hit by the landslide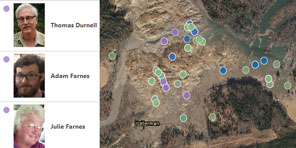 Garland Potts, Cheryl Phillips / The Seattle Times
Use an interactive tool to see the landslide's deadly path.
No comments have been posted to this article.
On a day with no shortage of grim news, the family of Navy Cmdr. L. John Regelbrugge III found the smallest measure of solace amid the wreckage of what four days ago was a thriving community.
Two of Regelbrugge's brothers, joining in Tuesday's expanded search for survivors of the Oso-area mudslide, found the body of the 32-year Navy veteran on his shattered property on Steelhead Drive, said his sister-in-law, Jackie Leighton of Vacaville, Calif.
"His brother Greg put a work shirt over him. They said he had massive injuries, so at least he didn't suffer," Leighton said.
The body of Regelbrugge's wife, Kris, a mother of five, was found later.
Both were among the victims that officials said were found Tuesday during a difficult search that can no longer be labeled anything but a recovery. Chief Travis Hots of Snohomish County Fire Districts 21/22 said two more bodies were recovered Tuesday, bringing the official death toll to 16.
But Hots said searchers believe they have located eight more bodies that have not been recovered.
John Pennington, the county's emergency-management director, said during a morning briefing that he remained hopeful for a miracle and the possibility a survivor may be found. But he also pointed out that a state mortuary-assistance team had been called in to assist.
"I think that speaks for itself," Pennington said.
The number of those unaccounted for remains at 176, a figure officials are still trying to ratchet downward by verifying names, Pennington said.
He said three Snohomish County sheriff's deputies who specialize in missing persons are helping sort through the names. He hoped to have a more accurate number Wednesday.
For a community mindful that no survivors have been found since the first few hours after Saturday's mudslide, the bad news is unrelenting.
"We all grew up here. We all spent 99 percent of our life here, or more. It's devastating. It's just devastating," said Teresa Hathaway, 55, of Arlington.
Guard, FEMA help
Tuesday's search was conducted amid worsening weather conditions, but was aided by the arrival of teams from the Washington Army National Guard and Federal Emergency Management Agency.
Dozens spent the day carefully maneuvering through shattered trees and the unrecognizable debris of homes and twisted propane tanks, searching with specially trained dogs and a variety of technologies such as sonar.
"It's almost like walking in ice in places," Hots said of the difficult terrain.
Describing a visit to the mudslide, the veteran firefighter said the damage was worse than he imagined.
He said he initially believed that people who had been swallowed by the slide while driving on Highway 530 would be buried in their cars and could be rescued. But those "vehicles are like twisted and tore up in pieces. ... It's just amazing, the magnitude of what this slide has done," Hots said.
Officials stationed in Darrington augmented their search teams Tuesday with community volunteers eager to help in any way they could. Many had already risked arrest by conducting unauthorized searches in the days after the hillside gave way and buried a community in up to 20 feet of mud and debris.
Gov. Jay Inslee joined a morning meeting of the Darrington Fire District with the new volunteers, saying afterward that "this remains an aggressive rescue effort."
Officials did have good news for those in Darrington, east of where the slide took place: Phone and Internet services were restored and a second road into town, the Mountain Loop Highway, should open Thursday.
"Awful" noise
The Sheriff's Office released recordings of the 911 calls reporting the slide and several hours of harrowing — even heartbreaking — exchanges between dispatchers and the first-responders on the scene.
The first was made by a woman who reported that water was running across Highway 530 and that there appeared to be a roof from a home or barn in the middle of the road. The calls grew increasingly frantic as the magnitude of the disaster comes into sharper focus.
One panicked woman called to say her neighbors' houses were gone and that people were screaming for help.
Minutes later, a man called to say his neighbors' home was buried, but that he could "hear them tapping underneath" the roof, which was sticking out of the muck.
That caller, Michael Lincoln, 50, and his wife were sleeping in Saturday when his son's girlfriend, who had been on their front porch, pounded on the door, saying trees and mud were racing up their driveway along Highway 530.
Lincoln bolted awake and saw earth and vegetation rumbling toward his home.
"The noise was awful," he told The Seattle Times on Tuesday. "She said it sounded like the end of the world. It was the sound of tens of thousands of things hitting each other."
The river of debris slowed and finally settled. Lincoln ran out to the highway and sunk to his waist in mud.
His neighbor's house was gone. Another home, owned by Linda McPherson and her husband, Gary "Mac" McPherson, had been split in two. Linda McPherson was killed.
Lincoln started yelling. Another man showed up and also started yelling.
They heard a voice in the rubble — Gary McPherson. They also heard him tapping.
Lincoln called 911. Others showed up to help. They ran and grabbed tools and started demolishing the McPhersons' roof.
"We grabbed chain saws and axes and big crowbars," he said. "We just started cutting through two-by-fours."
Eventually they saw his fingers sticking up.
Emergency crews arrived in time to extricate McPherson, who was in his easy chair, trapped by a log.
The McPhersons' daughter Kate McPherson said the couple had been drinking coffee, separated only by a living-room end table, when the slide shattered the house and shoved what remained about 150 feet.
Gary McPherson is recovering with relatives in Everett.
Watching carefully
Based on aerial photographs, the U.S. Geological Survey estimated the size of the slide at about 175 million cubic feet.
Engineers hope to install laser instruments to monitor the slide's motions, but aren't sure when that will be possible.
The slide is likely to keep creeping, and it's tough to say whether another large slide could follow on its heels, said University of Washington landslide expert David Montgomery.
The massive slide relieved pressure within the slope and drained away the water that contributed to the failure, which lowers the risk of another large slide, he said. But at the same time, the failure creates new stresses and weakens the slope, which means more slides are not out of the question.
"It's certainly something you would want to be watching very carefully," Montgomery said.
The director of the Pacific Northwest Seismic Network discounted speculation that a tiny quake March 10 might have triggered the slide.
The quake measured 1.1 on the magnitude scale, said John Vidale. Very small quakes are hard to locate precisely, but the epicenter seems to have been about 2.5 miles underground and about a mile northeast of the slope that failed.
But the shaking from a 1.1 quake is so slight that even someone standing right on top of the epicenter probably wouldn't have felt it, Vidale said.
"That earthquake wouldn't have triggered anything."
It's even possible the seismic signal was caused not by a quake, but by the ground in the vicinity shifting before the slide, he added.
Seattle Times staff reporters Craig Welch, Sandi Doughton, Sara Jean Green, Mike Carter, Lynn Thompson and Jack Broom and Times news researcher Miyoko Wolf contributed to this story. Reporters Brian M. Rosenthal and John Higgins reported from Arlington. Reporter Alexa Vaughn reported from Darrington.

Four weeks for 99 cents of unlimited digital access to The Seattle Times.
Try it now!