Originally published March 24, 2014 at 9:02 PM | Page modified March 24, 2014 at 9:05 PM
New homeowner planned busy morning with 3 workmen
Amanda Lennick had only been in her home on East Steelhead Drive a week. She scheduled a plumber, an electrician and a Dish Network technician to get her hot-water heater and TV service up and running. All four are among the missing in the mudslide.
Seattle Times staff reporter
Oso landslide: Comprehensive coverage of the March 22 disaster and recovery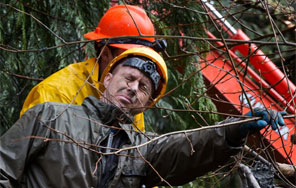 The Seattle Times
A collection of stories and visuals about the disaster, why it may have happened and the people it affected.
Interactive: Building toward disaster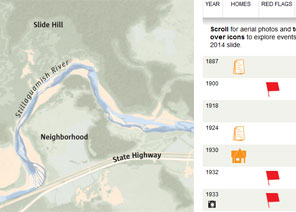 THE SEATTLE TIMES
Use an interactive to see how, even as warnings mounted, homes kept being built in slide-prone Steelhead Haven.
Remembering the victims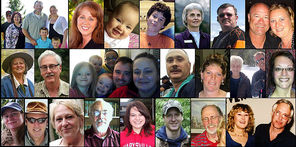 Compiled by The Seattle Times
Read about the lives of the victims.
Interactive map: A detailed view of the neighborhood hit by the landslide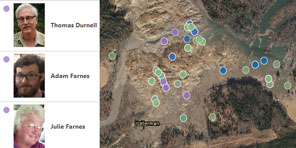 Garland Potts, Cheryl Phillips / The Seattle Times
Use an interactive tool to see the landslide's deadly path.
No comments have been posted to this article.
After six months of searching, Amanda Lennick found her first home along the North Fork of the Stillaguamish River. It had a postcard-pretty view of the tree-lined water and the Cascades beyond.
There was a scar on the hillside across the river from a 2006 slide, but neighbors assured her the area was safe.
Lennick, 31, a nurse at Providence Regional Medical Center A Everett, had moved in a little more than a week ago and told friends she was still kind of camping.
She didn't have hot water — the tank was busted — and she wanted television reception in the remote area.
Saturday morning, she scheduled three workers to show up at the East Steelhead Drive home — a plumber, an electrician and a technician from Dish Network — so she could get everything done at once, said friend Manda Greenwood.
Lennick texted friends about 9:30 a.m. to say the workers had started to arrive.
"She was super excited. She was 50 yards from the river. She talked about taking walks and enjoying nature," said Greenwood, who teaches preschool in Everett.
That was the last time anyone heard from her.
Lennick and the three workmen are listed among the dozens of people missing in the massive mudslide that buried the rural neighborhood near Oso in tons of sludge and debris.
As the director of Snohomish County Emergency Management said Monday, the slide hit on a day when many people were off work and at home.
Or on home appointments like the missing workmen, identified by family members as Bill Welsh, an electrician from Arlington; Steve Neal, a plumber from Darrington; and Steve Hadaway, the satellite-dish technician, also from Darrington.
Welsh, an Army veteran of the Vietnam War, had worked 25 years for a Marysville modular commercial-building manufacturer, Whitley Evergreen, where he was head of the electrical department, said general manager Larry Dobrota.
"He was 66. He was ready to retire. I told him, 'No, I won't let you.' He was a very good worker. He knew everything about this place."
Barbara Welsh said her husband had forgotten to charge his cellphone Friday night before heading out to install a new water heater. He planned to meet Steve Neal, a plumber friend from work.
On Monday, Barbara Welsh said the family learned that a neighbor on Steelhead Drive, who was just leaving in his car, saw Welsh arrive.
"He probably had just enough time to chitchat and get his stuff together," she said. "We were concerned he could be trapped under the house."
Neal, 55, had owned his plumbing business for about 30 years, said his son, Ryan Neal, of Marysville. The senior Neal sometimes worked as an independent contractor for Whitley Evergreen.
Dobrota said the company didn't have enough plumbing work to hire him full time, but he was called in every time there was a complex building with a lot of plumbing.
"He got the job done, even if he needed to work on Saturday or Sunday," Dobrota said.
Ryan Neal described his father as someone who was always concerned about others.
"If there were elderly ladies scrounging for pennies, he'd be there. He was definitely out to help people."
He said the family hasn't heard from his father since he left Darrington for Steelhead Drive. His father typically left his cellphone and identification in his truck, a Ford Ranger, that is also missing.
"I don't know if the house was swept away or if it was buried," Ryan Neal said.
Steve Hadaway, 53, had worked at Dish Network for less than a year, said his daughter, Brandy.
His brother, John Hadaway of Puyallup, said Steve had gone to school while working full time as a manager at Diebold to earn a degree.
"Whatever he did, he was dedicated to it," his brother said.
John Hadaway said he spent Sunday with Steve's wife, Margie, and their two daughters, in Darrington, hoping to hear some word. He said he couldn't talk about his brother's life without starting to cry.
"You couldn't ask for a better brother," he said.
At Providence Regional Medical Center on Monday, Lennick's co-workers were just learning that the nurse was among the missing.
Norm McFarland, director of care management, said he last talked to her Friday afternoon.
He said she was happy to be in her new house, which she described as being "back in the woods."
He said Lennick worked as a care coordinator, reviewing patients' records to make sure doctors had documented all the diagnoses and problems of patients.
"The job takes a person with good thinking skills and good clinical skills, and she had both," said McFarland.
Until Lennick could get her hot-water heater fixed, she'd been taking showers at the home of the real-estate agent who'd helped her find her house, Kristi Everett.
"I knew she had contractors coming out Saturday morning," Everett said.
The two had become friends over the course of the six-month home search. When they drove up Steelhead Drive, Everett said, Lennick fell in love.
The house had a cathedral ceiling with soaring windows framing the view, knotty pine kitchen cabinets and a wood-burning stove.
Everett said she's angry now that residents were allowed to stay in the neighborhood after the 2006 slide.
"I'm never selling another house there again," she said. "I don't know why, after the first slide, the Army Corps of Engineers didn't condemn all the houses."
Lynn Thompson: lthompson@seattletimes.com or 206-464-8305 On Twitter @lthompsontimes

Four weeks for 99 cents of unlimited digital access to The Seattle Times.
Try it now!