Originally published March 22, 2014 at 8:11 PM | Page modified March 26, 2014 at 4:55 PM
Survivor tells of loud crack, wall of mud, house 'in sticks'
Survivors of Saturday's mudslide near Oso describe a harrowing scene when a hillside broke free and slammed into several homes, killing three and injuring nearly a dozen.
Seattle Times staff reporters
Oso landslide: Comprehensive coverage of the March 22 disaster and recovery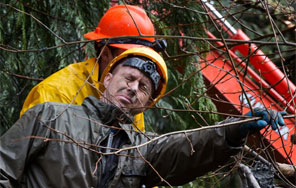 The Seattle Times
A collection of stories and visuals about the disaster, why it may have happened and the people it affected.
Interactive: Building toward disaster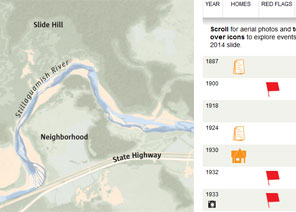 THE SEATTLE TIMES
Use an interactive to see how, even as warnings mounted, homes kept being built in slide-prone Steelhead Haven.
Remembering the victims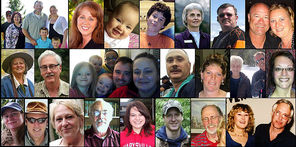 Compiled by The Seattle Times
Read about the lives of the victims.
Interactive map: A detailed view of the neighborhood hit by the landslide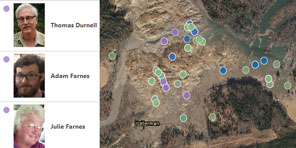 Garland Potts, Cheryl Phillips / The Seattle Times
Use an interactive tool to see the landslide's deadly path.
No comments have been posted to this article.
OSO, Snohomish County — Robin Youngblood was sitting in her living room with a friend from the Netherlands on Saturday morning when they heard a loud crack.
Youngblood, 63, says she looked out a window and saw half of a 2,000-foot-high foothill break away and surge across the North Fork of the Stillaguamish River toward her house on the opposite bank. It was a former quarry, she said.
A wall of mud she estimated to be 25 feet high crashed through the home, taking both Youngblood and her friend Jetty Dooper, with it.
"Then it hit and we were rolling," said Youngblood, 63. "The house was in sticks. We were buried under things and we dug ourselves out."
Youngblood scrambled onto her clothes dryer. Her friend, Dooper, 51, climbed onto a dishwasher.
"We started yelling for help. Three kids came running." Youngblood told them to find an adult and call 911.
The pair, covered in mud and shivering, waited about an hour until help arrived. They were airlifted a short distance by helicopter to a road where ambulances were waiting.
While awaiting the ride to Cascade Valley Hospital in Arlington, Youngblood said a 4-year-old boy named Jacob showed up, shivering.
"I stripped him down, wrapped him in blankets, told him I was a grandmother and I would hug him until help arrived," she said.
The boy's mother eventually showed up, but she didn't know where her two other sons were, Youngblood said.
Standing outside the hospital Saturday smoking a cigarette, Youngblood said she felt blessed to have survived with just torn ligaments in her right middle finger. Her home was destroyed.
Youngblood's adult son, Kane Conner, lived in the house, too. He was away watching one of his boys play baseball when the mudslide flattened their home.
"Other than the hundred bucks or so in my pocket, everything's gone," he said. "We're still really in shock."
Only one item survived the disaster, Robin Youngblood said. It's a painting of a Cherokee warrior, left muddy by the slide. She asked a rescuer to salvage the heirloom.
Cheryl Burrows, 56, was not at home at the time of the slide, but later made her way to the fire station in Oso to await news. She said she has four dogs and a cat trapped in her house. About Steelhead Drive, where her home is located, she said the authorities told her, "There is nothing left in there."
The home of Tim and Brandy Ward was swept away by the mudslide. Tim Ward was taken to Harborview Medical Center in Seattle with a fractured pelvis, and Brandy Ward is still missing, said son-in-law James Burdette, who came to the Red Cross shelter set up at Post Middle School in Arlington with his wife and 9-month-old son, Asher, waiting for updates.
Area residents came to the shelter with donations throughout the day for flood victims. Melissa Kummelman came with her three children bringing bags of food and clothes.
"It's awful," she said. "I feel sorry for a lot of the people living in that area."
Mike Lindblom: 206-515-5631 or mlindblom@seattletimes.com
Mike Carter: 206-464-3706 or mcarter@seattletimes.com
Seattle Times staff reporters Paige Cornwell and Coral Garnick contributed to this story.

Four weeks for 99 cents of unlimited digital access to The Seattle Times.
Try it now!